Pro Kabaddi Chat Show 'Beyond the Mat' is all set for Season 2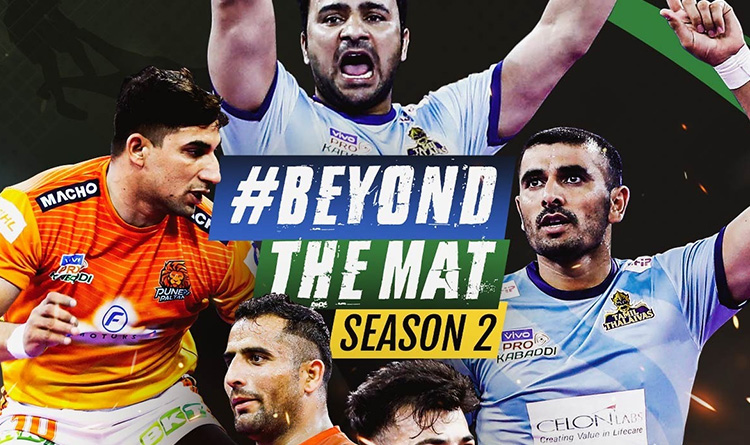 prokabaddi.com
After an 11-episode run in the first season, Beyond the Mat, the first-ever Kabaddi chat show on social media, is all set to return with a brand new season. The first season was hosted live by Mashal Sports on Pro Kabaddi's official Instagram handle.
The first episode of the second season will feature Ajay Thakur, former Indian Captain. The player is also popularly known for leading the Tamil Thalaivas in the seventh season of Pro Kabaddi. He will be LIVE at 18:00 hrs on Pro Kabaddi's Instagram handle on 4th October 2020.
The inaugural season of the show reached more than one million people across social media platforms and gained huge popularity among the fans. Now, the show is returning with a new season in which the fans will enjoy more interviews of Kabaddi coaches, players, and the franchise owners from the Vivo Pro Kabaddi league.
What is Beyond the Mat?
'Beyond the mat' is a chat show in which the host takes a 30-40 minute interview of the personality, and the fans participate in the conversation through writing their questions or thoughts in the comment section.
The show is one of the most popular shows on the internet as it provides an insight into the life of a Kabaddi superstar. The guests also share their personal experience, such as the journey to success, success mantras, and the rapid-fire segment of the show has a different fan base among the viewers.
The first season started with the brothers Siddharth and Suraj Desai as guests. After that, the show started gaining viewers, and the makers invited some biggest names on the show, such as Anup Kumar, Rahul Chauhan, Pawan Sherawat, etc.
The first episode of Beyond The Mat Season 2 premiered on Instagram LIVE on 4th October 2020. One episode will premiere every Sunday at 18:00 hrs.