Naveen Kumar's Super 10 ensures Dabang Delhi share spoils with Gujarat Giants in a 24-24 draw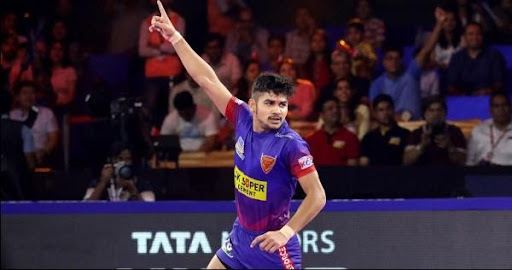 Naveen Kumar now has 42 raid points to his name, the most by any player in PKL Season 8 so far
In an enthralling game of kabaddi in PKL Season 8, Dabang Delhi and Gujarat Giants played out an enthralling 24-24 draw to share the spoils on Sunday. Naveen Kumar came out with 11 points in the game, including one in the buzzer raid to keep Delhi's unbeaten run intact.
The contest began on a feisty note with the scoreline being leveled at 9-9 in the first 15 minutes of the game. Delhi's Naveen Kumar surged forward, picking up bonuses and raiding points for fun, while Rakesh Narwal and Rakesh HS stormed ferociously for Gujarat while marauding.
Delhi had a slender 12-11 lead going into the break after they tackled Sonu Singh and maintained that until the end of the first half. Not a single All Out was forced by either of the teams before the change of sides as the raiders and defenders took a cautious approach.
Gujarat found their noses upfront momentarily after their defenders got hold of Vijay at his Do-or-Die Raid and Mahendra Ganesh Rajput won a point immediately in succession while raiding. However, Delhi turned the tables once again with Naveen and Vinay's raids as the scoreline read 18-15.
Gujarat's Sunil Kumar gave his team a glimmer of hope after tackling Naveen Kumar with a thigh hold. The lead was narrowed to just one point after Rakesh Narwal successfully reviewed to pick up a bonus alongside a man while raiding.
Gujarat finally found themselves upfront at 21-20 after two Delhi defenders got out of bounds in a Rakesh Narwal-raid. However, Delhi got their lead back after Vijay's successful raid followed by their entire team tackling Rakesh HS.
Gujarat raiders were smart enough to just stroll towards the mid-line and enforced a Do-or-Die raid quickly. And while defending, they did well enough to survive Naveen's raids as it went empty. With one minute left on the clock and the score reading 23-22 in favor of Delhi, Gujarat's Sunil Kumar and Parvesh Bhainswal combined well to take out substitute Neeraj Narwal in the ensuing 'Do-or-Die' Raid.
Gujarat nearly had the game in their bag after Joginder Narwal lost his balance and went out of bounds in the subsequent raid, resulting in them taking a 24-23 lead into the buzzer raid. But, Ravinder Pahal lost his composure and unsuccessfully attempted a thigh hold on Naveen Kumar at the mid-line.
With the draw, Dabang Delhi continues to stay at the top of the points table with 13 points from 3 matches. They will square off against the Bengal Warriors on Wednesday at 7:30 pm. Gujarat Giants, on the other hand, have 9 points from 3 matches and will lock horns with UP Yoddha on Wednesday at 8:30 pm.