Naveen Kumar's 18-point effort leads Dabang Delhi to their 5th win of the tournament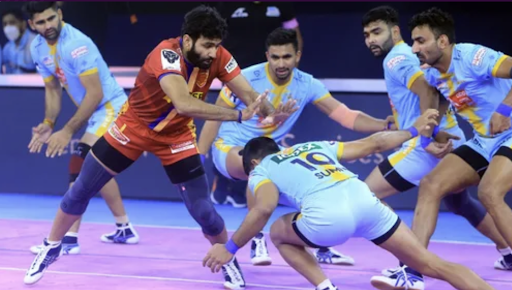 Vijay scored 7 raid points against U.P. Yoddha
Dabang Delhi defeated U.P. Yoddha 37-33 in the 40th match of the Pro Kabaddi League Season 8 at the Sheraton Grand Convention Centre in Bengaluru on Saturday as the Joginder Narwal-led franchise continued their unbeaten run for the 7th match in succession. 
In the first raid of the match, Pardeep Narwal picked up a touchpoint with a hand touch on Manjeet Chillar. Naveen Kumar opened the scoring for Dabang Delhi before he was successfully tackled by the defensive unit of the Yoddhas In the following raid.
Vijay revived the raider in the next raid. Vijay was the best raider for Dabang Delhi in the first half with 6 raid points to his name while the Naveen Express managed only three points.
Narwal seemed to have found his mojo back as he scored 7 raid points and took advantage of the weak Delhi defense. The raider's form helped them inflict an all-out on Delhi in the first half and were leading by 5 points at half-time with the score reading 18-13 in favor of the Yoddhas.
The second half sparked a turn of fortunes for the Dabang Delhi as Naveen got the better of the Yoddha's defense on most occasions. The raider ended the match with 18 points.
With 6 minutes to go in the contest, the Yoddhas were trailing at 28-31 as the all-out in the second half had helped the Dabang Delhi take the lead after trailing in most of the match for the first 30 minutes.
Pardeep had failed in the second half but Surender Gill had stepped up for the blue outfit. Shrikant Jadhav had been lackluster again with just a solitary point to his name. Led by Naveen's stellar form in the second half, Dabang Delhi had an incredible raid strike rate of 58.14% in the match.
With 3 minutes to play in the match, Delhi had a slender lead of 3 points but the franchise had only 3 men on the mat. With little under 100 seconds to play in the match, a successful tackle on Pardeep Narwal was the final nail in the coffin for the Yoddha's chances.
U.P. Yoddha's raider Gill faltered in the final raid for the Yoddhas as he stepped into the lobby and Naveen Kumar's 2-point raid sealed the deal for Dabang Delhi.
Dabang Delhi will face Jaipur Pink Panther in their next match on Monday while U.P. Yoddha will clash with the Bengaluru Bulls on Sunday.