England vs India (Women's Hockey CWG 2022): Preview and Prediction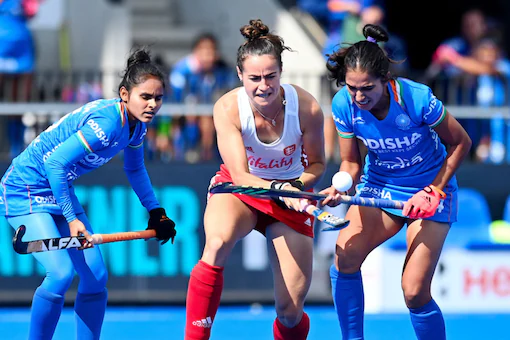 Both India and England are currently unbeaten in the Group
With a podium finish in its mind, the Indian women's hockey team would look to leave its disastrous World Cup campaign behind and continue its winning streak against England in the Commonwealth Games 2022 game on Tuesday.
India women are clubbed in Pool A alongside hosts England, Canada, Wales and Ghana; while Australia, South Africa, New Zealand, Scotland and Kenya complete Pool B.
The Savita Punia-led team has been working hard with hopes of bouncing back from an underwhelming FIH Women's World Cup campaign. The Indian hockey team finished joint-ninth with China at the FIH Women's World Cup.
With players such as penalty corner specialist Gurjit Kaur, goalkeeper and captain Savita and young star Lalremsiami, expect India to bounce back in Birmingham.
Meanwhile, England women exited the Women's World Cup after a narrow defeat at the hands of eventual silver medallists Argentina. Dependable defenders Hollie Pearne-Webb, Laura Unsworth and Giselle Ansley provide a platform from which the speed merchants Hannah Martin, Lily Owsley and Ellie Rayer can attack. Tess Howard is turning into a force to be reckoned with in the circle.
England has never failed to win a medal in the women's competition but, in front of a home crowd, this time the ambition has to be gold. They finished with a bronze medal in the 2018 edition.
India has had a tremendous start to their CWG campaign first defeating Ghana by a 5-0 margin and coupling that up by defeating Wales 3-1 on Saturday. The Indian eves would now look to register their hat-trick of wins in this edition of the games when they come up against hosts England at the University of Birmingham ground.
Meanwhile, England started their competition by registering a 12-nil victory over Ghana in their tournament opener and are also due to play Canada on July 31. Given the rivalry, India vs England match promises to be a thriller.
What have they done so far in the Games?
Like their male counterparts, the Indian women returned empty-handed from the last edition of the Games in Gold Coast, finishing fourth after being routed 0-6 by England in the bronze medal play-off match.
Going into the latest Games, the Indians were troubled by their below-par outing in the recently concluded World Cup in Spain and the Netherlands, where the Savita Punia-led side finished a disappointing ninth.
Now the Janneke Schopman-coached side would be desperate to prove that it is a far better outfit than what the recent results indicate. They would be itching to prove that the historic fourth-place finish in last year's Tokyo Olympics wasn't a fluke.
The Indian women would also be hoping to break their 16-year medal drought in the Games. India's last medal — a silver — in CWG came in 2006 Melbourne. The only other medal that the Indian women bagged in the Games since hockey's introduction in 1998 was a gold in the 2002 edition in Manchester.
England, on the other hand, will be looking to improve from their bronze medal finish in the last games. Interestingly, the Lioness has won at least a medal in each of the six previous Games. They have also won a bronze medal in the 2006 and 2010 games while they have won silvers in 1998, 2002 and in 2014 but have yet to win the final and bag gold. They are the fourth-best team when medal positions are considered but actually third when the number of medals is counted.
Head to Head Record
India and England have faced each other five times in the Commonwealth games with both teams winning two games outright while also drawing one match. In their last encounter in the games, England thrashed India 6-0 in the bronze medal match of the 2018 Gold Coast Games.
However, this year, both the teams only played one game against each other that came in the 2022 Hockey World Cup. That game ended in a 1-1 draw for both sides.
Key Players
Laura Unsworth (England): Laura Unsworth made her international debut in 2008 and was part of the Great Britain teams that won the gold medal at the 2016 Olympics and bronze medals at the 2012 and 2020 Summer Olympics.
Unsworth has also competed for England at the European Championships winning three bronze, one silver, and a Gold medal won in London in 2015. She also competed for England at the Commonwealth Games, securing bronze and silver at the 2010 and 2014 Games.
Savita Punia (India): Savita made her international debut at the age of 18 when she was selected for the Spar Cup Four Nations Tournament in Durban, South Africa. She played a key role in helping India win the Bronze medal at the 8th edition of the Women's Asia Cup in 2013 and was also a part of the team that won the Gold medal in the Women's Asian Champions Trophy in 2016.
Savita was part of the team's first appearance in 36 years at the 2016 Rio Olympics. Her performance at the FIH Women's World League Round 2 in 2017, saw her win the 'Goalkeeper of the Tournament', and then she played a key role at the 9th Women's Asia Cup 2017, helping India lift the trophy after 13 years.
Savita also played a crucial role in India's Silver medal finish at the 2018 Asian Games Jakarta-Palembang as well as the Women's Asian Champions Trophy 2018. She played a major role in India's Tokyo Olympics 2020 campaign as Vice-Captain where she helped her team in achieving a record-breaking fourth-place finish. She was handed the mantle of leading the team in 2022, in the absence of Rani who was out of action due to a prolonged injury.
Squad List
England squad: Hollie Pearne-Webb (C), Giselle Ansley, Grace Balsdon, Fiona Crackles, Sophie Hamilton, Sabbie Heesh, Maddie Hinch, Tess Howard, Holly Hunt, Hannah Martin, Shona McCallin, Lily Owsley, Flora Peel, Izzy Petter, Ellie Rayer, Anna Toman, Laura Unsworth, Lily Walker
India squad: Savita Punia (C), Rajani Etimarpu, Deep Grace Ekka, Gurjit Kaur, Nikki Pradhan, Udita, Nisha, Sushila Chanu Pukhrambam, Monika, Neha, Jyoti, Navjot Kaur, Salima Tete, Vandana Katariya, Lalremsiami, Navneet Kaur, Sharmila Devi, Sangita Kumari
Prediction
India's toughest match in the group stage will be this match against World No.4 England. If they surpass this match in any way, India's roadway to the semi-finals should be clear. With India's recent performance, we can expect the team to fire on all cylinders.