Zlatan and Calhanoglu could miss the Europa League match against Man Utd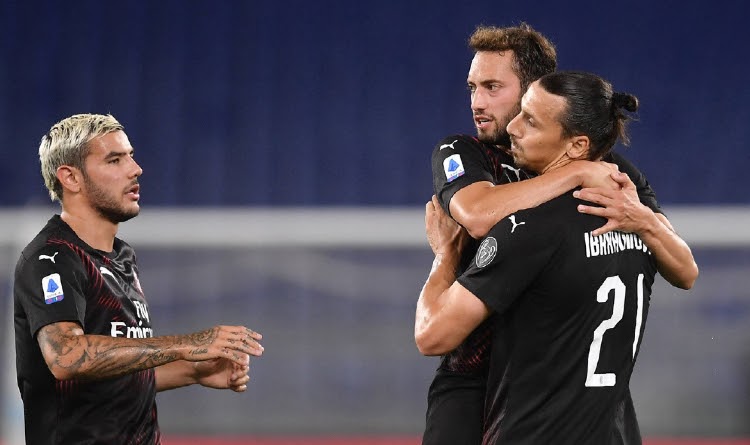 Theo Hernandez, Zlatan Ibrahimovic and Hakan Calhanoglu celebrating the goal against Lazio in July 2020
The new information about the condition of AC Milan striker Zlatan Ibrahimovic appeared today after he underwent a scan. Unfortunately for the fans, Ibra is not the only core player that Milan could lose before an important game.
Recently, Zlatan has been diagnosed with an injury to the long adductor muscle of the left thigh after their 2-1 victory over Roma on Sunday.
It is reported that the striker will undergo a new examination in 10 days. So the player is likely to miss the match.
Milan will face Udinese in their Serie A clash on March 3, also they will play against Verona on March 7. On 11 March, the Rossoneri will face Ibrahimovic's former club Manchester United in the Europa League play-offs. The second leg is seven days later. So there is a chance that the Swede could come back to help Milan beat his former team in case of the positive examination results.
Moreover, another important player is also likely to miss the Europa League match. Midfielder Hakan Calhanoglu has been diagnosed with diffuse flexor muscle swelling in his left thigh. A new examination will be scheduled depending on the development of the clinical picture.
One piece of good news for manager Stefano Pioli surrounds Ante Rebic, who has been cleared of any significant hip problem after limping off against Roma.
Don`t miss out 💥: Revealing the results of UEFA Europa League round of 16 draw.
The 27-year-old midfielder from Turkey is Milan's best assistant of the season, with 8 assists and 1 goal in 21 Serie A matches.
The 39-year-old Ibra is AC Milan's top goalscorer this season with 14 goals in 14 Serie A games.