What do Premier League managers say before the Europa League matches?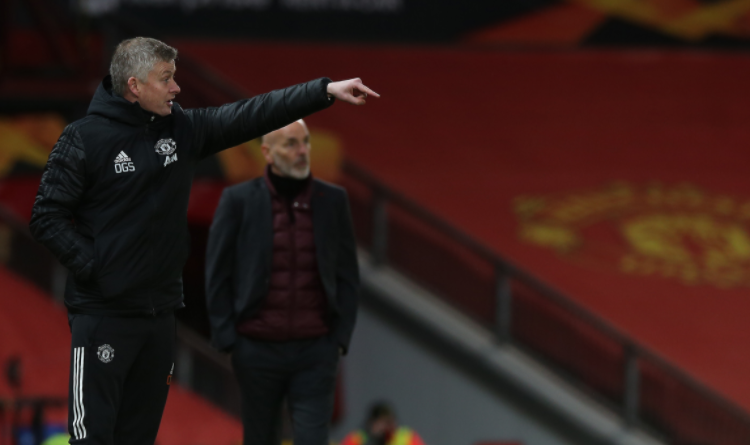 Solskjaer will again face Pioli to fight for the place in 1/4 finals of the Europa League
The coaches of the English teams held press conferences before tomorrow's Europa League matches. Revealing the details and highlights.
AC Milan vs Manchester United
Man Utd boss Ole Gunnar Solskjaer told about his side's injury issues ahead of the Europa League last-16 second leg:
"There are a couple [players] we need to assess, Anthony Martial is a definite no-go. Donny Van De Beck has been focusing really hard to get available. Shoretire will be playing for U23s and Eric Bailly is being assessed. Let's see how everyone feels tomorrow."
Manchester United are 2nd in the Premier League table, but manager Ole says it is "for others to assess" how much his side have improved this season.
"You see the culture and what is happening every day with a lot of work. It is for others to assess how much of an improvement we have made. We are aiming to win. That is why we play football."
Manchester United have not won a trophy for four years, and victory against AC Milan will book a Europa League quarter-final, but manager Ole Gunnar Solskjaer says the club needed a "big rebuild".
"I've been here for two and a half of those years and I felt a big rebuild was needed. Trophies can be an ego thing for managers and clubs. If we perform well enough the trophies will come. But trophies don't say we are back. It is a gradual progression. Cup competitions can hide the fact you are struggling a little bit."
Manchester United boss Ole Gunnar Solskjaer says his players have to perform at their "best level" to qualify against AC Milan:
"We saw last week, how difficult it will be. They play with loads of energy. We need to perform at our best level. These are the games when we challenge ourselves to see if we can reach the next level. I always enjoy being away in the second leg. We know we need to score to go through."
Arsenal vs Olympiacos
Manager of the London side discussed Pierre-Emerick Aubameyang, Martin Odegaard, the Greek side and more. Arsenal lead 3-1 after the first leg of their last-16 Europa League tie with Olympiakos, but Arteta says the contest is "absolutely not" over.
"From what I've seen from Olympiacos and the amount of games that they have won in the final minutes and the belief that they have in that team, it will be tough and they will try to put us under real pressure. There is still a lot to play for."
Pierre-Emerick Aubameyang, the captain, was dropped for a breach of pre-match protocol ahead of the derby win over Tottenham, but the manager says the issue has now been "resolved":
"We talked, everything has been resolved in a really positive way. So we move forward."
Asked whether the forward would be stripped of the captaincy, Arteta shook his head and said:
"That was dealt with on the day. Its been resolved in a really positive way and we move on."
After that he said that 'everybody has to obviously perform at the highest level to earn their place in the team, there is no exception there and we will try to put a really competitive team out tomorrow to try too win again'.
Gabriel Martinelli signed a long-term contract with Premier League club Arsenal on 2 July 2019.
A highly-rated forward Gabriel Martinelli has only started three EPL games for Arsenal this season. Arteta says "it's my fault":
"It's my fault, he's done everything perfectly, he trains incredibly well everyday and his attitude couldn't be better. He's really disappointed that's he isn't playing more obviously. I have spoken to him but he needs to be a little more patient. He has some minutes and he has some games and it's true that competition for the front positions is very tough and he needs to be patient."
Dinamo Zagreb v Tottenham
Spurs were beaten by rivals Arsenal at the weekend, but they are well placed in their Europa League tie with Dinamo Zagreb, after winning the first leg 2-0.
Don`t miss out 💥: Lacazette guides Arsenal to win over 10-men Tottenham.
Still, Son Heung-min suffered a match-ending injury on Sunday, and Jose Mourinho confirms the forward will miss the second leg with Dinamo Zagreb.
"I don't know. He is definitely out for tomorrow. Pierre-Emile Hojbjerg is suspended, Joe Rodon is not in the Europa list. Apart from that, everyone's back. Giovani Lo Celso is back in training. Kane? The game is open and it's an important game so he plays for us."
Tottenham boss Mourinho says he has a plan and it is "not game over":
"I don't think it is such a good lead. It is very difficult and open. The way to approach the game is to think we still have a match to play to get a positive result. If we lose 1-0, 2-1, 3-1 we would qualify, but if we qualify with a defeat in this game I will not be happy. We don't go there to defend the lead. We go to try and win."
Don`t miss out 💥: Gareth Bale is back in form to stay at Tottenham next year?