West Ham vs Arsenal. Prediction and Preview. Probable Lineups, Team News, Stats and more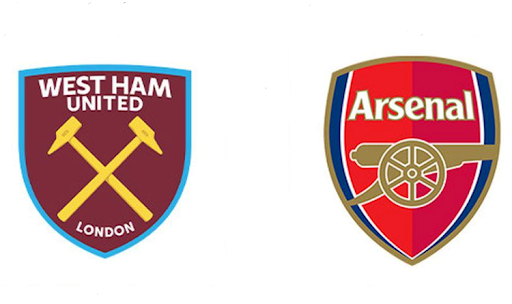 Will dark-horse West Ham with star captain Declan Rice in its core be able to produce a sensation in the London derby?
West Ham United FC will host Arsenal FC in the English Premier League 31st-tour match at London Stadium. The fixture will take place on Sunday, April 16, beginning at 18:30 IST.

What can we expect this Sunday night? Parimatch News will tell you everything you need to know ahead of the upcoming match.
West Ham News & Current Form:
The Hammers have failed this season, despite having a good squad. Instead of fighting for European Cups, the team is fighting to retain its place in the elite of English football.
Londoners are approaching the 31st round of the Premier League at the 14th position, 3 points ahead of the relegation zone. West Ham will have a tough schedule, as the team continues to play in the UEFA Europa Conference League and so far quite successfully.
The Irons played an away game in the Conference League against KAA Gent in the middle of the week. The teams could not decide who was the strongest. The referee's final whistle recorded a 1 – 1 draw, with Danny Ings scoring the opener. It is difficult for charges of David Moyes to play on two fronts, but they are trying to both survive in the EPL and prove themselves in the European arena.
Speaking about the home league, after the defeat at the hands of Newcastle United FC (1 – 5) West Ham beat Fulham FC 1 – 0 last round. It was the team's first away win in eight months. At home the capital club is doing much better. Here, they won 6 times in 15 games, scoring 21 of their 30 points. And in the last 6 matches in the Premier League at home, West Ham hit the gates of their opponents.
Thus, the Hammers have not lost in 7 of the 10 previous matches in the top division (4 wins, 3 draws). Thanks to such a stretch, the club has improved its position in the Premier League standings, rising to 14th place, but the players should not forget that the gap from the relegation zone is only 3 points.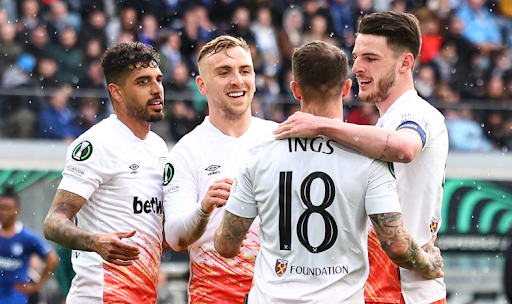 David Moyes' team is achieving its goals by organizing strong defense and conducting explosive counterattacks. It is second only to Leeds United FC in terms of speed of ball movement to the opponent's goal. At the same time, the club ranks in the top five in terms of the number of goals conceded (xGA = 1.23).
Despite West Ham's struggle, Moyes can take comfort in the fact that most of his players are available for selection, with only Gianluca Scamacca (out due to a knee injury) being unavailable for the match against Arsenal. The team is considering whether Scamacca needs surgery for his misfiring performance.
Although there will likely be changes in the starting lineup due to the quick turnaround after their draw with Gent, Moyes will have the same group of players to work with. Lukasz Fabianski, a former Arsenal player, is expected to replace Alphonse Areola in goal.
Additionally, Tomas Soucek, Kurt Zouma, Michail Antonio, and Lucas Paqueta, who missed the last match due to injury, are among the fresh-legged players at Moyes's disposal. Meanwhile, Declan Rice, who has received interest from other teams, will captain West Ham in the game.
Rice could leave the club at the end of the season. The 24-year-old England player reportedly hopes to join a club that plays in the UEFA Champions League, and he has been closely linked with the likes of Arsenal and Chelsea FC. There were rumours that Arsenal was going to sign the supporting midfielder at the end of the season.
But Arsenal's management is not willing to pay the large amount that West Ham is currently asking for Rice, so Chelsea could be still in this race because they would be willing to pay as much as it takes.
Arsenal News & Current Form:
The league leader, after a seven-match winning streak in this tournament, drew with Liverpool FC 2 – 2 last round. Arsenal led by two goals, with Gabriel Jesus and Gabriel Martinelli scoring again. The last one has already netted 14 times in the EPL.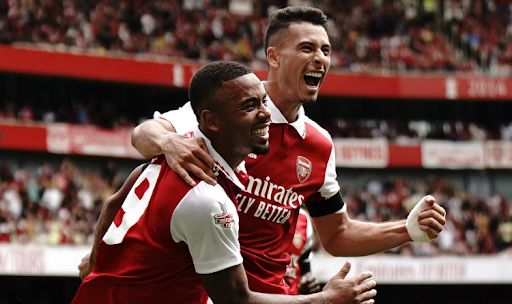 However, in the second half, the hosts managed to turn the tide in the game 87 minutes into the match. In general, the outcome of the match was fair, because the leader of the championship was unable to be better than his opponent throughout the game, so the initiative changed hands.
So the Gunners took away 1 point from Liverpool but could have easily got nothing, as Liverpool were very aggressive. They were lucky that Mohamed Salah failed to score a penalty in the 2nd half.
Also worth mentioning is the great play of Aaron Ramsdale. In the final minutes there were several attempts on goal by the Reds, but the reaction of the Arsenal goalkeeper saved the club from defeat. Due to the loss of points, the gap between Arsenal and Manchester City in the top division table was reduced to 6 points, and the Citizens have one more game to play with Leicester City FC, where they easily get 3 points.
Coach Arteta praised the goalkeeper:
"You need individuals to perform at the highest level and certainly, you need your keeper to be impressive in certain moments. You see every team who has won titles, their goalkeeper is just a key contributor to that, and Aaron has been really, really good this season."
It should be noted that the team plays effectively in the current EPL season, distinguishing 72 times, and its goal-scoring streak totals 10 games. It is also important to say that Arsenal is the best visiting club of the current championship, winning 11 of 15 meetings (2 draws, 2 losses). Herewith the Gunners conceded the least away in the current season of the Premier League – 11 goals, and scored 30.
It should be noted that by expected goals scored (xG = 1.96) and conceded (xGA = 1.05) Arsenal are in the second and third places in the top division respectively. The team scores a lot and has one of the best defenses in the league. On the road Arsenal is the best club in points scored, as well as scoring a lot of goals and having the best defense. Matches with West Ham in recent years they turn out scoring, Arsenal players score at least 2 or more goals to their rivals.
The Gunners have had a phenomenal breakthrough this season. The team is showing its best soccer in the last 20 years. Mikel Arteta has been able to create a great team capable of fighting for the championship. They will be playing City at the end of the month and they should approach this match with the best result. Arsenal have to fight for a win here or they won't win the championship.
Arsenal are still unsure about the availability of William Saliba, who hasn't resumed training yet due to a back injury. The team does not want to risk him unnecessarily with their upcoming trip to Etihad Stadium in mind. As a result, Rob Holding, who scored his only Premier League goal at London Stadium last season, is expected to start again. Meanwhile, Takehiro Tomiyasu and Mohamed Elneny are still recovering from knee surgeries.
On a positive note, Eddie Nketiah has returned to the group after recovering from an ankle problem and might have a chance to make a comeback on Sunday.
The most expensive player of the club – Bukayo Saka reflected on the game with Arsenal and the season itself:
"The boys were really disappointed after the game because we all wanted to win. But we can't change that so we have to switch the focus to Sunday against West Ham. It's really important – we all know that – so we'll try and be ready for the game to give our best and get the three points."
"I'm not going to sit here and tell you I'm satisfied with a point against Liverpool. We wanted to go there and get all three so there's a bit of frustration inside me that we didn't do that. It's a stadium I've never won at, so I thought that it would be the best opportunity and timing to do it, but we couldn't do it, which is a shame."
"I wouldn't say the Man City game is the final, but maybe the semi-final because it's massive, and so important as both teams are fighting at the top. It's really close so it'll be a massive game."
"Arteta has taught me a lot, and I have to thank him for the way I'm developing because a lot of it is because of what he's doing for me.
West Ham form guide: D-W-W-L-W-D
Arsenal form guide: D-W-L-W-W-D
West Ham vs Arsenal Head-To-Head Record:
| | | |
| --- | --- | --- |
| West Ham | Draw | Arsenal |
| 35 | 40 | 72 |
March 7, 2020: Arsenal 1 – 0 West Ham United (Premier League);
September 19, 2020: Arsenal 2 – 1 West Ham United (Premier League);
March 21, 2021: West Ham United 3 – 3 Arsenal (Premier League);
December 15, 2021: Arsenal 2 – 0 West Ham United (Premier League);
May 1, 2022: West Ham United 1 – 2 Arsenal (Premier League);
December 26, 2022: Arsenal 3 – 1 West Ham United (Premier League).
West Ham vs Arsenal Predicted XI:
West Ham possible starting lineup (3-5-2): Fabianski; Kehrer, Ogbonna, Zouma, Cresswell; Bowen, Rice, Soucek, Benrahma; Ings, Antonio.
Arsenal possible starting lineup (4-3-3): Ramsdale; White, Holding, Gabriel, Zinchenko; Xhaka, Partey; Saka, Odegaard, Martinelli; Jesus.
Statistical preview of the match West Ham vs Arsenal:
West Ham's First XI average age is 29.5 yrs.
Arsenal's First XI average age is 25.8 yrs.
Arsenal are unbeaten in 9 of their last 11 matches.
West Ham are unbeaten in 5 of their last 7 matches.
Arsenal are victorious in their last 3 games against this opponent.
West Ham United are scoring an average of 1.60 goals per game in their last 5 games.
In the last 5 games West Ham conceded on average 1.20 goals per game.
Arsenal conceded an average of 1.00 goals per game in their last 5 games.
Arsenal are scoring an average of 2.80 goals per game in their last 5 games.
West Ham's top scorers: Jarrod Bowen (9+4), Michail Antonio (8+3), Said Benrahma (7+4).
Arsenal's top scorers: Gabriel Martinelli (14+5), Bukayo Saka (13+10), Martin Odegaard (10+7).
What has been said before the match:
The Hammers coach David Moyes about his team's current state:
"We will put out a team that will try and beat Arsenal. Last year, we challenged a lot of the so-called 'big teams' so we will try to give them a good game. They have got themselves in a great position to possibly win the league."
"They are very good. And they have a good record on the road. It makes it a difficult game but we have had a good couple of games against Arsenal over the past years and hopefully, we can do that again."
"I do think we are on a much better run of form. If we take out the Newcastle game, I think we have been defensively solid. So I am happy with how we have been doing."
Arsenal boss Mike Arteta about the Liverpool game, coach David Moyes and an upcoming game with his team:
"When you concede in the last few minutes, you have to be upset. We wanted to win the game but as well, we have to be realistic. We have to accept that we had an exceptional period in the first half where we should have killed the game, but the reality is in the second half we had some really tough moments where we had to dig in. We could have conceded a few goals as well – that was the game."
"It will be a very difficult game. We know, we've been there a few times and we always find really tricky and difficult games. I know David really well and how he's going to prepare for the game as well, and we are ready. It's going to be a fight; it's going to be another big derby for us and we're going to be at our best to win it."
Mikel also talked about David Moyes:
"More than respect, I think it's admiration. I loved playing under him, I would go through a brick wall for him when he was my manager, as everybody would in that squad. He's a really good coach, exceptional at managing the group and dealing with individuals, and he's a very special person, very trustworthy, and a man who honors his word. He always did it and he's someone I learnt a lot from."
West Ham vs Arsenal Prediction:
On paper, the visitors have a better chance of winning. It's not just because they are superior to West Ham (both presently and historically – 6 wins in the last 7 head-to-head games). Arteta's side are also more fresh. As you know, the Gunners have been preparing for this clash for a week. The Hammers, on the other hand, had a far-from-easy away game in the Conference League against Gent.
What neither team has a problem with is motivation. The home team and the visitors continue to tackle their own tournament goals. Although here the light falls as follows: the Hammers have no EPL ambitions, it is only important not to be relegated, all forces are now concentrated on success in the third-ranked European competition. As for the Gunners, they have no margin for error, in this match, they need to take three points for sure, otherwise, the question of the championship with such a monster in-form City will be removed from Mikel Arteta's agenda. We expect a confident win for Arsenal.
Don`t miss out 👉: Eintracht Frankfurt vs Borussia M'gladbach. Prediction and Preview. Probable Lineups, Team News, Stats and more
Parimatch News staff prediction:
We say: Arsenal will win with an individual total over 1.5 – Yes.