'We have to look forward' – Solskjær after devastating defeat from Liverpool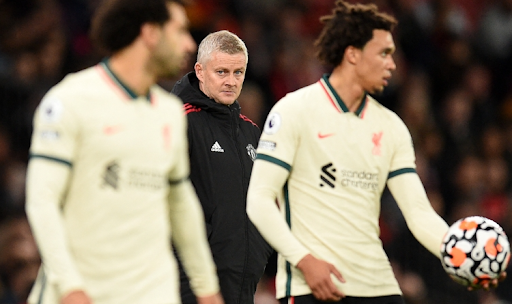 OGS looks on magnificent Mo Salah with a sense of anger and hopelessness
Liverpool thrashed Manchester United at Old Trafford on Sunday night with a humiliating scoreline (0-5). This is the biggest home defeat for MU against the Merseysiders in the history of the clubs' rivalry. Ole Gunnar Solskjær said it was the darkest night of his time at United as a coach.
Many expected a high-scoring game, many predicted a win for Liverpool, which is showing excellent form. Most understood that Man Utd will have problems – but no one could have imagined such a smash-up.
Don`t miss out 💥: Leicester's Patson Daka scores poker in epic Europa League comeback
Just 4 minutes and 42 seconds after the starting whistle, the Red Devils defence seemed to have forgotten the seriousness of the match: three passes from centre of the field saw Naby Keita brought on a one-on-one with David De Gea. The midfielder opened the scoring.
Diogo Jota was then able to tap in another after an excellent ground cross from Trent-Alexander Arnold, who was literally alone on the right-wing.
After that, it seemed for a while that MU were about to come together, but they completely fell apart after some fierce Merseyside combinations. At one point it was pitiful to watch the defence under the leadership of Harry Maguire: they were literally being torn apart.
Afterwards, the match culminated with the unstoppable Egyptian Salah managing a hat-trick in less than 25 minutes: two goals in the first half before he added a third in the 50th minute of the second.
The disappointed face of club legend Sir Alex Ferguson is especially heartbreaking:
The Mancunians were losing their nerve, with Cristiano Ronaldo first taking a frustrated shot at the ball lying right near Curtis Jones after a losing challenge – this resulted to the scuffle – with the Portuguese being yellow-carded by referee Anthony Taylor.
What's more, Premier League's top assistant Paul Pogba came onto the pitch in the second half and immediately committed a horrendous slide tackle and was sent off after a VAR review.
The fans couldn't take it anymore and went home unable to watch their beloved team play like that.
Meanwhile, the visitor fans seemed to get into a rush, chanting and singing songs. Including them ironically chanting "Ole`s at the wheel", it was painful to watch the reaction of the remaining Red Devils fans.
You can see the highlights of the match above:
Goals: Keita 5′ (0:1). Diogo Jota – 13′ (0:2). Salah – 38′ (0:3). Salah – 45+5′ (0:4). Salah – 50′ (0:5).
Notwithstanding Sunday's loss, Solskjaer believes he can bring Manchester United to some better times:
"I've come too far. We've come too far as a group. We're too close to give up now.  That's going to be a difficult one [lifting everyone]. I understand human nature and the players are going to be low. I'll just look into their eyes and the character of them. I know loads of characters are there. I know we're rock bottom and can't feel any worse than this so let's see where we take it. The only way I know how to approach life is to wake up tomorrow morning and look forward, of course evaluate what has gone on, and do my very, very best to come through difficult times."
"We have to sort the frame of minds out and make sure we go into the next training session and the next game in the right frame of mind. Manchester United have had tough times, difficult times before and they have always bounced back and taken on challenges. Last season we were second and this season we have started badly. You have to get through that one and then start building performances, start building results, start with clean sheets and see where that take us at the end of the season."

he said, hoping that he would still have time to turn things around.
Rio Ferdinand said he was hospitalised because of the last match:

It was not reported what exactly happened to him.
Former Inter and Chelsea coach Antonio Conte could take charge of Manchester United. According to Fabrizio Romano, the English club's management will decide on a position for United's current coach Ole Gunnar Solskjær in the coming days.
If a decision is made to sack the Norwegian, Conte will be interested in the job.
Don`t miss out 💥: Lacazette & Co net three to thrash Aston Villa and ensure Arteta's course
This season, Mohamed Salah has played 12 games for Liverpool, scoring 15 goals and providing five assists. The Egyptian became the most prolific African in the EPL, surpassing Didier Drogba after scoring his 106th goal.
It was only the second time in 617 top-flight league appearances that Ronaldo ended on the losing side by 5+ goals in a match, with the other a 5-0 defeat as a Real Madrid player against Barcelona in November 2010.
Manchester United received seven cards in their 5-0 defeat to Liverpool (six yellows, one red), their joint-most in a Premier League match, alongside the seven yellow cards they received against both Spurs and Chelsea in February and September 2008 respectively.