Lacazette & Co net three to thrash Aston Villa and ensure Arteta's course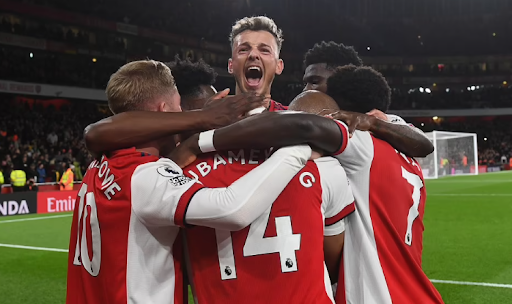 Ben White is euphoric celebrating the goal with the squad
Arsenal beat confidently Aston Villa at home (3-1) in the 9th round of the English Premier League. Thanks to this win, Mikel Arteta's team has now moved up from 12th place in the league to ninth with 14 points.
It started well for Arsenal as lads of the Spaniard were producing a lot of shots and, finally, they managed to score their first as Thomas Partey converted after the corner.
After that, it seemed like Arsenal got it all in the bag. The Londoners made it 3:0 at the 56-minute mark.
https://twitter.com/premierleague/status/1451646774200897542?s=20

Still, Dean Smith's side got one back but it was too late.
Goals: 1:0 – 23` Partey, 2:0 – 45' Aubameyang, 3:0 – 56' Smith-Rowe, 3:1 – 82' Ramsey.
Coach Mikel Arteta, who has been under a lot of criticism lately, gave his assessment of the match:
"I'm really satisfied with the way we started, our tempo, urgency, how dominant we were. We really believed we could do it against a really good side. We wanted to put the result on Monday aside. They did learn from that Crystal Palace draw. We started to win the game with the reaction they had from Monday. We are the youngest team in the league. We can't change that. We have to find why these things happen and put them right."
Don`t miss out 💥: For the first time in Jose Mourinho's 1,008-match managerial career, his club has conceded 6+ goals
The team of coach Mikel Arteta extended their unbeaten streak to 7 matches in all competitions. The Londoners have 5 wins and 2 draws during this period.