Tuchel's first defeat in England: underdog thrashed Chelsea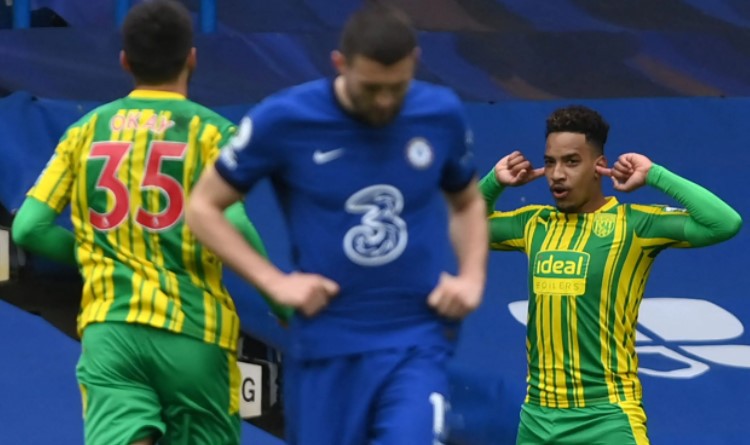 Matheus Pereira scored two goals in added time
In the 30th tour of the English Premier League Chelsea suffered a defeat against West Bromwich (2:5). Chelsea scored first, but then the nightmare began: Thiago Silva was sent off and 19th-placed 'shark from the bottom' felt the blood.
It started with Chelsea taking the lead in the first half after Pulisic's goal. But the scenario was much more interesting. in the fifth minute Thiago Silva fouled Matheus Pereira near the box and received the first yellow card, and in the 29th minute referee David Coote showed the Brazilian a second warning that led to a red. It was Silva`s first match for Chelsea since February 4.
From this point on, the horror movie began. First 24-year-old Pereira scored two goals right at the end of the first half. And then Sam Allardyce's boys confidently hammered Chelsea, scoring two more goals. Mason Mount netted one in response, but it was impossible to avoid a crush as West Ham scored another.
West Brom manager Sam Allardyce:
"I am delighted. What we saw today is what we have been missing. The quality of our goals and our football brought us a fantastic result. We were desperate for it. They went down to 10 men, deservedly so. Thiago Silva could have gone for his first foul. But on many occasions, I have got a result with 10 men but we took Chelsea apart. We said let's go, let's go challenge them and it worked extremely well."
The result simply serves as a reminder that this project is still at the start, with too many players still underperforming. Looks like the 'honeymoon' is over.
Chelsea boss Thomas Tuchel reflecting:
"There was nothing so much until the red card came. After that we were unable to cope with the situation. I don't know why. We have to accept the big loss. We did big mistakes before the two yellow cards. There were too many easy ball losses. It was impossible for us to accept the situation. Every shot was a goal from them."
"Clearly it was not our day today. We will get the right response. First of all it's important we digest it. I did not see it coming, now we have to take our responsibilities – me included – and shake it off."

The German specialist drew a line.
Thiago Silva's red card after 29 minutes is Chelsea's earliest in a Premier League game since Gary Cahill was sent off after 14 minutes against Burnley in August 2017.
It is the Londoners' first defeat since Thomas Tuchel was appointed head coach. The German replaced Frank Lampard at the end of January and started at Chelsea with 14 games without defeat – 10 wins and 4 draws.