Tottenham Hotspur vs Arsenal. Prediction and Preview. Probable Lineups, Team News, Stats and more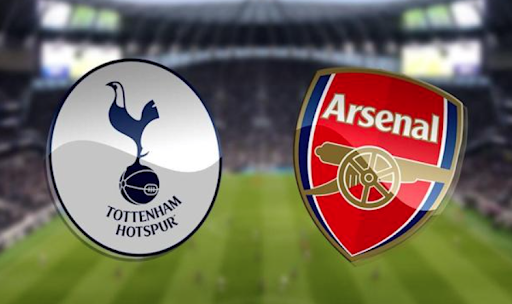 Spurs will host Arsenal at Tottenham Hotspur stadium in the 22th round of the English Premier League. The match will take place on May 13, beginning at 00:15 IST.
On Thursday night, a fascinating replay of the 22nd round of the English Premier League will bring the massive joy to the all football fans around the world. Two North London clubs, Tottenham and Arsenal, will be in action at Tottenham Hotspur stadium, just a couple of kilometers away from Emirates.
The fact that the clubs are neck and neck in the EPL standings and are fighting for the UEFA Champions League place makes the occassion heated to the maximum. Tomorrow's match could guarantee the Gunners a place in that prestigious competition – something that could be considered as a trophy – as it will allow the club to reach another level for which they are definitely ready.
As for Spurs, they too have a chance of qualifying into the UCL – although much lowe. To do so they must make no mistakes in their upcoming matches. Beating their arch-rivals is a must for them.
Parimatchnews will tell you everything you need to know ahead of the upcoming match.
Tottenham Hotspur News & Current Form:
Tottenham are fifth in the table and four points behind fourth-placed Arsenal. It won't be easy to catch up with their principle rivals. All the more so in the last four rounds of the English championship, their progress is problematic. Over the period, the club scored only one win – over Leicester (3-1).
They also drew with Brentford (0-0) and Liverpool (1-1) and suffered a 0-1 defeat at the hands of Brighton. The biggest question is the meetings in which they failed to score and, what is scarying, to get a shot on target. After all, Spurs have a prolific attacking line-up, consisting of such stars as Harry Kane and Son Heung-min.
Don`t miss out 👉: Liverpool handed hammer-blow in title pursuit, Watford relegated back to the Championship, and more…
The forwards have been working together well on the pitch for a number of years now. Under Antonio Conte, who joined the Blues and Whites in November last year, their effectiveness has increased manifold. The Englishman and the Korean have scored 33 goals in the current season. Impressive.
So, why have they failed to net the goals against Brighton and Brentford? The answer is banal. They lacked stability. The Italian coach is just getting used to managing his team. Prior to that, his charges had a series of four wins in a row – over Brighton (2-0), West Ham (3-1), Newcastle United (5-1) and Aston Villa (4-0). It was not possible to maintain this tempo for a long time.
Tanganga, Skipp, Regillon and Doherty will be unable to play today.
Arsenal News & Current Form:
On the other hand, Arsenal are not exactly blessed with stability in the English league this season as well. In the last four rounds, the club have played solidly to win game by game. As a result, they beat stalwart Chelsea 4-2, Manchester United 3-1, West Ham 2-1 and Leeds 2-1. Before that, what is interesting, they suffered three defeats in a row – to Crystal Palace (0-3), Brighton (1-2) and Southampton (0-1).
Mikel Arteta has a very young squad, which simply lacks experience of performing at a high level every game. Undoubtedly, the players are very talented. They're good in terms of goalscoring, excellent speed and individual skill, but sometimes they put up a really bad performance.
One of the clearest examples of this was their 0-1 defeat at the hands of Championship`s Nottingham Forest in the FA Cup final 1/32 and their subsequent exit from the competition. In that meeting, the Londoners failed to hit a single shot on target from 10 total shots. Although Mikel Arteta fielded a first-team starting line-up. It was the class that was lacking here. Although such performances are quite rare for the Gunners.
Now, the Red-Whites found some decent balacne and are very close to a qualitatively new level for themselves, which can be achieved by getting into the UCL, for the first time since Arsene Wenger era. The youngest squad in the league which is already full of gems can be complemented with very high-quality transfers thanks to the allocated money and European ambitions. This will be very instrumental in realizing the transformation that Mikel Arteta, who wants to take the club to the very top, is executing.
White, Partey and Tierney will not be available to play today.
Tottenham Hotspur season form guide (all competitions): W-W-L-D-W-D
Arsenal season form guide (all competitions): L-L-W-W-W-W
Tottenham Hotspur vs Arsenal Head-To-Head Record:
| | | |
| --- | --- | --- |
| Tottenham Hotspur | Draw | Arsenal |
| 79 | 51 | 60 |
Last matches:
26 Sep 2021 – Arsenal 3-1 Tottenham (EPL);
14 Mar 2021 – Arsenal 2-1 Tottenham (EPL);
06 Dec 2020 – Tottenham 2-0 Arsenal (EPL);
12 July 2020 – Tottenham 2-1 Arsenal (EPL);
01 Sep 2019 – Arsenal 2-2 Tottenham (EPL).
Tottenham Hotspur vs Arsenal Predicted XI:
Tottenham Hotspur possible starting lineup: Lloris; Romero, Dier, Davies; Emerson, Hojbjerg, Bentancur, Sessegnon; Kulusevski, Kane, Son
Arsenal possible starting lineup: Ramsdale; White, Holding, Gabriel, Tomiyasu; Xhaka, Elneny; Saka, Odegaard, Martinelli; Nketiah
Statistical preview of the match Tottenham Hotspur vs Arsenal:
In the previous 15 London derbies, the slight advantage is on Tottenham's side with 5 wins, 6 draws and 4 defeats.
The opponents have exchanged goals in five of their last six official face-offs.
Arsenal have decent statistics at the distance: they have scored 56 goals in 35 meetings in the EPL. However, they have also conceded a lot of goals in that period – 42.
Spurs have almost identical figures for the same period: they have scored 60 goals and conceded 40.
According to the statisctics of the last 10 matches: Tottenham scored an average of 1.4 goals per game and Arsenal 1.5.
Tottenham have conceded at home in 9 of their last 10 matches.
Arsenal have conceded in seven consecutive away Premier League games.
What has been said before the match:
"It's my first north London derby and I know very well what this game means for this Club for our fans. We have to know very well what it also means for the table for us at this moment. We are fighting for a place in the Champions League, we are in this race with Arsenal. We are doing a really good job to stay in this race. At the same time, I want to try to give satisfaction to our fans, they deserve this type of satisfaction in a tough game, a derby against Arsenal."
"It's a massive game. We are talking about a game with two important teams, Tottenham and Arsenal. It will be interesting to see the way we finish this game, for sure. Arsenal, they have the same idea, for sure, to try to get points and take a place in the Champions League, and they are doing very well. They have worked with this coach for many years, and they are going to improve year by year. At the same time, we're on a good path with my team. We've improved a lot. To arrive at this point with three games to go, with the possibility to fight for a big achievement, we have to be proud, and try until the end to get the best possible result."
"I think it will be a tactical game. Arsenal are well organised, Arteta is doing a really good job and when you watch Arsenal, you know this team is well organised in the tactical aspect, really good players technically, good one-against-one, Saka, Martinelli, Nketiah. We have to pay great attention, show great solidity, as always, and at the same time, when we have the ball, we have to try to hurt them."
"It's [this challenge] the most exciting one, probably. But we had others when we played finals against Chelsea and Liverpool in the FA Cup and the Community Shield, it was the same. When you have the opportunity to achieve one of your objectives in the season, you just cannot wait to play the game because this is a job, and the work you have done throughout the season to try to earn it."
"The message is clear, if we win against them we are in the Champions League next season. You don't need any motivation or to tell them anything more than that. The opportunity is there, we are going to play and go for it like we always do It's how we have got into this position, and it's how we are going to approach it."
"It's about excitement and opportunity, and when you have that in football you have to go and deliver and do it. That's the mindset we all have for tomorrow. It's not about the pressure, it's about having that inner belief that tomorrow is the day and tomorrow we want to achieve what we have earned."
Tottenham Hotspur vs Arsenal Prediction:
Assuming victory for any particular team in this case is very risky, but what's worth taking is the goals in the match. Tottenham have Kane and Son at full strength, with Sessenion very bright on the wing. The 22-year-old Eddie Nketiah is lighting up Arsenal with two double-doubles in four games. Other attacking players like Martin Odeagard, Bukayo Saka, Gabriel Martinell are probably even more of a threat. The first one was recently awarded with the captain's armband, the whole game is being built around him now and there are huge expectations from the Arsenal staff.
With guys like that in the attack, teams are not allowed to have dull and unproductive football.
Parimatch News staff prediction:
We say: both to score – Yes.