Top 5 possible destinations for Ousmane Dembele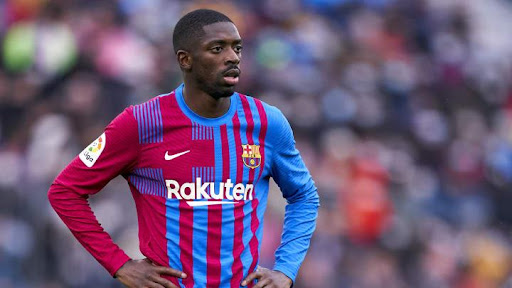 Dembele is reportedly considering leaving Camp Nou this summer
Barcelona's star winger Ousmane Dembele's contract is set to expire at the end of this month, leaving him with an uncertain future at the club. The French international is reportedly considering leaving Barcelona, though the club has recently expressed renewed interest in keeping him at Camp Nou.
While injuries have plagued Dembele's time at Barcelona, he is one of the world's most talented wingers when healthy. His ball control is among the best in the world, and he has the speed to get past defenders in the blink of an eye. However, staying on the field has been a problem for the 25-year-old, who has played in just 102 La Liga matches since joining the club five seasons ago.
If he does decide to leave Barcelona, a number of football clubs will be interested in bringing him aboard. Dembele could be on his way to the Premier League, while other Champions League contenders will be looking to sign him this summer. With that in mind, here are the five best options for Dembele if he does not re-sign with Barcelona –
#1 Manchester United
Manchester United are desperate for new blood, and Dembele could be an intriguing option to add some flair to the attacking third. Jadon Sancho's second-half surge has him pencilled in as a key player for Manchester United next season, but the club could use some more star power to compliment him. Dembele can play on either flank because he is dominant on both feet. Combining him with the likes of Bruno Fernandes, Cristiano Ronaldo, and Jadon Sancho would form a potent attacking unit for Manchester United.
Dembele's injury history may worry Manchester United fans, but the 25-year-old's talent could make him a key cog under Erik Ten Hag. Furthermore, United are one of the few clubs capable of matching Dembele's lofty wage demands, which could play a significant role in his decision.
#2 Paris Saint-Germain
There is no top player who is not associated with the Paris club. Dembele should be no exception, with excellent money, a comparatively easier league to play in, and a swanky lifestyle in the French capital. With strong indications that Neymar Jr. will leave the club this summer, PSG may look to rebuild their attack with the Frenchman.
The former Borussia Dortmund star can score with quality teammates and has a knack for scoring in big games. The former aspect would appeal to Parisians, who have been chasing European glory for quite some time. Meanwhile, the Parisians have plenty of money, and the prospect of playing in an attack alongside Lionel Messi and Kylian Mbappe would be appealing to any player.
#3 Chelsea
A reunion with former Dortmund manager Thomas Tuchel could be the catalyst Dembele needs to relaunch his career and live up to the potential he displayed in his youth. While he has always demonstrated the ability to produce on the field, injuries have slowed his development. Some of his best football was played at Dortmund under Tuchel, so a reunion with his former captain could be just what the doctor ordered.
Chelsea is now under new ownership following the end of the Roman Abramovich saga, and Todd Boehly will be looking to splash the cash in his first transfer window as owner. Dembele could be an ideal target for Chelsea, who are looking for a winger after the departures of Christian Pulisic, Timo Werner, and Hakim Ziyech. Dembele has the ability to compete for a starting spot at Chelsea, and Tuchel may be willing to take a risk in bringing him to Stamford Bridge.
#4 Bayern Munich
With Robert Lewandowski announcing his intention to leave Bayern Munich, the Bundesliga club may be interested in bringing Dembele to town as a replacement for their star striker. While Dembele would play on the wing and would not be a direct replacement for Lewandowski, he would be an important factor in the attacking third and help Bayern compensate for the goal-scoring prowess they will lose if Lewandowski leaves.
Dembele scored six goals and added 11 assists in the Bundesliga as a 19-year-old, so there's reason to believe he'll be able to dominate again six years later. With Bayern Munich potentially looking for attackers this summer, Dembele could be a good fit for the reigning Bundesliga champions, especially if Lewa leaves.
#5 Newcastle United
Ultra-rich Newcastle has made it clear that they intend to sign world-class players in order to transform their fortunes from relegation contenders to title contenders. And, with Dembele seemingly eager to leave Camp Nou, he could be enticed by a move to the Premier League if the right offer is made.
Since completing their £300 million Saudi-led takeover last year, the Toon have yet to make a marquee signing, and signing Lukaku would be a statement of intent. The French international will not only bring experience to Newcastle but also transform the club's attack. The Magpies signed Chris Wood in January, but they still lack a world-class striker. If he performs to his full potential at St. James' Park, the former Rennes man could fill that role.
Newcastle has always been a prestigious club, and they now have the financial resources to compete with the best in the business once more. They will, however, require top players to do so, and the 25-year-old is arguably one of the best French talents around.