Top 5 possible destinations for Matthijs de Ligt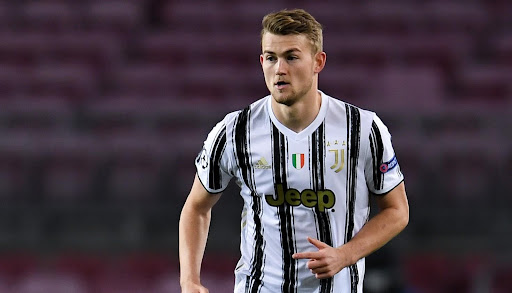 De Ligt has been heavily rumoured to leave Juventus this transfer window
Matthijs de Ligt may only have joined Juventus in 2019, the Dutch centre-back might depart the Italian side in the summer of 2022. As much as the player has insisted that he is happy in Turin, there have been reports stating that he is still not settled in Turin and would thus want to leave Allianz Stadium at the earliest.
The defender left Ajax in 2019 and joined Juventus as one of the hottest prospects in world football. His stint with Ajax saw him gain fame as one of the best young defenders in the world.
The Old Lady desperately wanted to sign the 22-year old in 2019 and their strong relationship with De Ligt's agent, Mino Raiola, helped them to seal the deal as they paid a whopping €85 million for the player. But close to three years into his contract with Juventus, De Ligt hasn't really made that leap to greatness. The Dutch international has occasionally even been sidelined by the evergreen duo of Giorgio Chiellini and Leonardo Bonucci in the squad.
After a couple of difficult years with Juventus, De Ligt might not be as in-demand as he was two years ago, but there would still be several clubs seriously interested if Juve were to look to sell. Here, comes a look at five of the most likely landing spots for De Ligt if he does move on from the Old Lady this summer
#1 FC Barcelona
The Xavi-led Catalans are in dire need of a cornerstone-type of centre-half and De Ligt would be the perfect option. Gerard Pique is now 35, Samuel Umititi is perpetually unfit, Eric Garcia has been a poor addition, while Clement Lenglet has failed to reach the heights of 2019/20.
During the 2019 race to sign De Ligt, Barcelona started in pole position. As a club with a strong connection to Dutch football and as a club that had already secured the transfer of Frenkie de Jong, they assumed their offer would be too good to turn down. But, the young centre-back did turn them down.
Now, maybe De Ligt wishes he had opted for a club with a style better suited to his talents and Barcelona might be that club. However, as is the case with any Barcelona transfer rumour these days, finances would be the issue. There isn't much money at the Catalan club and Juventus wouldn't sell their young talent cheap.
#2 Manchester United
Manchester United have had a pretty average defensive record this season, despite signing Raphael Varane last season. Ralf Rangnick's side has conceded 57 goals in 38 games this term – the second-highest tally in the top 10 of the Premier League – while doubts remain over incumbent centre-backs such as Harry Maguire, Eric Bailly and Victor Lindelof.
The arrival of the Dutchman, who now has almost six years of Champions League experience, will further bolster their squad. He can be a useful replacement for Harry Maguire, who has seen his position and status in the team – as well as his long-term future at the club – come under scrutiny this season.
#3 Paris Saint-Germain
Paris Saint-Germain will always be involved in discussions revolving around top players and De Ligt could be one of Les Parisiens' potential options for the role of centre-back. Despite their infinite wealth, the pursuit of De Ligt is only feasible if Presnel Kimpembe departs. The French defender will return a healthy fee should he leave, with Chelsea listed as one of the PSG defender's potential destinations.
However, outside of Kimpembe and superb skipper Marquinhos, it's fair to say that PSG's centre-back options are scarce despite the arrival of Sergio Ramos last summer. The Spaniard has since struggled for fitness, with Mauricio Pochettino occasionally forced to use midfielder Danilo Pereira in defence. Thus, PSG might be a team to keep an eye on in the potential De Ligt sweepstake next summer.
#4 Chelsea
Premier League giants Chelsea have been strongly linked with a move for De Ligt and they certainly have the financial muscle to pull off the move. Although the player's wages may be an issue as the Dutchman is currently Juventus' highest earner.
The Blues are keen to add a centre-back to their ranks after Antonio Rudiger left Stamford Bridge for free at the end of the season while his partner Andreas Christensen is also almost certain to leave the club upon the expiry of his contract later in the month. Thus, De Ligt is very likely to join Sevilla's Jules Kounde in London to form a new-look defence for the 2021 UEFA Champions League winners.
#5 Manchester City
Many believe De Ligt would be a good fit for Manchester City stylistically. To see Pep Guardiola working with the young Dutchman would be a special sight and that could be a challenge that the player relishes too. And like Chelsea, City too will have no issues on the financial front despite De Ligt's wage.
Reports emerged in October that the player's now-deceased agent Raiola opened talks with City over a move for the Dutch centre-half, with the Manchester club ready to move on from Nathan Ake. However, even if Ake was to depart, City still has two world-class centre-back options in Ruben Dias and Aymeric Laporte with John Stones as an able deputy.