Top 5 possible destinations for Giorgio Chiellini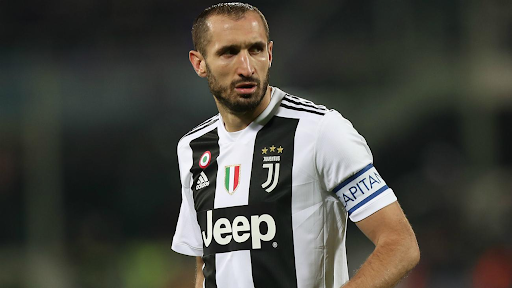 Giorgio Chiellini will be leaving Juventus when his contract expires at the end of the season
"Came as a kid and left as a man" – this is a rather commonly used phrase when it comes to football, but nothing can be more appropriate to describe Giorgio Chiellini's stint in Juventus. He first arrived at Turin way back in 2004, as a promising 19-year-old who did show glimpses of his potential, but was far from being the polished article.
For the first season, he was loaned to Fiorentina where he proved his calibre to rise through the ranks. The then Juventus manager, Fabio Capello knew it well that it will be a waste of Chiellini's talent if he keeps on sending the kid to other teams on loan, and made him a regular starter in the 2005/06 season.
Since then, the Pisa-born player has not had to look back, as he and Juventus became synonymous. The wall of defense made 560 appearances where he scored 36 goals, but more importantly, kept numerous clean sheets and helped his team win nine Serie A titles.
However, every story has a concluding act, be it a tragedy or a fairytale. After nearly two decades of wearing his heart on his sleeve and winning as many as twenty trophies for the team from Turin, the time has come for Chiellini to call it a day on his Juventus career.
The defender has announced that he will leave the club when his contract will expire at the end of the ongoing season. Though he is one of the most decorated central defenders of the modern era, it has to be kept in mind that he is 37 years of age, and accordingly, the big teams in Europe might not be particularly interested to get him in their squad. However, he has other offers from across the continent and is likely to make a decision very soon.
Check out five teams who might be interested in signing Chiellini:
1. Los Angeles
According to the rumours, it seems certain that Chiellini will be headed to the United States of America, and Los Angeles is touted to be the preferred destination of the veteran defender. LAFC had a poor run last season, where they finished 9th in the Western Conference standings and 19th in the overall standings.
However, under the stewardship of Steven Cherundolo, Carlos Vela & Co. has improved a lot this season. With seven wins from 11 fixtures, they are placed at the top of both the Western Conference and overall standings. Scoring goals has been LAFC's forte, but if there is one department where they are still caught lacking, it is defense. They have let in 12 goals, which is more than title competitors FC Dallas, Austin FC and Los Angeles Galaxy. Hence, Chiellini can do wonders in terms of improving its defensive cohesion.
2. LA Galaxy
If not Los Angeles, Chiellini could join their arch-rivals Los Angeles Galaxy, who seem to be very keen on securing the Italian's signature as well. Galaxy was the team to beat in the early 2010s, but they have fallen drastically from their pedestal over the last few seasons.
In the 2021 edition, they finished 15th in the overall standings and 8th in the Western Conference. Like their rivals, they too have shown signs of improvement this year and are currently placed 4th in their conference with six wins from 11 matches, but the arrival of Chiellini can make them a real title contender.
3. D.C. United
Another team from Major League Soccer that is interested in availing Chiellini's services is D.C. United. The Black and Reds are not particularly going through a good phase – they finished 8th in the Eastern Conference and 16th in the overall standings last season.
Besides that, unlike our previous two mentions, D.C. United has not improved this time around as well, as they remain 8th in their conference. However, they have lured big names previously to their club, with English legend Wayne Rooney being the most notable mention. Hence, it will not be too big a surprise if Chiellini eventually ends up in Chad Ashton's team.
4. Inter Miami
One particular rumour pertaining to Inter Miami rocked the football fraternity recently, as it claimed that Lionel Messi would join the MLS club following the conclusion of the 2022/23 season. While that remains a long shot, the David Beckham-owned team can make a statement as early as in the next few weeks – by signing Chiellini.
The English footballer-turned-businessman has brought in plenty of renowned names like Blaise Matuidi and Gonzalo Higuain but has not got the desired results. Inter Miami is reeling at the 13th place in the Eastern Conference standings and 23rd in the overall standings, and one of their major concerns is the inability to keep clean sheets. Hence, Chiellini will be the missing piece to their jigsaw.
5. Toronto
We have so far spoken exclusively about American clubs, but the USA is not the only option Chiellini has on his plate. Their neighbours, Canada could be a place he might end up in, as Toronto is reportedly fighting the MLS clubs for the veteran's signature.
Bob Bradley's team is going through a rough patch – currently placed 12th in the Eastern Conference and 22nd in the overall table. It goes without saying that the addition of the 2020 UEFA European Championship-winning defender will do his team a world of good, and there are a couple of factors that can work in Toronto's favour.
Firstly, the Reds have signed Lorenzo Insigne on a free transfer, who happens to be Chiellini's Italian teammate and a close friend. Besides that, one of Chiellini's childhood friends, Sebastian Giovinco happens to be a former Toronto player. If Bradley's team can utilize these two channels, Chiellini could well be persuaded to come to Canada.