Top 5 possible destinations for Eden Hazard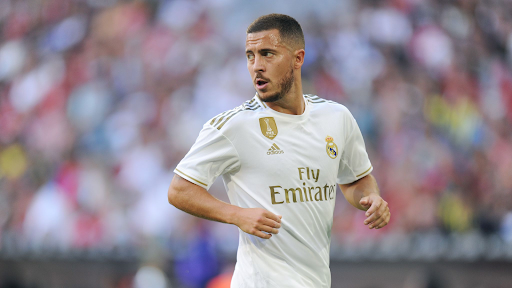 Eden Hazard's Real Madrid career has not kicked off at all
Greatness, in football, comes in two ways. There are footballers who have been momentarily great – unstoppable when they were at it, but the only problem is, they were not at it for long. On the other hand, there have been timeless greats, who worked hard enough to transcend the boundaries of form and age.
Eden Hazard is a member of the former community. It is not long back that he was considered one of the most promising footballers in the world, with many claiming him to be good enough to win a Ballon d'Or in near future.
We are, however, now in that near future, and Hazard is nowhere to be seen. Indeed, he is a part of one of the most decorated teams in world football – Real Madrid, but that is restricted to only official papers and wage bills.
Hazard joined Real Madrid in 2019, for a reported fee of €100 million. Los Blancos was going through a rough time back then, as they finished third in La Liga the season before, and also failed to cross the round of 16 hurdle in the Champions League.
On the contrary, Hazard was enjoying the form of his life. He had just netted 21 goals in the previous season for Premier League side Chelsea, two of which came in the final of the UEFA Europa League against arch-rivals Arsenal.
In his 352 appearances for the Blues, Hazard scored 110 goals to establish himself as one of the most prolific goal-scorers to have ever graced the Stamford Bridge. Quite understandably, he was being touted as the one-stop solution to Real Madrid's problems.
The problems at Santiago Bernabeu were solved, but not by Hazard, and the latter himself became some sort of a 'problem'. Partly due to injuries and partly due to his own shortcomings, the lad from La Louviere has never got going in the Spanish capital.
In the last three seasons, he has made only 66 appearances for the defending La Liga champions and has netted only six goals. Interestingly, he scored six goals in his worst-ever season in Chelsea, back in 2015-16.
With the emergence of Vinicius Junior and Rodrygo Goes, the Belgian has been reduced to a squad rotation player currently. While Real Madrid manager Carlo Ancelotti has claimed he would like to give Hazard another opportunity to redeem himself, it is an open secret that Los Blancos will be open to offloading the player if the right offer comes, given his substantial pay cheque.
Check out five teams who might be interested in signing Hazard:
1. Chelsea
Ever since he has left the club, rumours of Hazard returning to Chelsea get circulated in every single transfer window. The reasons are pretty obvious – the Blues fanbase still regards the Belgian as one of the better players to have ever played for the club, and Hazard himself has always spoken highly of the club.
The rumours have started making rounds once again, but unlike the previous circulations, there might be some substance in it this time around. Notably, Chelsea is all set to undergo a major squad overhaul ahead of the 2022/23 season.
The power of controlling transfer operations has shifted hands since the ownership change, with Marina Granovskaia leaving the club and new owner Todd Boehly making transfer decisions. Fringe players in the likes of Romelu Lukaku and Hakim Ziyech are reportedly on their way out of the club.
Though Chelsea's prime attacking targets are Raheem Sterling and Raphinha, they could start a pursuit of Hazard's signature as well. The Belgian will not cost Thomas Tuchel's team a fortune, and could find his old form back if he returns to the Stamford Bridge.
2. Juventus
Italian giants Juventus, who certainly have not played like giants in recent times, are in dire need of new attackers. Their leading goal-scorer from last season, Paulo Dybala has left the Old Lady following the expiration of his contract.
To add to their misery, the second-highest goal-scorer Alvaro Morata has returned to his parent club Atletico Madrid, after the two teams could not agree on a fee for the Spaniard. In such a situation, Dusan Vlahovic, Moise Kean, Federico Chiesa, and Kaio Jorge are the only attacking options Massimiliano Allegri has at his disposal.
While all of them are supremely talented players, they are still very young and fairly inexperienced. Hence, the addition of an experienced frontman like Hazard could do wonders for Juventus, and the team from Turin should also not have any financial problems in signing him.
3. AC Milan
Juventus is not the only Italian club that could be interested to sign Hazard, as AC Milan might also join the race. The Rossoneri won the Serie A title last season, and with finances not being a major stumbling block anymore, Stefano Pioli's team is expected to build on their recent success.
The attacking department, in particular, is an area AC Milan would like to strengthen. Zlatan Ibrahimovic's contract has expired, Jens Petter Hauge has left the club, and Olivier Giroud is nearing the end of his career.
Pioli has already made one acquisition in Divock Origi, awaiting official confirmation, but the Italian tactician is in the market for another winger. Chelsea's Ziyech remains his main target, but if that deal does not go through, he could try signing the former Chelsea star.
4. Roma
Completing the list of Italian clubs that could be interested in Hazard's services is Roma, who won the inaugural edition of the UEFA Europa Conference League not very long ago. One particular reason why this move would make sense is Roma's manager – Jose Mourinho.
Though it was not the Portuguese master tactician who brought Hazard to Chelsea, it has to be admitted that the Belgian attacker played some of his best football under Mourinho's guidance. Back in the 2013-14 and 2014-15 seasons, when Mourinho was Chelsea's manager, Hazard scored 36 goals in 101 appearances.
Mourinho has already brought a former Chelsea player he has worked with previously, Nemanja Matic, to Rome. Hence, we will not be totally surprised if we see Hazard moving to the Italian capital anytime soon.
5. Newcastle United
Our last mention is not as lucrative as the previous four, simply because Newcastle United will not have European football like Chelsea, AC Milan, Juventus, or Roma. However, Hazard signing for the Magpies will make perfect sense from both the player's and the team's perspectives.
There is one common factor between the Belgian star and the Premier League side – both are in a rebuilding phase. Hazard is trying to find his form back, whilst the Magpies are trying to climb up the ladder following the takeover by Saudi Arabian owners.
It is expected that Newcastle United will make big moves this season, and they already have made a few additions to their squad. Hazard will provide the team with some much-needed top-level experience, which will also help the likes of Callum Wilson and Allan Saint-Maximin to unlock their full potential.