Top 5 possible destinations for Christian Eriksen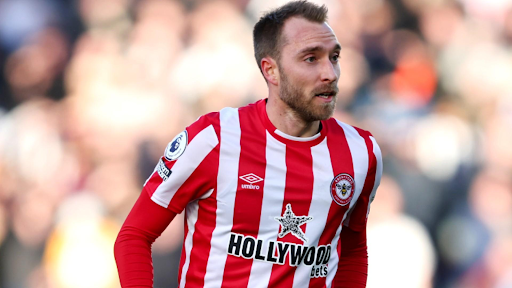 Christian Eriksen is currently playing for Brentford
Around this time a couple of years ago, the football world came to a standstill in unison. One of the most crafted artisans this sport has ever seen, Christian Eriksen collapsed on the pitch at Copenhagen's Parken Stadium, whilst proudly representing his nation at the 2020 UEFA European Championship.
The fraternity and every football fan will forever be indebted to the doctors, medical staff, referee Anthony Taylor and Denmark skipper Simon Kjaer for their quick actions, which effectively saved the life of the midfield maestro.
Back then, a sense of ecstasy prevailed as Eriksen survived, but hardly anyone would have expected to see him lay his foot on the grass and kick a ball ever again. The unthinkable happened this February when after being fitted with a defibrillator, the four-time Danish Football Player of the Year award-winner played his first game for Brentford.
The Premier League offered him a second chance at the sport, but they might regret one particular aspect of their contract with Eriksen – it was only a six-month contract which will expire at the end of this season. He has so far scored one goal and assisted two in his eight matches for the Bees, and for obvious reasons, quite a few teams will be interested in securing his services once the summer transfer window will open in June.
Check out five teams who might be interested in signing Eriksen
1. Brentford
Given how he has performed for them so far, it seems quite evident that Brentford will want to extend Christian Eriksen's contract, and reports suggest Thomas Frank's team has already placed an offer on the table for the Danish maestro. Though Eriksen is yet to make his decision, he might have an emotional inclination towards Brentford since they were the only team to offer him the chance to get his derailed career back on track.
With that being said, it also has to be said that Brentford is not a team that will have European aspirations, at least for the time being, which could force Eriksen to look elsewhere. As for the prospect of getting game-time, the 30-year-old does not need to worry one bit as at the time of writing, he had started in all of Brentford's last five Premier League matches.
2. Tottenham Hotspur
Eriksen did not end his stint with Tottenham Hotspur on a particularly positive note, but it is undeniable that he credits much of his fame to the team from London, whilst Tottenham fans will remember well how important a player he was for them for seven seasons.
The midfielder made 305 runs appearances for Tottenham Hotspur and he scored 69 runs – these numbers will suggest that the bond between the two parties might still be intact and it just needs to be rekindled. From the perspective of Antonio Conte's side, there has not been any reliable goal-scorer except Harry Kane and Heung-Min Son. Hence, this deal seems to be a win-win for both parties.
3. Newcastle United
Having been just taken over by the richest owners football has ever seen, it is a poorly-kept secret that Newcastle United will break their bank this summer transfer window. They are looking for a massive squad overhaul and the pursuit of Eriksen could be a good place to start with.
The Magpies have improved a lot ever since Eddie Howe took charge of the team, but they still are lacking a big goal-scoring threat as not a single player has scored 10 or more goals so far. Hence, Eriksen could provide them with the creative spark in the midfield that they dearly miss.
4. Everton
This might come across as a surprise mention, as Everton is currently in the relegation zone and a player of Eriksen's ability is very unlikely to feature in the EFL Championship. However, if the Toffees manage to stay up, they could try to tempt him to come to Goodison Park, as Everton is likely to spend big in the upcoming window to sort their team now.
This statement might not irk the Brentford fans, but it will be fair to say that in stature, Everton is a lot bigger than the bees. Moreover, their manager Frank Lampard prefers to play a number 10, as he did with Mason Mount at Chelsea, but he currently does not have that luxury at Everton.
Getting Eriksen for free is the biggest steal the team from Merseyside can think of at the moment, but a lot will depend on whether they can convince the player of their long-term aspirations.
5. Ajax
Sports personalities, especially footballers, have a knack for going back to their boyhood club at the dusk of their careers, and it will not come down as a real surprise if Eriksen follows the same path. He joined Dutch giants Ajax as a 16-year-old and played 162 matches before he was spotted by the Spurs scouts.
Prior to joining Brentford, Eriksen was given the opportunity to train with the Ajax side and use their facilities. It is very certain that the Eredivisie outfit will be impressed with what they have seen from their national hero so far in the Premier League and could join the race to acquire his signature.