Top 5 possible destinations for Andrea Belotti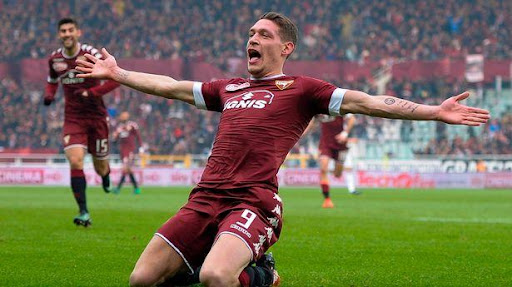 Andrea Belotti will be an in-demand player in this transfer window
The future of Andrea Belotti is still up in the air with the contract of the Torino striker ending in 15 days with the Serie A side. The forward has confirmed that he has no intention of renewing because he wants to make a quality leap in his career after several seasons at the club that saw him born as a football star.
Belotti has been with Torino for almost seven years now, having signed from Palermo in 2015. The 28-year-old has been a consistent performer for the Serie A outfit, racking up a tally of 113 goals and 28 assists from 251 appearances.
A regular for the Italian national team, he has 44 caps for the Azzurri, in which he has netted 12 times. The striker was part of the squad that won the UEFA Euro 2020 last year. However, Belotti endured a difficult 2021/22 campaign so far, having been struck down by two injuries, which have restricted him to just 22 league appearances and eight goals.
As the Italian ponders his next destination, PariMatch News consider five possible destinations for the former Palermo man –
#1 AC Milan
The Rossoneri are evaluating their course of action of upfront choices given the doubts about whether Zlatan Ibrahimovic will extend his contract for another season. Paolo Maldini and Ricky Massara hence are keeping their eye open in the market and the Torino striker's availability could alert them to respond.
As per various reports in Italy, if given a chance Belotti will prefer a move to AC Milan at the earliest. The centre-forward has been a Rossoneri fan since his childhood, and his dream is to play at San Siro. Milan reportedly is aware of the interest and could take advantage of it. The Rossonero have been pretty smart in getting bargain deals from the market in recent times and signing someone like Belotti on a free deal definitely would be a wise decision.
At just 28 years of age, Belotti will bring a slight youthfulness to an ageing attacking lineup at Milan which consist of 40 -year-old Zlatan Ibrahimovic, and 35-year-old Olivier Giroud. Moreover, signing him on a free deal could hand the club an advantage to invest funds in other top targets.
#2 Newcastle United
As per reports in both Italy and England, Newcastle United remain interested in signing Torino captain Andrea Belotti this summer despite being rejected in the January transfer window. The Magpies had reportedly offered a contract worth around £111,500-a-week to the Italian earlier this year, and it seems that Eddie Howe's men have not been deterred.
After the Magpies failed to sign the 28-year-old in the January window, they opted to seal the deal for Chris Wood, who has added value to the team but is not a prolific goalscorer. Given Callum Wilson's injury record, it would bode well for Newcastle to sign another striker in the summer, with Belotti emerging as a target again.
#3 West Ham United
It was the worst kept secret in all of the Premier League that West Ham was in desperate need of a new striker. However, despite their best efforts to sign Jesse Lingard from Manchester United, the Hammers were left empty-handed last season.
The Hammers, who look set for another season in Europe next term, need to add more quality depth to their attacking unit. A new striker is the need of the hour at the London Stadium, considering Michail Antonio is the only natural option available at David Moyes's disposal. David Moyes' side did just fine in the English top-flight this season but they could certainly use another striker upfront. And Belotti could be the perfect answer to their problems.
#4 Arsenal
One of the most obvious destinations for the Italian striker is Arsenal. Not only is Mikel Arteta's side in desperate need of fresh blood up front, but they'll also have the deep pockets necessary to entice Belotti to London in the first place.
Arsenal is in the midst of a major squad rebuild this summer transfer window. The Gunners have been said to be plotting a move for the Italian forward despite failing to land a Champions League spot this season. As per multiple reports, Arsenal is prepared to spend £250m this season in order to rebuild their squad.
The Emirates outfit is also likely to be on the lookout for a striker in the summer, following the sale of Pierre Emerick Aubameyang in January. Alexandre Lacazette and Eddie Nketiah will also be out of their respective contracts by the end of the current campaign. Hence, Arsenal is looking to sign players with the potential to improve and increase their value, and the 28-year-old is exactly what they need.
#5 Atletico Madrid
Atletico was reportedly interested in striking a deal with Torino last summer for Andrea Belotti, and although nothing materialised from those talks, the Spanish side could be set to make a direct approach for the forward ahead of next season.
With Luis Suarez's contract set to expire this summer, Diego Simeone is expected to enter the market for a new centre-forward and the Italian would certainly fit the bill. Belotti is already accustomed to playing in a 4-4-2 system with Torino this season and can form a sensational attacking pair with European Golden Boy Joao Felix.