Top 5 Midfielders of the ISL 2021-22 season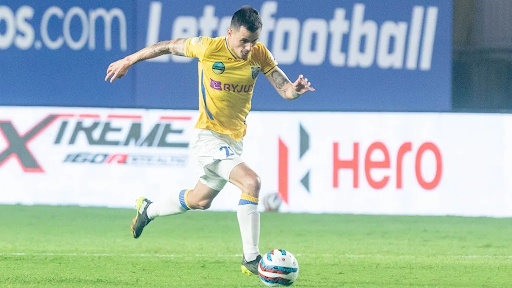 Adrian Luna had an excellent season for Kerala Blasters
The 2021-22 edition of the Indian Super League gifted us a plethora of enthralling, end-to-end matches, where the attackers and the defenders gave each other a run for their money. However, all of this would not have been possible had it not been for the tireless workers who pulled strings from the middle of the park, both orchestrating attacks and helping out the defense with the same ease. Whilst players like Joao Victor and Ahmed Jahouh stood like a rock in front of their backlines, Liston Colaco and Adrian Luna fed their attackers with one chance after another.
Let's check out the top five midfielders of the season:
#5 Alberto Noguera
While the vast majority of Goa's players failed to live up to the expectations, which eventually resulted in their failure to qualify for the semi-final, Alberto Noguera did a commendable job despite playing in a much deeper position than he ideally would have preferred.
He made the second-highest passes for Goa – 1062 passes in 19 appearances, and also had the second-highest number of touches – 1353. Noguera scored three goals, with all of them coming against East Bengal across three matches, whilst he also had three assists – two against NorthEast United and one against Hyderabad.
#4 Ahmed Jahouh
Two-time ISL League Winners' Shield-winning midfielder, Ahmed Jahouh's case is similar to that of Noguera, as his team Mumbai City failed to make it to the top four despite yet another fantastic season in the middle of the park for him.
He made the most passes for Mumbai – 1071 in 15 matches, and also had the most touches – 1343. The Moroccan player scored thrice this season – one goal each against Hyderabad, Odisha and NorthEast United, while he also had as many as seven assists – two against Odisha and one each against Goa, ATK Mohun Bagan, Bengaluru, Jamshedpur, and Chennaiyin
#3 Joao Victor
Joao Victor was retained for the 2021/22 season by the Hyderabad management and he repaid the faith in spectacular fashion, as he led his team to their first-ever silverware. The Brazilian is second in the Nizams' list of most passes and most interceptions – with 832 passes and 1101 interceptions in 21 matches.
Victor also scored five goals and got one assist for Manolo Marquez's men. He scored twice against Odisha and once each against Mumbai City, Bengaluru and Goa, whilst his lone assist came against Jamshedpur.
#2 Liston Colaco
After the central midfielders, let us now talk about two wingers who were sensational in the recently-concluded season. The first among the duo is ATK Mohun Bagan's Liston Colaco, who took more shots than anyone – 84, and 31 of his shots were on target.
Colaco scored eight goals and assisted five for the Mariners. He found the back of the net twice against NorthEast United and scored once each against Kerala Blasters, East Bengal, Chennaiyin, Goa, Hyderabad and Bengaluru. Two of his assists came against Hyderabad, whilst he got one assist each against Kerala Blasters, NorthEast United, and Goa.
#1 Adrian Luna
Kerala Blasters have a history of signing renowned players who ultimately failed to live up to the expectations in India. However, that is not the case with Adrian Luna, who had an outstanding campaign for the Tuskers. He is third on Kerala Blasters' list of most shots (30) and most shots on target (13).
The Uruguayan midfielder scored six goals – twice each against ATK Mohun Bagan and Chennaiyin, and the other two against Goa and Jamshedpur. He also had as many as seven assists, four of which came against Odisha itself, whilst he also assisted once each against ATK Mohun Bagan, Goa and Chennaiyin.