The dream come true: Nottingham Forest celebrate Premier League promotion after 23 years away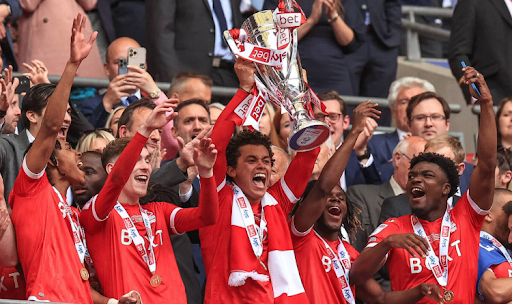 Reds feast long-awaited return to EPL by lifting Championship trophy at Wembley Stadium
Nottingham Forest, the beloved club of all neutral fans of English football, have booked a place in the English Premier League next season. Steve Cooper's side beat Huddersfield Town 1-0 in the final of the Championship play-offs, the second strongest English division.
The match was a tense one, and like many finals, it was not dazzling in terms of scoring opportunities and showy open play. In fact, the whole encounter saw just 2 shots on target and the only goal was scored at the end of the first half. In the 43rd minute, Huddersfield defender Levi Colville frustratingly headed the ball right into his own net following a powerful cross to the near post from the left flank by Foresters` midfielder.
It should be noted that Reds will play in the English Premier League for the first time since the 1998/1999 season. Since then, Nottingham Forest have played in the Championship and League One, the third strongest division in England.
Nottingham Forest boss Steve Cooper:
"Everyone connected to this football club deserves this today. We're looking forward to a positive future."
"It's relief of course but it's pride. I love being at this football club. It's changed my life. My family are here, the players' families are here – this football club is about belonging to a city. It comes together on matchday. We've taken over Wembley today and are in the Premier League."
"This football club is built on positive eras from the past and we want to build on that. We are proud of that but at the same time we need to think 'what if?' Can we get the Premier League? Can we play attractive football? What if we can develop young players? And that's what we've done showing an attitude and a commitment to not get beat. We deserve this."
"It's a glamorous world being a footballer and a manager but it's also a a harsh and spiteful one. And I just wanted the players to know I will be their biggest supporter and give them everything through thick and thin. It doesn't mean I'm soft with them or don't demand of them but everybody loves to be loved. That's what we've tried to do with the players."
At its core, the club has a rich history dating back more than 157 years. In fact, in terms of the regalia, Notts` Forest is even bigger than the current top sides in the English Top Division. The Garibaldi can boast two European Champion Clubs' Cup victories (now called the Champions League), as well as a Premier League title. In addition, Forest has won two FA Cups, four League Cups, one FA Charity Shield, and one UEFA Super Cup.
Don`t miss out 👉: Vinicius Jr. and Thibaut Courtois turn saviours as Real Madrid complete 'A por la decimo quarta' by beating Liverpool 1-0
Forest will join Fulham and Bournemouth in next season's Premier League, after they finished first and second in the Championship respectively.
Norwich City, Watford and Burnley were the three sides relegated from the Premier League.