Team of the 2022-23 Serie A Season ft. Osimhen, Danilo, Alberto, and Provedel
Kim Min-Jae won the best defender award
The 2022-23 Serie A season was all about surprises and unexpected plot twists. While Napoli won the league for the first time since 1990, Monza shocked everyone by finishing 11th in only their first season in the top flight. A few big guns, like the Milan giants and Juventus, missed out on living up to their reputation.
Let us have a look at the best XI from the 2022-23 Serie A:
Goalkeeper: Ivan Provedel
Ivan Provedel spent the majority of his playing career in the lower leagues of Italian football, travelling from one club to another, but now at 29 years of age, he has finally arrived at the scene big time. The shot-stopper won the golden glove with 21 clean sheets.
Besides that, he also has superb numbers in other aspects as well. The Lazio keeper has made a total of 99 saves this season, with his clean sheet percentage being 56.8% and save percentage being 77.3% – the highest among all the keepers in the league. In terms of goals conceded per 90 minutes, Provedel has a figure of 0.79.
Defenders: Danilo, Kim Min-Jae, Nehuen Perez and Cristiano Biraghi
For our pairing in the heart of defense, we have gone with Kim Min-Jae and Nehuen Perez. As for the former, Kim became Serie A's best defender in what was only his first season in European football, let alone Italy. He played a total of 35 matches for the champions of Napoli, helping his team keep 16 clean sheets in those games.
The 26-year-old from South Korea also had great numbers in other fields. He had a pass completion rate of more than 90% and also made 201 passes into the final third, which is the highest by any defender in the league. The Korean wall also tackled over 86% of the dribbles attempted against him, which is the highest tackle success percentage in the league.
Argentina has been producing plenty of upcoming talents in recent times, and one prominent name on that long list is Nehuen Perez. The 22-year-old could not quite make it in Spain with Atletico Madrid, but he is showing his class for Udinese.
He played a total of 34 matches in this season's Serie A, keeping nine clean sheets and helping his team secure 12th place in the standings. Besides that, he had the highest number of blocks by anyone from his team (53), and also the highest number of dribble tackles (39).
Juventus might have had a disastrous season, which saw them missing out on both the UEFA Champions League and the UEFA Europa League because of a 10-point deduction, but Danilo was the best right-back in the league this season.
Besides his defensive efficiency, the Brazilian scored three goals – one each against Udinese, Atalanta, and Torino, and also got three assists – against Torino, Empoli, and Spezia. He also made the most final third passes (187) by any player from the Turin club, and also got the most tackles (92), winning 62 of those.
Fiorentina finished just behind Juventus in the points table, and like Danilo, a veteran full-back was an important part of the Florence-based team's performance. Cristiano Biraghi had a season to remember, as he scored two goals while playing as the left-back (against Hellas Verona and Salernitana), and five assists (two each against Spezia and Sampdoria, the other against Monza).
In terms of key passes, the Italian stood second on Serie A's list with 82 crucial passes, while he also made 300 crosses, being the only player to attempt over 250 crosses in the league. Biraghi was also in charge of Fiorentina's corners and made 132 shot-creating actions.
Midfielders: Piotr Zielinski, Luis Alberto, and Teun Koopmeiners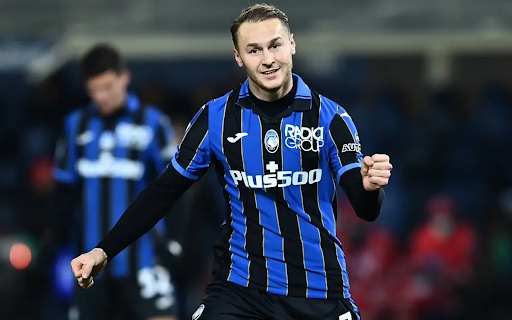 Piotr Zielinski has been a consistent figure in the heart of the Napoli side since he joined them in 2016, but now that they have won the Scudetto, his contributions are being recognised. The Poland international played a crucial role in both defense and attack this time.
He made a total of 12 goal contributions – three goals, which came against Hellas Verona, Empoli and Udinese, and nine assists. He is second on the assists chart behind teammate Kvicha Kvaratskhelia, but top on the list of key passes (84).
Luis Alberto's story is a lot like Zielinski's. He arrived in Italy from Spain seven years ago, but this season could be considered among his best ever. The Lazio central midfielder had 13 goal contributions, scoring six goals – against Inter Milan, Hellas Verona, Fiorentina, AC Milan, Sampdoria, and Empoli. He also got seven assists.
Alberto made 66 key passes, which is the most by any Lazio player, while he also topped his team's chart for the most passes into the final third (210) and the most passes into the penalty area (56). The former Sevilla player also made 248 progressive passes, second to only Giovanni Di Lorenzo in the league.
Teun Koopmeiners arrived in Italy with a huge reputation, having been a sensation in the Dutch Eredivisie with AZ Alkmaar. The 25-year-old had a difficult start to his life with Atalanta, but having adjusted to the league's pace, he was among Serie A's best midfielders this season.
Despite playing mostly as the defensive screen, he scored 10 goals – including two hat-tricks against Torino and Monza, and a goal each against Hellas Verona, Bologna, Salernitana, and Roma. Koopmeiners also got four assists and made the most progressive passes by any Atalanta player (186).
Forwards: Kvicha Kvaratskhelia, Victor Osimhen and Lautaro Martinez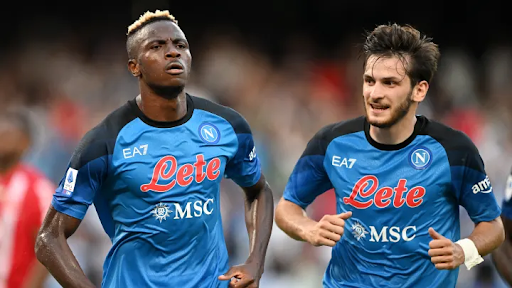 in the league
Although many might make a case for Victor Osimhen, Kvicha Kvaratskhelia was the deserving winner of the Serie A Most Valuable Player award for what was an amazing first season in Italy. The Georgian winger had 25 goal contributions – 12 goals and 13 assists.
Kvaratskhelia scored two goals each against Monza, Sassuolo, and Torino, while his other six goals came against Hellas Verona, Lazio, Juventus, Spezia, Cremonese, and Atalanta. Besides topping the table for assists, he also was the joint third-highest in terms of shots on target (30).
Though Napoli coach Luciano Spaletti has often spoken about the importance of teamwork in his side's success, the pair of Osimhen and Kvaratskhelia has been the main reason behind their dominance this season. The Nigerian marksman had 31 goal contributions, with 26 goals and five assists.
Osimhen scored one hat-trick, which came against Sassuolo, and four braces – against Juventus, Spezia, Torino, and Bologna. Besides winning the golden boot, Osimhen also had the highest goals per ninety minutes figure (0.91), the most shots (132) and the most shots on target (52).
The likes of Boulaye Dia, Rafael Leao and Ademola Lookman were all in contention for the third attacking slot, but no one deserves it more than Inter Milan's Argentine frontman, Lautaro Martinez. He had 28 goal contributions, including 21 goals and seven assists.
Like Osimhen, Martinez also had four braces – against Fiorentina, Cremonese, Lazio, and Hellas Verona. The FIFA World Cup winner stood second to Osimhen on the list of most goals per ninety minutes (0.73), most shots (125), and most shots on target (51).