Roma Women vs Barcelona Women. Prediction and Preview. Probable Lineups, Team News, Stats and more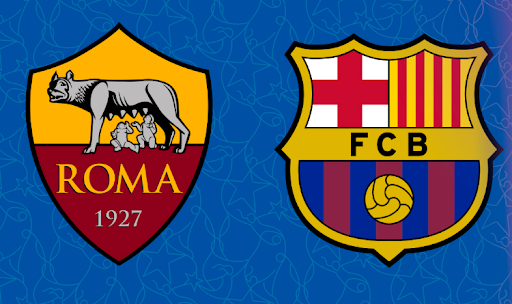 Women's football comes under the spotlight, Roma will try to bash tournament's favourites, Barca
AS Roma Women will host FC Barcelona Femení in the UEFA Women's Champions League 1/4 finals match at Stadio Olimpico. The fixture will take place on Wednesday, March 22, beginning at 01:30 IST.

While men's football is on break due to World Cup qualifiers, the ladies' action will be one to watch for fans of this beautiful sport. Among the most anticipated fixtures of the week will be the UEFA Women's Champions League quarter-final between Roma and Barcelona. It will be a battle between two titans of European football who are showing terrific form and results. As for Roma, they have made it to the Champions League play-offs for the first time in their history and want to prove their mettle. Barcelona, meanwhile, are last year's winners of this prestigious cup and are keen to extend their reign. Both sides have talented and experienced players who can surprise with their actions on the pitch.
Their matchup will be an exciting and emotional one, as their qualification to the semi-finals of the Champions League depends on it.
Don't miss out on the chance to enjoy some top-quality women's football that's as good as the men's! Parimatch News will tell you everything you need to know ahead of the upcoming match.
Roma Women News & Current Form:
In 2018, Roma established its women's football team, and within five years, they have made it to the quarter-finals of the UEFA Women's Champions League, marking their debut in this advanced stage of the most prestigious tournament. In fact, the team is the sole new addition in the last eight teams.
Moreover, this year Roma have been performing exceptionally well, having secured the top position in Serie A with a record of 13 wins out of 15 games. Additionally, they qualified for the quarter-finals of the Champions League by securing second place in their group, despite facing VfL Wolfsburg Women, who were in excellent scoring form.
Undoubtedly, Roma faces an uphill battle as they take on the Spanish champions, who are widely considered the best team in Europe. For sure, Blaugrana's star-studded squad poses a formidable challenge for the home team. The return of Caroline Graham Hansen from injury has bolstered their already potent attacking prowess, and she is expected to cause numerous problems for the Italian side.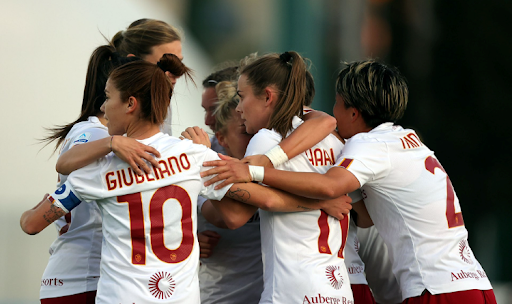 Despite having made a comfortable debut in the group stage, Roma is set to play a daunting match against the favourites of the tournament. Facing such an opponent is the worst possible prospect for such a young team, and will in itself be the toughest match in the team's history. However, the Italian team has two players who are no strangers to the Сatalans. Andressa Alves, the striker, and newly signed Vicky Losada, a Barcelona legend, will provide a glimmer of hope for the Italians.
Having played in over 200 matches for Barça Femení, the midfielder has yet to set foot on the hallowed grounds of Camp Nou. However, in just two weeks, she will finally return to the place where it all began, albeit in different colours. There is a sense of fate in the air as if this was an inevitable clash that had to happen.
Vicky Losada, who captained Barcelona to their first Champions League title in the previous season, joined Manchester City Women FC in the summer of 2021. She has since signed a deal with Roma until the summer of 2023 and will wear the number 14 jersey for the team.
"Thank you to the club, staff and all the workers at Manchester City for these last 2 years, you've been great to me since day one,"

Losada wrote on Instagram.
Betty Bavagnoli, Roma's manager, is very pleased to have Vicky as a player:
"We are absolutely thrilled to welcome Vicky to Roma, a player we had identified as a top target. Her experience, leadership and quality on the ball will provide great examples to some of our young players and will play a pivotal role in the continued growth of our squad."
Valentina Giacinti has a theory that is going to help the team:
"We tackle challenges using our experience. Elisa Bartoli is a captain with whom we resonate, but our team is made up of many former captains. I thought about this the other day when Vicky Losada arrived, a former captain of Barça. There's Carina Wenninger, former FC Bayern Frauen captain, there's me from AC Milan, Elena Linari, Andressa Alves – all former captains."
On her own, Giacinti represents a heavy-duty weapon, being a prolific goal-scorer who has topped the Serie A scoring charts three times and has already scored four times in her debut season in the Women's Champions League.
In the current season of the UEFA Champions League Women, AS Roma Women have played ten matches, winning four, losing four, and drawing two, but have failed to secure a home victory. On average, it takes them 27.5 minutes to score a goal at their home stadium.
Talking about the form, AS Roma Women recently secured a 5-1 victory over ACF Fiorentina Femminile in Serie A, with Valentina Giacinti scoring twice, and Benedetta Glionna, Carina Wenninger, and Manuela Giugliano each contributing a goal. The two teams had previously met in January, with Roma securing an even more impressive 7-1 victory over Fiorentina.
Don`t miss out 👉: ATK Mohun Bagan defeats Bengaluru to win maiden ISL trophy
Barcelona Women News & Current Form:
Despite the absence of Alexia Putellas, the 2021/21 player of the tournament, Barcelona have shown their abundance of star power by scoring 29 goals in their six group games. Their experience of competing in front of record-breaking crowds at Camp Nou, where the second leg of the upcoming fixture will be hosted, means they won't be intimidated as Roma stage their first major women's game at the Stadio Olimpico.
Barca's dominance in the domestic league continues even without Putellas in the lineup. They have won every match in Liga F, Copa de la Reina, and Supercopa de Espana this season, the latter of which they won for a record third time. In the Champions League, they have only suffered one defeat in the group stage against Bayern Munich, and are expected to face Roma in the quarter-finals of the competition.
In the absence of Putellas, Aitana Bonmati has stepped up and showcased her versatility by adapting to different positions on the pitch. As one of Barcelona's main contributors to their attacking force, Bonmati has repeatedly displayed her abilities in ball driving, dribbling, accurate shooting, and overall creativity.
Barcelona Women have participated in 10 matches in this season's UEFA Women's Champions League tournament. They have won three away games and recorded a total of three wins, seven losses, and no draws. The team has scored 14 goals and conceded 9, resulting in a goal difference of +5. On average, players require approximately 19.6 minutes of game time to score an away goal.
How about we delve into the achievements of Alexia Putellas, an exceptional player? She holds the distinction of being the first player to win both the UEFA Women's Player of the Year award and the Ballon d'Or Feminin twice in a row. Being a lifelong supporter of Barcelona, she etched her name in history by leading her club to lift the UEFA Women's Champions League trophy in May 2021.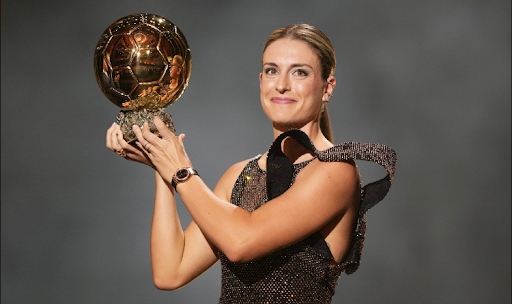 Alexia continued her impressive run in 2022 by becoming the first Spanish female footballer to score 100 goals. Unfortunately, her absence due to injury from the UEFA Women's EURO was a major setback not just for her country but also for Barcelona in the 2022/23 season.
"My family has always been for Barça. My uncle has the badge tattooed, my grandfather has been a member of the Penya Blaugrana de Mollet all his life. There is practically no one who supports another team. I only have one cousin who is for CF Real Madrid. I was lucky that my family accepted everything I wanted to do. I remember a very beautiful childhood. I was playing football all day and I was having a good time."
"It is a very selfish profession. You do everything to perform better: you eat well, rest a lot, and try not to do things that could injure you. You put all your focus on that."
"The most special moment was without doubt playing the two games at Camp Nou. I'd like to take this opportunity to thank my club. I was able to fulfil a dream at all Culé's have, which is to play at a sold-out Camp Nou."
Recently Barcelona team beat Valencia in a League F fixture with a great score: 5-1. Salma Paralluelo and Fridolina Rolfö each scored twice. Marta Torrejón added an advantage for her club as well.
Roma Women vs Barcelona Women Head-To-Head Record:
haven't played against each other yet. This will be the first meeting of the teams.
Roma Women form guide: W-W-W-L-W-W
Barcelona Women form guide: W-W-W-W-W-W
Roma Women vs Barcelona Women Predicted XI:
Roma Women possible starting lineup (2-5-3): Caesar; Bartoli, Wenninger, Linari, Minami; Andressa, Greggi, Giugliano; Serturini, Haavi, Giacinti.
Barcelona Women possible starting lineup (1-4-1-4): Panos; Bronze, Paredes, Leon, Rolfo; Bonmati, Walsh, Guijarro; Graham Hansen, Paralluelo, Oshoala.
Statistical preview of the match Roma Women vs Barcelona Women:
Barcelona have scored away in 24 of their last 25 matches.
Barcelona have scored in seven consecutive UEFA Champions League games.
Barcelona have scored more than 2.5 goals in 15 of their last 16 away matches.
Barcelona have scored in the 2nd half in 6 consecutive UEFA Champions League games.
Barcelona have not conceded an away goal in six consecutive matches.
Barcelona have won six consecutive away games without conceding.
Barcelona are unbeaten in 32 of their last 33 matches.
AC Roma are unbeaten at home in 22 of their last 23 matches.
AC Roma are unbeaten in 9 of their last 10 matches in the UEFA Women's Champions League.
AC Roma have scored more than 1.5 goals at home in seven consecutive matches.
Roma's top scorers: Valentina Giacinti (11), Andressa Alves da Silva (9), Manuela Giugliano (6).
Barcelona's top scorers: Asisat Oshoala (19), Salma Paralluelo (10), Claudia Pina (10).
What has been said before the match:
Alessandro Spugna, Roma coach, ahead of the great clash with Barcelona:
"We are facing the strongest team in the world at the moment; they have no weaknesses but great quality in all departments. We will have to work on the qualities that have allowed us to get this far, continuing to work with great humility."
Jonatan Giráldez, Barcelona coach, states the opponent is tough:
"When you get to the quarter-finals, any tie is tough. Whilst Roma are making their first appearance in the competition, they are going very well in the Italian league. They gave Wolfsburg a fright and we know it will be a competitive tie."
Roma Women vs Barcelona Women Prediction:
Both teams impressed their fans in the group stage, showing entertaining and productive football up front and fairly reliable at the back. As both teams dominate the domestic divisions, they will be looking to put their energies into the biggest club competition in the Old World. While Barça, thanks to the experience and class of their players, are the clear favourites, the Romans are not going to bow out easily. Given the excellent offensive prowess of both teams, each side will score at least one goal in this encounter.
Don`t miss out 👉: Best XI of the 2022-23 Indian Super League
Parimatch News staff prediction:
We say: both teams to score – Yes.