Referee Mike Dean receives death threats after a number of controversial decisions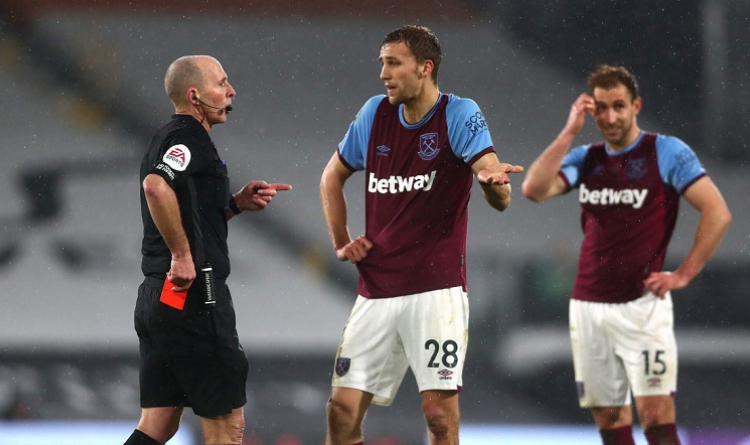 Mike Dean, English official with more than 20 years of refereeing experience
It has come to light that recently the flamboyant English referee Mike Dean asked league management not to assign him to games.
The 52-year-old referee asked the executives of the Premier League not to put him on the matches of the next match week, which will be held on February 12-14. Media report that the referee decided to do this after numerous threats, which in recent times he and his family members have received. Dean was not only insulted on social networks but also threatened to be killed in real life.
The reason for such fans' behavior was his performance at the recent games: Manchester United vs Southampton (February 2, 9-0) and Fulham vs West Ham (February 6, 0-0).
Don`t miss out 💥: The Red Devils completely destroyed the Saints with a horrific score, repeating last season's storyline.
In the match at Old Trafford the referee sent off two Southampton players. 19-year-old midfielder Alexandre Jankewitz, on his debut for the Saints, was red-carded in the second minute after the tackle on Scott McTominay.
Alexandre Jankewitz debut:
After that, defender Jan Bednarek saw red in the 86th minute.
In the second episode, however, Dean first failed to suspend the Pole for a foul on Man United forward Anthony Martial in the penalty area, and after watching VAR he changed his decision showing the red card.
Immediately after the game, Southampton appealed to the league not to appoint Dean and VAR official Lee Mason to their matches. Bednarek himself, leaving the field, said that Martial told him: "That's not a foul". Two days after the match, the Football Association revoked Bednarek's red card.
In addition to this, in the match between Fulham and West Ham, a similar episode occurred. In added time, before a free-kick was taken, West Ham midfielder Tomas Souček elbowed opponent forward Aleksandar Mitrovic in the face.
Dean looked at the replay after a tip-off from assistant Lee Mason and sent Souček off the field, even though Mitrovic told the official there was no foul. It was pouring heavily and the Czech probably raised his hand to wipe his forehead from the drops.
Fans are laughing at the situation on Twitter:
The Hammers head coach David Moyes was disappointed after the match:
"I'm embarrassed for the people in VAR and the referees who have made that decision. The two gentlemen involved, Mike Dean and Lee Mason, are far better referees than that and have been far better referees. I'm amazed they hadn't seen that as anything other than an accident. What can I say? It's completely accidental, no malice. He tried to keep him away but catches him accidentally."
Two former Premier League players, Gary Lineker and Jamie Carragher, exchanged opinions:
Former Premier League referee Keith Hackett didn't hold back in his comments against the two match officials:
"I think the time is long overdue for Mike Dean and Lee Mason to step down as referees following their hapless double act when adjudicating on West Ham United's Tomas Soucek." 
"I would love to know the conversation that took place between the two before Soucek was shown a red card. It was clear that the contact between Soucek's elbow and Fulham's Aleksandar Mitrovic was accidental. I was shocked when two experienced referees could make such a bad decision. 
It is the sort of decision that makes life hard for the 27,000 referees officiating in local parks. Soucek had not used excessive force and/or endangered the safety of an opponent to meet the requirement for a sending off"

Hackett said.
Premier League Chief Executive Richard Masters said:
"It is inexcusable that Mike Dean and his family have received online abuse, including death threats, as a result of doing his job officiating at a Premier League match. It is completely unacceptable that we are seeing abusive behaviour aimed at players, managers and match officials regularly on social media platforms. Mike and his family have our full support in reporting this to the police. This once again highlights the need for greater proactive intervention from social media companies to stop online abuse and identify offenders."
Mike Dean has issued 102 red cards, awarded 152 penalties and has refereed 4.7% of all the Premier League's games.