Ramsdale's brilliant display helped Arsenal extend unbeaten run with convincing win against Leicester City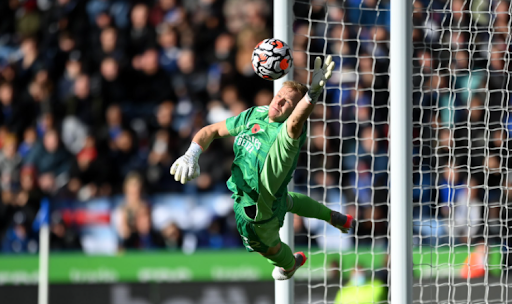 Flying English keeper reaching the ball after dangerous free kick
Leicester City hosted Arsenal in the 10th matchday of the English Premier League at the King Power-Walkers Stadium in Leicester today, October 30. The visitors sealed an important 2-0 victory.
Many expected a bright game and the teams did produce a good match indeed, especially Arsenal. Goalkeeper Aaron Ramsdale, who came this summer from relegated Sheffield United for £24 million, is now being praised by literally everyone in social networks, as the Englishman produced a superb performance.
The score was opened early in the first half. In the 5th minute, the Gunners` tall centre-back Gabriel scored after a corner from youngster Bukayo Saka, who marked his 100th appearance for Arsenal first team.
After that, in the 18th minute of the match, another Hale End academy product – midfielder Emil Smith Rowe – distinguished himself when he doubled his side's lead by finding the ball in the box of Kasper Schmeichel and blazing it into the net right past him.
In the 43rd minute, Mikel Arteta's side could have conceded as Leicester was very close to the goal when midfielder James Maddison produced a brilliant free-kick – but all of a sudden, goalie Ramsdale made a terrific levitating save that literally threw all football fans into ecstasy. What's more, right after that Aaron also deflected a near point-blank shot from Johnny Evans.
The 23-year-old has been very reliable, saving his team again and again – he was unanimously voted Player of the Match.
Manchester United legend Peter Schmeichel was not stingy with praise:
And this is how Aaron reacted after the match:
Mikel Arteta now seems to have fixed a disastrous situation at the start of the season, here are his thoughts after the match:
"We haven't done anything, we won a couple of matches. We are not where we want to be still. We have a lot of things to improve. Let's see humble, working hard and going game by game. This time I'm really happy with the performance, with the result, with the phases of the game we had to go through, and how we managed them. In general, to keep winning and playing the way we did, because if we play that way, we'll be closer to winning more matches." 
"When you want to win games consecutively, you need big individual performances. You can win in different ways but it's for sure that your goalkeeper has to stand out because the opponent has the quality to create chances against you. In big moments today, I think he was superb"

he said on Aaron Ramsdale's save from James Maddison.
Don`t miss out 💥: Official: Ronald Koeman sacked after another embarrassing loss. Who will become the next coach of FC Barcelona?
Arsenal gained 17 points from 10 games and now sit 5th in the English Premier League table. The Foxes occupy 10th place with 14 points only. Chelsea are in a commanding lead with 25 points from nine games as of now.