Parimatch News Exclusive- Airam Cabrera: I am not here to win the Golden Boot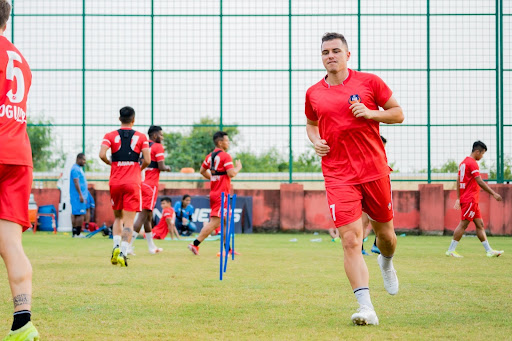 Airam Cabrera training with his Goa teammates
The preparations for the 2021-22 season of the Indian Super League are underway and India's first AFC Champions League representatives Goa will be aiming to lift their first-ever ISL title at the business end of the season.
The Gaurs have made it to the playoffs stage of the ISL the most number of times (6 times in 7 seasons) but have failed to get their hands on the elusive ISL trophy. Ahead of the upcoming league seasons, Juan Ferrnado's side has added top players in their ranks with Dylan Fox and Airam Cabrera replacing the outgoing overseas duo of James Donachie and Igor Angulo.
In an exclusive interview with Mohak Arora of Parimatch News, Goa's new striker Airam Cabrera discussed the club's aims and ambitions, how he is adjusting to India and his own personal goals for the upcoming season.
Ahead of his debut season in the Indian Super League, Cabrera talked about how he has been following the league and praised the social media presence of ISL. He said,
"Normally I followed the ISL through social networks because I have always had friends who have played here. What I liked the most was the organization and the visibility that the league is given.  Of course, they have grown a lot now and are on the right track to have better national players in the future."
The Spanish striker also discussed the problems he has been facing after shifting to India since he has spent the majority of his professional career in Spain. He said,
"The biggest problem I am encountering is with the food.  Normally I always eat more or less the same. But, sometimes, that exact thing might not be here or it is cooked differently here.  However, I am sure that we will find a solution."
He also discussed the training sessions at Goa and what they have been focusing on in the pre-season. Cabrera continued,
"In regards to the game, I am getting to know my teammates and noting what characteristics they have in order to get myself in sync with others so we can get the best out of each other."
Also read: Goa prizes central defender Dylan Fox away from NorthEast United to replace the outgoing James Donachie
When asked about his personal aims ahead of the new season and whether he sees himself as a candidate to win the 'ISL Golden Boot', the 34-year old striker talked about playing for the benefit of the team. He said,
"I'm here just to help the team and club to win the ISL. If you tell me that I will not score any goal and we will be lifting the ISL trophy at the end of the season, I will sign that paper right now. I'm not here to win the Golden boot. Above all, I am looking to contribute to the team and understand what it needs at all times.  Hopefully, I can score a lot of goals but I'm not obsessed about it."
When quizzed his expectations regarding game time in the presence of six top overseas players in the star-studded Goa squad, Cabrera quipped,
"Hopefully we give the coach much to think about. I hope, after every game, he has to break his head to decide who plays. That will mean that we are all available and in good shape to play."
The striker emphasized the importance of team unity and harmony to be successful over the course of the season. He concluded,
"After that, we have to be smart.  Each one of us is very ambitious and we want to play always but we have to be aware that the rules are what it is and we cannot see each other as rivals but as partners. If we can think like this, we will have success."