Manchester United vs Sevilla. Prediction and Preview. Probable Lineups, Team News, Stats and more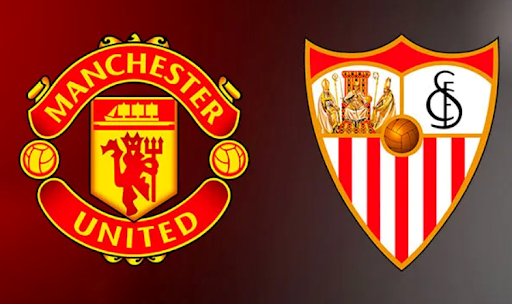 Will Sevilla, a 6-time winner of UEL, manage to stop MU on their road to the silverware?
Manchester United FC will host Sevilla FC in the UEFA Europa League 1/4 finals match at Old Trafford Stadium. The fixture will take place on Friday, April 14, beginning at 00:30 IST.

What can we expect this Friday night? Parimatch News will tell you everything you need to know ahead of the upcoming match.
Manchester United News & Current Form:
Manchester United have had several key highlights this season. Firstly, it was possible to bring in former AFC Ajax coach Eik ten Hag, and even despite the setbacks in the opening rounds of the English Premier League, when the team were in last place after a series of defeats, the move with the new coach proved to be the right one.
Secondly, the mentor himself showed character and parted company with Cristiano Ronaldo. As many matches have shown, the star was becoming less and less useful, but his negative impact on the team was growing. Thirdly, they managed to sign Brazilian Casemiro, who has become the cement which has made the team's play in the center of the pitch reliable.
Finally, Marcus Rashford was able to open up fully. Without him, the Mancunians' attack is unimaginable this season. The other players have been more confident, but it is clear that this team is not yet ready to play evenly over the long haul.
MU have won five of their seven matches after a completely unexpected 0 – 7 loss to Liverpool FC, but at the end of the last meeting with Everton FC, they ran into a serious problem. Already at 2 – 0 score, Rashford was injured and substituted. Marcus is likely to miss the next game, and his appearance in the first leg against Sevilla looks like something out of the realm of fantasy.
Given that Rashford's direct replacement is Wout Weghorst, MU will clearly be weaker in terms of forward level. However, Anthony Martial has recently returned to form after another injury, and there is also the Brazilian Antony Santos, plus Christian Eriksen has just recovered and returned to the pitch. There will be less variability up front, but the Mancunians should still cope at home with Sevilla.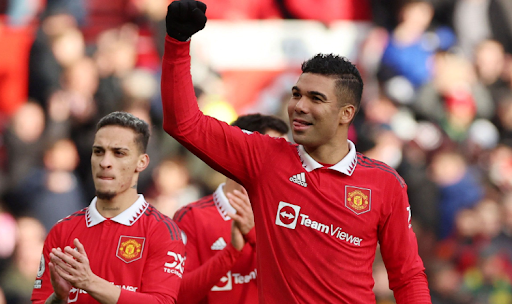 In the group stage, the Red Devils battled to the last for the top spot in quartet E with Real Sociedad. They managed to win 15 points each, but the Spaniards were better on additional points – but they had already crashed out of the tournament when they lost in the 1/8 finals to AS Roma.
In the 1/16 finals, the Mancunians faced a fearsome FC Barcelona but Erik ten Hag's side beat them 2 – 2 away and 2 – 1 at home. In the 1/8 finals, Spain again didn't get away from the English club, but Real Betis were passed more easily – 4 – 1 on home turf and 1 – 0 on foreign turf.
In the domestic arena, Man United are struggling to qualify for the Old World Championship and are fourth in the EPL standings so far. Last weekend, they easily overcame the struggling Everton at home, quietly scoring the visitors a goal in each half to make it 2 – 0.
The disqualification of Casemiro led to the Devils starting to lose points. The gap from first position is now large and they need to focus on getting into the UEFA Champions League zone, although they can do that by winning the Europa League.
As far as the situation at the club is concerned, the management are happy with Hag's performance, with a huge squad clean-up planned for the summer – the club will get rid of the expensive bench-polishing players.
The FA have also decided to fine Manchester United 74,000 euros for inappropriate behavior in the Emirates FA Cup clash with Fulham FC. In the quarter-final match, United players demanded from the main referee of the match that he awarded a penalty to the opponent. Two Fulham players and London head coach Marco Silva were sent off after the episode.
"The club has also admitted that it has failed to ensure that the players behave appropriately. The fine was imposed by the independent regulatory commission following a hearing,"

the FA said in a statement.
Sevilla News & Current Form:
The Spanish-English clash in the Europa League quarter-finals would have been even more interesting if Sevilla had been in better form. In the last four seasons, they have finished consistently in fourth place in the La Liga, qualifying for the Champions League.
This season, however, we can only dream of achieving top places in the Spanish championship. After 28 rounds, the team sits thirteenth in the standings. In this case, first and foremost, they should think about how to defend themselves against relegation. Of course, it is unlikely to happen, since the Spanish team has collected experienced masters. And then, if everything can go wrong in the domestic championship, then European Cups are a kind of breathing space.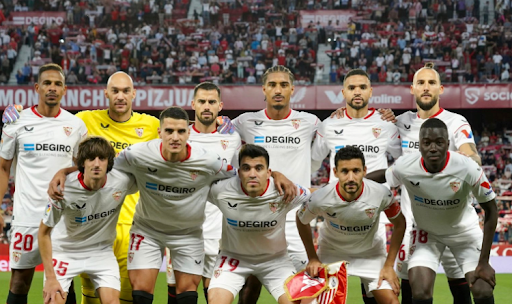 The Spaniards started their European campaign this season with the Champions League and failed to make the play-offs, finishing third in Group G alongside Manchester City and Borussia Dortmund. That's how Sevilla ended up in their beloved tournament, the Europa League, which they have won six times, a record. A double in 2006 and 2007, then a decade later, three straight wins from 2014 to 2016. Finally, they managed to win the tournament for a sixth time in 2020.
In this competition, the Red and Whites were held to a home win against PSV Eindhoven (3 – 0 and 0 – 2) in the first round of the survival battle, and they did the same in the 1/8 final in a two-match clash with Fenerbahce SK (2 – 0 and 0 – 1).
Now, a strong Manchester United side is in front, but the Spanish team has an amazing way of getting past their toughest opponents. Only one thing is disconcerting, playing in the domestic championship. Jesus Navas, Ivan Rakitic, Erik Lamela, Kasper Dolberg, a number of other experienced players – this is definitely a top-six team in terms of potential, but this season is beyond saving.
This season, the team has already played under 3 coaches. It all started under the familiar coach, Julen Lopetegui. But it was a very disappointing start, and the specialist bade farewell without regret. But the return of Jorge Sampaoli to Ramon Sanchez Pichuan failed to live up to expectations, which is why he only lasted six months.
Story of Jose Luis Mendilibar is only just beginning. The coach made his debut with a 2 – 0 win against Cadiz CF. Now he will try his hand in Andalusia's signature tournament, the Europa League.
Ivan Rakitic has shared his expectations of the match against MU:
"We are doing well in the European competitions, which unfortunately cannot be said for the national championship. But we know the rich European tradition of Sevilla. We understand that the number one is the Champions League, followed by the Europa League, and I think its level has only risen, which is evident from the teams who continue to fight."
"The match against Manchester United will be very tough. We know that the opponent is the favorite. We are familiar with this team, and our first game is away. But we must think about our game, we need to prepare well. If we get a good result in Manchester, we can give them a hell of a reception here in Sevilla. We want to qualify for the next round. It is difficult, but we will do our best and fight to the end."
"The locals love the Europa League games, you can feel it in the people and the atmosphere in the city. We are looking forward to these games. It would be great to win the trophy again with Sevilla. We hope so, but we are tackling it step by step. There is a tough match ahead. We will fight until the end."
Manchester United form guide: D-W-W-L-W-W
Sevilla form guide: W-W-L-L-W-D
Manchester United vs Sevilla Head-To-Head Record:
| | | |
| --- | --- | --- |
| Manchester United | Draw | Sevilla |
| 1 | 1 | 3 |
August 9, 2013: Manchester United 1 – 3 Sevilla (Club Friendlies);
February 21, 2018: Sevilla 0 – 0 Manchester United (UEFA Champions League);
March 13, 2018: Manchester United 1 – 2 Sevilla (UEFA Champions League);
August 16, 2020: Sevilla 2 – 1 Manchester United (UEFA Europa League).
Manchester United vs Sevilla Predicted XI:
Manchester United possible starting lineup (4-2-3-1): De Gea; Dalot, Varane, L Martinez, Malacia; Casemiro, McTominay, Fernandes; Antony, Martial, Sancho.
Sevilla possible starting lineup (4-2-3-1): Bono; Montiel, Bade, Gudelj, Acuna; Fernando, Rakitic; Ocampos, Torres, Lamela; En-Nesyri.
Statistical preview of the match Manchester United vs Sevilla:
MU's First XI average age is 27.0 yrs.
Sevilla's First XI average age is 29.2 yrs.
Manchester United are unbeaten in 6 of their last 8 matches.
Manchester United are conceding an average of 0.60 goals per game in their last 5 games.
Manchester United are scoring an average of 1.40 goals per game in their last 5 games.
Sevilla are conceding an average of 1.20 goals per game in their last 5 games.
Sevilla are scoring an average of 1.20 goals per game in their last 5 games.
Manchester United are unbeaten at their home ground in 24 consecutive games.
Man United have won the Europa League just once (2017), Sevilla have been top of the second most important European competition a record six times (most recently in 2020).
MU's top scorers: Marcus Rashford (28 + 8), Bruno Fernandes (10 + 10), Anthony Martial (7 + 2), Antony (7 + 1).
Sevilla's top scorers: Youssef En-Nesyri (10), Erik Lamela (5), Rafa Mir (4), Nemanja Gudelj (4).
What has been said before the match:
United boss Erik ten Hag talked about UEL's opponent as well as his players:
"Sevilla have a big reputation for winning the Europa League. They have won the Europa League more than all clubs in Europe. That's a magnificent record so we have to be aware of it because that's their target. We are 100 per cent motivated to go again."
"If we want to beat them, we have to play our best football and everyone has to deliver their best performance and if you don't do it, we have a problem. We are fully focused and fully prepared for this game."
"We have to keep the discipline, in a defensive transition especially and in defending the set plays. I think we are making good progress but we have to keep that progress and the process going because we are not satisfied. We want to do more and we know that if you want to win leagues, if you want to win competitions, clean sheets is always the base of it."
"I think the balance in the midfield was for a long time very good with Casemiro, Christian Eriksen and Bruno Fernandes. And Christian alongside Casemiro, I think the cooperation between the two of them was very good. Casemiro, the balance player, the link-up player, and then Christian can support him in the link-up but also go to the final part of the game as he creates chances, key actions, key passes, final passes.
"For us, Eriksen was a really important player. I think he had seven or eight assists in the Premier League. I think that tells the story of how important he is for our front players because he sees the pass and he gives the pass."
"Of course Rashford's injury is a setback and he is disappointed about it but he is not totally broken because he knows he will return quickly. He is optimistic and he has started straight away on his recovery and his rehab. That helps him to get back soon."
The new coach of Sevilla Jose Luis Mendilibar ahead of the Friday clash:
"MU is the club with the highest sporting level that I have been in and as you arrive there are different things than in other clubs. In all of them they have looked after us wonderfully and we have had people looking after us, but here I don't know if it's because it's a club that has been in the Champions League and Europa League for so many years, it's a bit more."
"We don't lack anything and we are delighted with the coaching staff. We haven't had any problems or made any calls. It's true that we're normal people and we don't ask for too much, but everything we've seen has been good."
Manchester United vs Sevilla Prediction:
Sevilla's past achievements in the UEFA Europa League will not be ignored, but there is little hope of a miracle at Old Trafford. Ten Hag's side are unbeaten in 25 games at home, including 22 wins and three draws. On a global level, United are in good form: fourth in the EPL, they recently won the League Cup and qualified for the FA Cup semi-finals. It's not at all likely that a United side that has been on the rise in the second half of the season will suddenly falter, although there is a bit of shakiness lately.
Especially with the motivation factor, perhaps the UEL trophy is currently their priority, especially since the former favourites, Arsenal, were unexpectedly knocked out of the tournament.
Speaking of Los Nervionenses, the state of affairs can be briefly described as such: they are not playing but struggling to make ends meet in La Liga throughout the season – Sevilla are now just five points ahead of the relegation zone. The Eurocup away form is also dire, two draws and three defeats.
Speaking of the expected goaltending scenario, United are scoring an average of 1.9 goals at UEL. If we take home games exclusively, the figure is even higher – exactly two goals. Ten Hag's side have already scored four against Betis in the play-offs and two each against Barça. And all this against the backdrop of Sevilla conceding an average of 1.5 goals per game, including the UCL and UEL.
Man Utd are bound to hit on their opponents' weaknesses. However, whether Ten Hag's men can make a confident and comfortable handicap before the return leg in Spain is a question to be answered, so let's reassure ourselves.
Don`t miss out 👉: Mumbai City and Chennaiyin start the Super Cup 2023 journey with wins in Group D
Parimatch News staff prediction:
We say: Manchester United will not lose with an individual total under 2.5 – Yes.