Manchester City vs Real Madrid. Prediction and Preview. Probable Lineups, Team News, Stats and more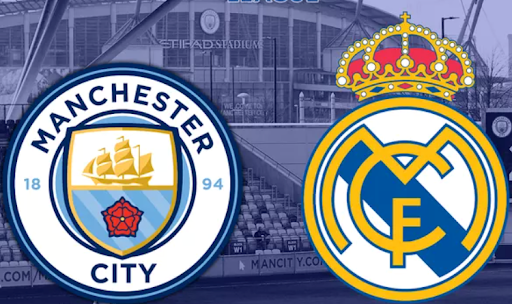 Real Madrid are in pursuit of their 14th title in the world's most prestigious cup. Pep Guardiola and Manchester City, meanwhile, hope to clinch their 1st title in the league.
Manchester City FC will host Real Madrid CF in the UEFA Champions League semi-final match at Etihad Stadium. The fixture will take place on Thursday, May 18, beginning at 00:30 IST.

What can we expect this Thursday night? Parimatch News will tell you everything you need to know ahead of the upcoming match.
Manchester City News & Current Form:
The encounter between Manchester City and Real Madrid is being hailed as the most interesting of the tournament. In some ways, football fans are lucky that two such strong teams meet in the semi-finals.
In the 2021/22 draw the Citizens played Real Madrid in the same phase and were only minutes away from the final – a brace by Rodrygo in added time and Benzema's goal in the first overtime denied City the opportunity to compete for the trophy with Liverpool FC. Now they have a chance for revenge.
The first game, which took place in Madrid last Tuesday, ended in a 1 – 1 draw. Manchester City responded to Real Madrid's long-range strike performed by Vinicius Jr. with an equally fine banger from outside the box by Kevin De Bruyne. It was only the Belgian's second goal in the current Champions League.
Interestingly, there were a lot of long-range strikes as the match progressed. The teams' defensive lines did a good job of neutralizing the action inside their own penalty box. The more cautious game plan chosen by both coaches also had an impact on the outcome of the game.
Particularly the Real Madrid defenders did their best to contain England's main attacking force at the moment – Erling Haaland. The Norwegian forward has scored 12 goals in nine UCL games. The encounter with Real Madrid was just the third without a goal for Erling in the Champions League this season.
City have had an unstoppable home run at the hands of Champions League rivals RB Leipzig (7 – 0) and FC Bayern Munich (3 – 0), among others. Remarkably, both opponents drew 1 – 1 at home to the Citizens. Guardiola was quick to take revenge in the return encounters, and that seems to be the plan.
In the first leg, City quietly extended their unbeaten streak in the Champions League to 11 meetings, six of which were wins. Like Madrid, Pep's men are confident at home – having gone seven times without conceding a goal in 12 games.
Overall, the Citizens are on a superb unbeaten streak of 22 matches in all competitions, 18 of which are wins by a combined score of 56-9. City have only scored one goal in four of those encounters and three or more in 14. There have even been demolitions – Burnley FC (6 – 0), Arsenal FC (4 – 1), Leipzig (7 – 0).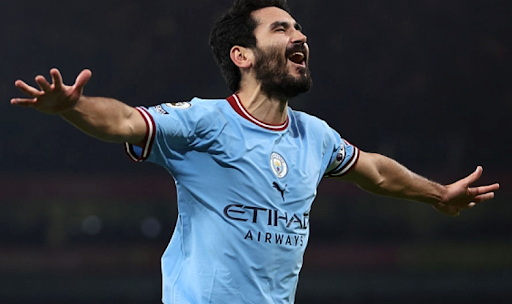 Josep Guardiola complains about the busy calendar. Due to the Eurovision, the match against Everton could not be moved to a day earlier, and Real will have one more night to recover. This factor is also worth bearing in mind.
Interestingly, Ancelotti commented on Guardiola's complaint about the complicated calendar. He pointed out that Real were out with the same problem in the first meeting, but no one spoke about it. He also added that it's Man City's turn now. In that case, all is fair, but there is a certain guile in those words. However, Josep is cunning and perhaps even his discontent is part of the plan.
In between the Eurocup games, Manchester City took another step towards securing the English Premier League title. Pep Guardiola's side beat Everton FC in the last round, a 3 – 0 away win.
As early as the next round, Josep Guardiola's side can clinch the league title, needing just two points from three games to win the title. That means they can concentrate fully on the Champions League and be in high spirits for the crucial encounter.
Ilkay Gündogan scored a double against Everton, with an assist as well. However, the midfielder received a yellow card in the first game against Real Madrid and will not play in the upcoming match due to his suspension.
Nathan Ake is still injured and will miss the game.
City's right-back Kyle Walker about past experiences of team in UCL:
"It's 1-1 and we are at the Etihad where we've been more than confident in the UEFA Champions League to get a result. Hopefully we do that again. I'd have liked to do it when we played Chelsea FC (in the 2021 final) but it was a learning curve. To get to the final against Chelsea in 2021 and not perform, we owe it to ourselves to get revenge because it was below par that day."
"This group has been together for a few years and learned to overcome situations, in winning and losing positions. I remember against Tottenham Hotspur FC in 2019 when we thought Raheem Sterling had scored (to win at the end of the game).
"We've gone through rough and good moments but hopefully this is the icing on the cake to put our name in the history books and put this club on the UCL map."
"But we've got a tough opponent to get past tomorrow. In recent weeks every game has been a final, anything can happen. AC and FC Inter Milan are massive clubs. We'll watch that semi-final tonight and study it but the first thing is to get past Madrid."
"In terms of the league, we would have done five titles in six years hopefully if we cross the line of this one which isn't over by the way."
Real Madrid News & Current Form:
Madrid hold the Champions League record for the most trophies won – 14. If its record is ever surpassed, it will not be soon enough. The second-most-titled club in UCL, AC Milan, have half as many victories. Manchester City have never topped the tournament.
The team's goal-scoring streak in UCL is 17 matches. On the road, Madrid have not lost in four of their previous five fixtures in the tournament (three wins, one draw). In their head-to-head encounters, City and Real Madrid are evenly matched, with three wins and three draws.
At the domestic championship, two defeats in the last four rounds of La Liga have made Real Madrid's chances of clinching the league title nil.  However, the Champions League is the tournament that Real Madrid have long relied on this season.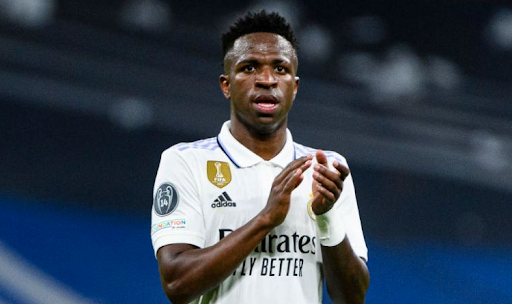 Carlo Ancelotti's team took three points in the last round of the championship, but that did not stop Barcelona from becoming champions of Spain.
Madrid faced Getafe CF and won modestly, 1 – 0. Forward Marco Asensio netted the winning goal on 70 minutes. The main event of the match was the injury of Eduardo Camavinga. However, doctors later ruled out a serious injury to the player. Without him, Ancelotti's side would have had an even tougher time in the European Cup semi-final.
There was also a 2 – 1 win over CA Osasuna in the Copa del Rey final (taking their sixth trophy in 465 days).
Real Madrid have not lost by more than two goals since last March. However, it is alarming for Madrid fans that the Whites' ended last two away matches in the Spanish championship in 2 – 4 loss to Girona FC and 0 – 2 defeat to Real Sociedad.
On a positive note, the team is injury free and therefore the chances of a good performance are high.
Luka Modric told about his team's spirit and motivation:
"We're feeling great and we're really looking forward to the game. We have to enjoy this moment we're experiencing.We've played this type of match plenty of times and I can see the confidence, calmness and belief in my teammates and the coach. I hope we perform well and go through to the final, that would be incredible."
"All the trophies we've won say a lot about our efforts and behavior on a daily basis. The Champions League, LaLiga, Copa del Rey trophies, we're delighted with everything we've won, but also with the way we've done it."
"Playing in this competition with Real Madrid, and this type of match, is motivating enough. But when you know you're so close to reaching another final, you want to give everything and that can boost you even more. We're close to doing something historic, something amazing."
Manchester City form guide: W-W-W-W-D-W
Real Madrid form guide: L-W-L-W-D-W
Manchester City vs Real Madrid Head-To-Head Record:
| | | |
| --- | --- | --- |
| Manchester City | Draw | Real Madrid |
| 3 | 3 | 3 |
September 18, 2012: Real Madrid 3 – 2 Manchester City (UEFA Champions League);
November 21, 2012: Manchester City 1 – 1 Real Madrid (UEFA Champions League);
April 26, 2016: Manchester City 0 – 0 Real Madrid (UEFA Champions League);
May 4, 2016: Real Madrid 1 – 0 Manchester City (UEFA Champions League);
February 26, 2020: Real Madrid 1 – 2 Manchester City (UEFA Champions League);
August 7, 2020: Manchester City 2 – 1 Real Madrid (UEFA Champions League);
April 26, 2022: Manchester City 4 – 3 Real Madrid (UEFA Champions League);
May 4, 2022: Real Madrid 3 – 1 Manchester City (UEFA Champions League);
May 9, 2023: Real Madrid 1 – 1 Manchester City (UEFA Champions League).
Manchester City vs Real Madrid Predicted XI:
Manchester City possible starting lineup (3-2-4-1): Ederson; Walker, Dias, Akanji; Stones, Rodri; Silva, Gundogan, De Bruyne, Grealish; Haaland.
Real Madrid possible starting lineup (4-3-3): Courtois; Carvajal, Militao, Rudiger, Alaba; Kroos, Camavinga, Modric; Valverde, Benzema, Vinicius Jr.
Statistical preview of the match Manchester City vs Real Madrid:
The first leg ended in a 1 – 1 draw.
In the last Champions League semi-final, Man City won at home (4 – 3) and in the return leg Real Madrid took revenge (3 – 1).
City's First XI average age is 28.8 years.
Madrid's First XI average age 29.2 years.
Manchester City are unbeaten in their last 22 matches.
Manchester City are unbeaten in 5 of their last 7 matches against this opponent.
Real Madrid are unbeaten in their last 5 games in the Champions League.
In the last 5 games Real Madrid scored an average of 1.60 goals per game and conceded an average of 1.20 goals per game.
Manchester City are conceding an average of 0.60 goals per game in their last 5 games, while scoring an average of 2.20 goals per game.
City's top scorers: Erling Haaland (52+8), Riyad Mahrez (15+13), Julian Alvarez (15+4), Phil Foden (14+6).
Real Madrid's top scorers: Karim Benzema (22+5), Vinicius Junior (20+15), Rodrygo (12+10), Marco Asensio (12+7).
What has been said before the match:
Coach Pep Guardiola ahead of the crucial Champions League game, if he wants to get his trophy:
"My legacy, a great generation of players here. We've scored lots of goals, won lots of things. Maybe we could have a book about my legacy but I won't be judged on the CL. We had a great time, played great football. We had great times with Arteta, it's the best legacy you can have."
"The emotion is there and the emotion will be high, it has to be high in these games. But just this is not going to beat a team like Real Madrid. We have a gameplan and we have to execute it a little bit better than we did in the first leg."
"We have to adjust something, we have to do it a little better to create more chances for our strikers and our people up front – get more balls in these positions, knowing that the transitions, the ball possession and the quality that they have in all departments is really high."
"It could not be any different, we're playing against Real Madrid in the semi-final of the Champions League, we expect the toughest opponents we can face right now in the last few years. This is the challenge, we embrace it, we get it and go for it."
"We are really good, we're in the Emirates FA Cup final, one game from EPL, but we have to play better than Madrid. We have to perform well, not just the desire. Relax, only have to do what we have done for many years. This is what we have to do, not just the desire to reach the final. We have to be better than the Bernabeu to get the final."
Real Madrid boss Carlo Ancelotti pushes his team to show the best performance in the return leg:
"My plan is the same as always: to try to get the best out of our team both individually and collectively. This is going to be a match that will demand a lot from us and we can perform better than we did in the first leg. That's what we'll try to do tomorrow. Courage and personality are extremely important factors in this type of game. I want to see my team read the game well."
"This is my fourth year at this club. I've enjoyed my time and I enjoy every day. It's my legacy to coach this team and these players and try to get the best out of the squad. We're very close to doing something significant and we're well up for it. We know it's really hard, but the challenges push us to perform at our best."
Manchester City vs Real Madrid Prediction:
Two tacticians, Carlo Ancelotti and Josep Guardiola, staged a cautious contest in Madrid. In so doing, the Sky Blues avoided losing at the formidable Bernabeu, plus the Spaniard was able to put Los Blancos through their paces, creating plenty of chances in the final third.
A return leg after such a game is usually a much more entertaining and lively affair. The home-ground factor for Manchester City appears to be crucial when it comes to defining the favourite. In 2023, the Citizens have not suffered a single setback at the Etihad, and speaking of the UCL, the last time the English were defeated was in 2018 (25-match unbeaten streak). With that said, Real Madrid are not playing well in front of their rival сrowd. Ancelotti's lads have lost their two most recent outings, conceding six goals to Sociedad (0-2) and Girona (2-4). The previous game in Manchester also ended in defeat (3-4).
The Citizens will progress to the final in a spectacular fashion, and we will see an abundance of goals.
Don`t miss out 👉: AZ Alkmaar vs West Ham United: Preview and Prediction
Parimatch News staff prediction:
We say: Handicap Man City (-1,5) – Yes.