Manchester City vs Arsenal. Prediction and Preview. Probable Lineups, Team News, Stats and more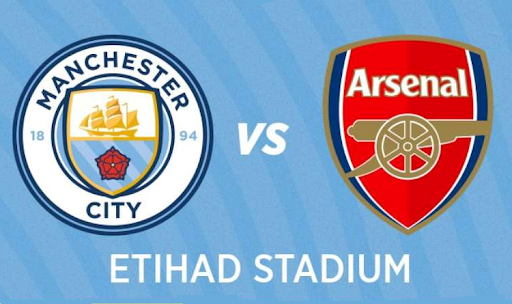 Manchester City FC will host Arsenal FC in the Football Association Challenge Cup 1/16 match at Etihad Stadium. The fixture will take place on Saturday, January 28, beginning at 01:30 IST.

The student will surpass the teacher – that's the kind of fairytale scenario that comes to mind when you look at the match poster. Etihad Stadium in Manchester will witness a truly great clash between Premier League leaders Arsenal and runner-ups Manchester City. The teams have not met in a long time, and in the past, the Citizens were favorites in this duo. Will the cycle repeat itself tonight or will the Gunners  prove that they are ready to fight the EPL hegemons on an equal footing? There seems to be no better moment for Mikel Arteta to show what he has become to his friend and former colleague Pep Guardiola.
What can we expect this Saturday night? Parimatch News will tell you everything you need to know ahead of the upcoming match.
Manchester City News & Current Form:
Manchester City played very well in their recent league game against Tottenham Hotspur FC, winning a hard-fought victory after losing by two goals. This will certainly add positive emotions to the Citizens before the cup encounter with the English Premier League table leader.
The Blues have played only one match in the FA Cup. In the third round Manchester City met with Chelsea FC at home. The outcome of the encounter was decided in the first half when the hosts scored three goals. Another goal was scored in the second half. As a result, 4 scored goals, a double by Riyad Mahrez, Julian Alvarez and Phil Foden got one each. Manchester City crashed down on Chelsea, so much so that Pep Guardiola, in his post-match interview, urged the Chelsea management not to sack Graham Potter and give him time.
The Citizens are in second place in the EPL standings. The team is five points behind the tournament leader. Also, the Citizens are the highest scoring team in the league with 53 goals scored in 20 games and 20 goals conceded.
Before facing the only team in English football that excels them this season, Erling Haaland returned to his optima form in a Premier League match against Wolverhampton Wanderers FC. After a rare goalless streak for the Norwegian, Haaland produced his fourth hat-trick of the Premier League season in a comfortable 3-0 victory over charges of Julen Lopetegui.
Before the match against Wolves, Guardiola said that Phil Foden will be absent from the game due to a foot problem, and it remains to be seen if the forward can return to the lineup. Regardless, the hosts are well-staffed and can be expected to field a strong starting lineup given their lack of midweek play. Stefan Ortega will hope to take the place of Ederson in goal, while Kyle Walker and Bernardo Silva are also likely to return to the starting lineup after being left on the bench in the match against Wolves.
Asked how Foden's injury was, Guardiola said:
"It is getting better, we have training this afternoon." 
He also added that there are no other injuries in the team.
While the Gunners can get the upper hand in the race for the Premier League title, it is the Citizens who hope to extend their incredible streak of nine home victories in the FA Cup. And the statistics of the performances speak in favor of the Manchester side – they have won the last five meetings with the Londoners and clearly intend to extend this series.
Arsenal News & Current Form:
Arsenal have significantly improved their quality of play compared to their performance in the FA Cup last season. In the 2021/2022 tournament the Gunners finished in the third round. Arsenal lost to Nottingham Forest FC (0-1).
This season, Arsenal started in the third round with a 3-0 away win over Oxford United FC. The team represents League One. Arsenal broke their opponent's resistance only in the second half. Three goals were scored between 63 and 76 minutes. The authors of the goals were Mohamed Elneny and a double by Eddie Nketiah.
The players are coping well with the difficult schedule in the EPL. In recent matches they have beaten teams from the top 5 of the tournament and a draw with Newcastle United FC. In the standings Arsenal are leading by 5 points from Manchester City and have a game in reserve. The goal difference is 45:16. The Reds are second in the league behind City in terms of performance. Also Arsenal have 8 wins in 10 away games. That's the best result in the league.
In the EPL, Arsenal faced Manchester United FC and gave the spectators and fans unforgettable emotions. A real battle between the two teams kept the tension throughout the match, the score by the end of the second half was 3-2 in favor of Arsenal. There was no question about the fact that the Gunners were tops in the standings. Despite Marcus Rashford and Lissandro Martinez twice breaking through the London club's defense, the Gunners' magnificent streak continued thanks to Eddie Nketiah's double and a wonderful strike by Bukayo Saka.
Gabriel Jesus will not appear on the Etihad turf as he continues to recover from knee surgery, although he recently said he expects to be back in the lineup in four to five weeks. Reiss Nelson (hamstring), Mohamed Elneny (knee) and Cedric Soares (muscle) make up the rest of the quartet of injured Arsenal players.
Mikel Arteta commented on 23-year-old striker Eddie Nketiah, who replaced Gabi in his absence.
"What Eddie is doing is incredible. We cannot say we saw that coming. It is a big blow losing Gabi but Eddie is responding with the team in an exceptional way.It's a challenge for all of us, not just Eddie. To be at a higher level every day. Eddie has been very stable, and I think he's surprised some people with the way he's responded to the huge challenge and demands he's had since Gabriel got injured. We're confident that he can get a lot better, change and continue to develop."
Nketiah has played 25 games for Arsenal this season in all competitions and scored 9 goals.
Also, the gaffer commented on Ukrainian player Oleksandr Zinchenko:
"We know he is a player that gives us everything we want in that position. He gives us versatility but takes a lot of attention as well, freeing up spaces for us, which is really important. I would especially highlight his intensity. What he brought is a real desire to win and to make something special with this team. The experiences he has had in the past are really helpful to that."
Manchester City form guide: W-W-L-L-W-W
Arsenal form guide: W-W-D-W-W-W
Manchester City vs Arsenal Head-To-Head Record:
| | | |
| --- | --- | --- |
| Manchester City | Draw | Arsenal |
| 62 | 46 | 98 |
July 18, 2020: Arsenal 2-0 Manchester City (FA Cup);
October 17, 2020: Manchester City 1-0 Arsenal (Premier League);
December 22, 2020: Arsenal 1-4 Manchester City (League Cup);
February 21, 2021: Arsenal 0-1 Manchester City (Premier League);
August 28, 2021: Manchester City 5-0 Arsenal (Premier League);
January 1, 2022: Arsenal 1-2 Manchester City (Premier League).
Manchester City vs Arsenal Predicted XI:
Manchester City possible starting lineup (4-3-3): Ortega; Walker, Dias, Akanji, Ake; Silva, Rodri, De Bruyne; Mahrez, Haaland, Alvarez.
Arsenal possible starting lineup (4-3-3): Turner; White, Saliba, Gabriel, Zinchenko; Xhaka, Partey; Saka, Odegaard, Martinelli; Nketiah.
Statistical preview of the match Manchester City vs Arsenal:
City's First XI average age 28.3 yrs.
Arsenal's First XI average age 26.0 yrs.
Arsenal have won their last 3 matches.
Manchester City are unbeaten in 6 of their last 8 matches.
Manchester City have won in the last 5 head-to-head games.
Arsenal are conceding an average of 0.80 goals per game in their last 5 games.
Arsenal are scoring an average of 2.40 goals per game in their last 5 games.
Arsenal are scoring in their last 3 games.
Manchester City are conceding an average of 1.20 goals per game in their last 5 games.
Manchester City are scoring an average of 2.40 goals per game in their last 5 games.
Manchester City are scoring in their last 11 games.
Manchester City are scoring in their last 5 games against this opponent.
The total value of City's squad – $1.12 bln, Arsenal's – $797 mln.
Manchester City won 20 of their 22 home matches.
Arsenal won their five most recent away matches.
The teams do not play a draw in 12 games.
City's most productive players – Erling Haaland (31), Riyad Mahrez (10), Phil Foden (9).
Arsenal's most scoring players – Eddie Nketiah (9), Martin Odegaard (8), Bukayo Saka (8).
What has been said before the match:
Pep Guardiola commented the upcoming fixture:
"I think we, as a team, as a club, need this type of challenge. It doesn't mean we are going to catch them, I don't know right now, I have to adjust a few things but this is a challenge, that's why it's nice."
"Can this game affect the fight for the title in the Premier League? It's a completely different competition – the FA Cup. It's like a final. And, of course, it's more than just a game against Arsenal – it's about proving ourselves, understanding what our level is?"
"If a team scores 50 points in a round, it means they were the best and still are. So, we have to show ourselves how far away from them or how close we are, and the best way to understand that is to show our best level. Otherwise, it's going to be tough with a team like this right now."
City's coach also talked about Mikel Arteta:
"Arteta's relationship with Arsenal is similar to mine with FC Barcelona. I can coach Manchester City, I can work anywhere, but if Barcelona calls me, I will go to Barcelona. It's my club."
"I remember one match when Arteta was still my assistant. Usually he was always jumping around, celebrating goals. In that match we scored a lot of goals. I was jumping and celebrating, then I turned around – and Arteta was sitting there. We were playing against Arsenal. That's when I realized that this boy liked Arsenal."
"Everybody has their dreams, and I know he went to the club he dreamed of working for. He was an Arsenal fan because he played there, was captain and loved the club. When he got an offer from Arsenal, I didn't want to get in his way. Life is too short. You have to fly."
Mikel Arteta will be facing his friend Pep in the fixture with City:
"I always hoped that was going to be the case one day and it's happening this season.That's not going to change any friendship, the moments that we have, how important he is in my life, how important he is in my profession.
"We're both willing to win and defend our clubs in any way and that's always been the case since day one.I would prefer to do it with someone else to be fair."
About the competition, he said:
"At the moment I am annoyed and I also told the players: if you want to win trophies, titles, we have to change our mentality. It is not possible that you are in a top game, making three such big mistakes to concede goals, especially the last goal. You have to feel the game. At that stage a point was the maximum and you have to take the point."
"We deserved the points we have. I think we have played well enough to win most of the matches. But the reality is we have things we can get better at. That's the aim."
"It is a competition that is very important to us, very attached to our club and history and will define a moment that is for sure. The most important thing is that we get the performances and the time on the pitch that we need, with the players we have available that are already really good."
Manchester City vs Arsenal Prediction:
We won't see any brilliant thrillers in the race for the Premier League title this weekend, yet fans still have the chance to witness a brilliant spectacle between two phenomenal super-attacking teams in the prestigious cup, which has a proud history of more than 150 years.
There are a few things to keep in mind here: the match and the fighting will be serious as there is no need to save energy for the title contest in the league (the next match is not until February 4), and the competition stage looks set to take the fight for the trophy very seriously. The teams will approach the match fully motivated.
Outstanding attacking metrics of both collectives promise a scintillating encounter, even taking into account that the Premier League's top 2 and 3 defenses are meeting. We believe the shoot-out will be a two-way affair.
Don`t miss out 👉: Jamshedpur vs Mumbai City: Preview and Prediction
Parimatch News staff prediction:
We say: both teams to score – Yes.