Madrid clubs suffer due to Spain's greatest-ever snowfall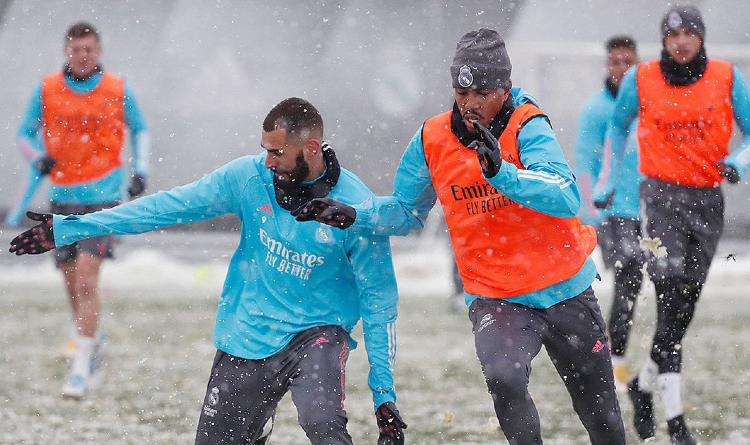 Real Madrid's Karim Benzema and Eder Militao train under the snow ahead of a domestic league game against Osasuna
Storm Filomena has been causing chaos across Spain, blanketing its regions with heavy snow and rain. On Thursday, the meteorological station in Vega de Lourdes, Leon, reported the record low temperature of -38.5°C. Spain's interior minister Fernando Grande-Marlaska has already branded it the most intense storm in the last 50 years.
Exceptional snowfall has reached Spanish football as well. Real Madrid were about to take off from Barajas Airport ahead of the LaLiga match against Osasuna, yet were said to wait for about an hour because of a frozen runway. Club's board reportedly were angry about the situation, and the players were complaining about LaLiga's chairman Javier Tebas. The fixture in Pamplona is unlikely to be postponed despite the not very good condition of the field.
The pitch of Wanda Metropolitano, in turn, was entirely snow-covered. LaLiga decided to postpone Atletico's game against Athletic Bilbao. New game date is expected to be confirmed in the nearest future.
''Given the exceptional situation caused by the storm across a large part of the Iberian peninsula, causing the closure of Madrid Barajas airport throughout the day, and the impossibility of having the pitch in optimal playing conditions, LaLiga, after contacting both clubs, have asked the Professional Competition Committee first thing this morning to postpone the match between Club Atletico de Madrid – Athletic Club initially scheduled for Saturday at the Wanda Metropolitano,'' LaLiga has reported on Saturday.
Rayo Vallecano, another team from Spain's capital, failed to reach Ebro for the Segunda game against Mirandes. Their bus was forced to turn around as their driver was unable to cope with the weather. At a certain point, Rayo's players got off the bus to help the cars that have been stuck in the snow. Afterwards, the game against Mirandes was postponed.
At the moment, nine matches in LaLiga, Segunda and Segunda B have been postponed. Apart from Atletico Madrid v Athletic Bilbao, LaLiga's fixture between Elche and Getafe will also not start as planned.
Zidane's men are on the second spot in the LaLiga table having 36 points after 17 games. Los Blancos haven't lost a league game since the 2-1 defeat to Deportivo Alaves in late November.
Atletico tops the league having 38 points with two games in hand over their Madrid rivals. Simeone's side were eliminated from Copa del Rey after a 1-0 loss against Segunda B division club Cornella.
After the game against Cornella, Simeone hinted at the exit at the end of the season saying that the solution has to be found in the Argentine 'will be there next season'.
Rayo are currently on the fourth spot in the Segunda table after finishing last season just one point shy of the play-offs. Their last appearance in LaLiga was in the 2018-19 season.