Liverpool vs Manchester United. Prediction and Preview. Probable Lineups, Team News, Stats and more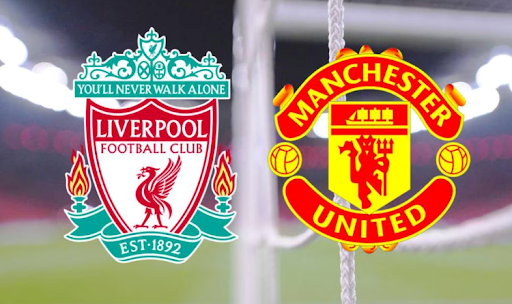 Who will Prevail in the Liverpool vs Manchester United EPL Northwest Derby? Join us to find out!
Liverpool FC will host Manchester United FC in the English Premier League 26th-tour match at Anfield Stadium. The fixture will take place on Sunday, March 5, beginning at 22:00 IST.

What can we expect this Sunday night? Parimatch News will tell you everything you need to know ahead of the upcoming match.
Liverpool News & Current Form:
Games between Liverpool and Manchester United rarely disappoint fans, as this is one of the most important confrontations not only in England but across Europe and the world.
In their combined 130-year history (Man Utd were founded 14 years earlier), the teams have played over 200 matches between them. 40% of all meetings ended with a victory for the Mancunians. The Merseysiders have won 30% of their games.
Jurgen Klopp has almost rectified one of the problems, as proven by the last four EPL fixtures in which the players have not conceded. In 24 rounds, the hosts have 11 wins and six worlds to their credit, which equates to 39 points and sixth position. Traditionally, the attack played confidently with 40 goals to their credit.
It should be remembered that in February, the team suffered a nasty defeat at this stadium to Real Madrid CF in the first leg of the UEFA Champions League play-offs, when they lost to the Spanish champion (2 – 5). Mo Salah set up phenomenally for Real, coming up with a goal and an assist by the 20th minute, but then the Spaniards got angry and simply rolled up the opposition.
The Merseyside's infirmary, a headache for German club boss Klopp, is gradually emptying. As such, last season's vice-champion is becoming like himself and adding to his Premier League points case on a regular basis. The club's goal now is to make up for half of the season and finish in the league top four again, from which the team is still six points away.
In the middle of the week, Liverpool played a missed match of round 7 in which they took on their recent offender (0 – 3 in early February) Wolverhampton Wanderers FC at home. But they got their revenge in the final twenty minutes of the home game (2 – 0). Virgil van Dijk and Mohamed Salah got the goals.
Liverpool have yet to overcome an abnormally large gap of ten points in the standings from today's opponents, and they need to start today. The meetings, when the Reds from Liverpool play the Red Devils from Manchester, are a prestigious encounter, even though the cities are located next door. Such proximity adds to the motivation and desire to win, as evidenced by the last six face-offs, in which there was no room for a peaceful outcome.
The team's injury list is gradually shrinking and the club's results are improving. Calvin Ramsay, Curtis Jones and Naby Keita will not play due to health problems. As well as Luis Diaz and Thiago Alcantara. The latest addition to the squad is the return of defender Ibrahima Konate.
Cody Gakpo shared his opinion on Liverpool – United rivalry and how he feels about taking part in it:
"I think we had a tough period before, but yeah, I think we got back well together and started winning games and showing really the quality we have in the team. Let's keep doing that."
"Obviously for us it's a big, big game, we need the three points again, especially at home, so we can continue the run we are making at the moment. It's a big game, I think everybody knows it, so yeah, I'm really looking forward to playing this game."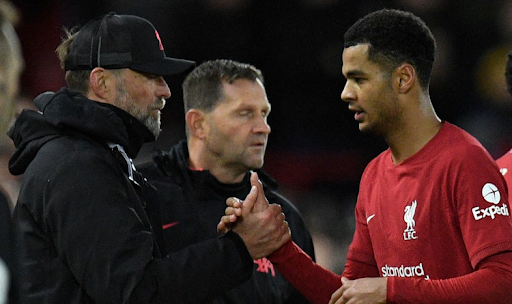 "I know it's a big rivalry. I often watched the games, especially the big ones like this, when I was back in Holland. So I know a few things, but yeah, I think it's a big difference when you play them yourself."
Don`t miss out 👉: India is thrown out by Lyon, Australia needs 76 score to win the 3rd Test
Manchester United News & Current Form: An incredibly busy schedule for English clubs in February, however the switch to March has not made things any easier. Manchester United played 9 matches in February, winning 7 of them. Despite the toughest schedule, the Red Devils are feeling great. They demolished FC Barcelona in the UEFA Europa League (2 – 1), went ahead in the Emirates FA Cup, won the English Football League Cup and locked themselves up in third place in the EPL.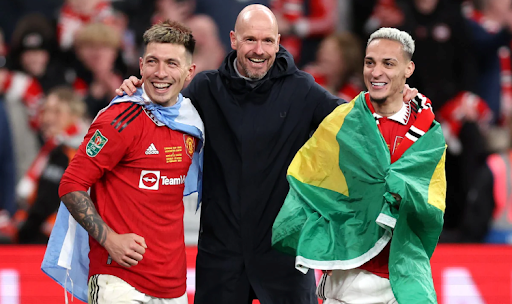 Erik ten Hag seemed to have found the right words to finally get his message across to the players. Marcus Rashford has simply blossomed, Wout Weghorst, Luke Shaw, Alejandro Garnacho are playing well, even Jadon Sancho is scoring. Only top division leaders Arsenal FC have been able to stop United in the last 20 games. And that happened in an even exchange of blows, the Londoners being only slightly luckier (3 – 2).
Manchester United won the English League Cup by beating Newcastle United FC (2 – 0) in the final of the tournament. The Devils are unbeaten in their last five matches: a draw and four wins. The team has scored at least 2 goals in each of the meetings. Since the end of the FIFA World Cup in Qatar, MU have produced the most points in the league.
After their triumph in the Cup, MU beat West Ham United FC (3 – 0) at home. All three goals were scored in the second half after 77 minutes. Auto-goal from Nayef Aguerd started the rout. Alejandro Garnacho and Fred scored on 90 minutes and 5 minutes into the penalty shoot-out.
Anthony Martial, Donny van de Beek and Christian Eriksen are all out due to health problems. Mason Greenwood is also recovering from an ankle injury. Antony has recovered from the injury. The forward has featured in the starting line-up in the last two meetings.
Liverpool form guide: L-W-W-L-D-W
Manchester United form guide: W-D-W-W-W-W
Liverpool vs Manchester United Head-To-Head Record:
| | | |
| --- | --- | --- |
| Liverpool | Draw | Manchester United |
| 90 | 68 | 80 |
January 17, 2021: Liverpool 0 – 0 Manchester United (Premier League);
January 24, 2021: Manchester United 3 – 2 Liverpool (FA Cup);
May 13, 2021: Manchester United 2 – 4 Liverpool (Premier League);
October 24, 2021: Manchester United 0 – 5 Liverpool (Premier League);
April 19, 2022: Liverpool 4 – 0 Manchester United (Premier League);
August 22, 2022: Manchester United 2 – 1 Liverpool (Premier League).
Liverpool vs Manchester United Predicted XI:
Liverpool possible starting lineup (4-3-3): Alisson; Alexander-Arnold, Konate, Van Dijk, Robertson; Henderson, Fabinho, Bajcetic; Salah, Gakpo, Nunez.
Manchester United possible starting lineup (4-2-3-1): De Gea; Wan-Bissaka, Varane, Martinez, Shaw; Casemiro, Fred; Antony, Fernandes, Rashford; Weghorst.
Statistical preview of the match Liverpool vs Manchester United:
Liverpool's First XI average age is 27.1 yrs.
MU's First XI average age is 27.7 yrs.
Manchester United have won their last 3 matches.
Liverpool are unbeaten in 7 of their last 9 games at home.
Liverpool are without a loss in their last 7 games against this foe at home.
Liverpool have scored in 5 of their last 7 games against this opponent.
Manchester United have scored in their last 22 games.
Manchester United are scoring an average of 2.40 goals per game in their last 5 games.
In their last 5 games Manchester United conceded an average of 0.80 goals per game.
Liverpool conceded an average of 1.00 goals per game in their last 5 games.
Liverpool are scoring an average of 1.60 goals per game in their last 5 games.
Manchester United have scored in nine of their last ten away games.
Liverpool have won only four of their last ten games in all competitions.
The last six matches between the clubs ended in a total of more than 2.5 goals.
Liverpool's top scorers – Mohamed Salah (9), Roberto Firmino (7), Darwin Nunez (6).
Man Utd top scorers – Marcus Rashford (14), Bruno Fernandes (5), Jadon Sancho (4).
Manchester United have not scored more than a goal in 7 away games against Liverpool in the EPL.
Manchester United have scored in the second half in 5 consecutive matches.
What has been said before the match:
The Reds' coach Jurgen Klopp ahead of the Sunday clash:
"The important thing about the chase for the top four is it's not a one-day trip – you really have to go for it. I have no clue what it means for them other teams, but I think they realize already that we are not completely gone. So, it's not that we are in no man's land and that's clear, but we still play pretty much all of the teams ahead of us still."
"In the moment when Liverpool-United is not a special game anymore then something went really wrong, let me say it like this. Then it's like, 'Oh, Liverpool-United… who?' That would be really difficult and really sad because obviously I love football, I love the fuss we make of it, most of the time at least, and all these kinds of things."
"Then there's Liverpool-United; I want to see that, it has to be like that, otherwise football wouldn't work. Then we have absolutely no right to exist anymore… People need to know and want to know what both clubs are doing.
"That's why I have no problem with them particularly, but it's a big game and it always was in my life a big game since I am allowed or can watch it on television, it's always a big game. Thank God it's still one."
MU's coach Erik ten Hag about the importance of the right mentality for games and history with Liverpool:
"I think our team, our mentality in general is very good. I think we also have many leaders who set the mentality, who set the standards, who control the standards, who correct if necessary. I think we are happy with this process but it can always be better. That has to be the approach."
"It's in the process. It [ 2 – 1 win in August] was a few months back, now we are in a different process. It's a different period, so I don't look back, I look forward. I look forward to Sunday and I'm really going to enjoy this."
"We don't have to compare. It's about the future, it's about now, so we face a fantastic opponent and we're looking forward to it. So it's all about us getting the right preparation and to be ready for that game."
"It's difficult to say how the players have changed in a few words or a few sentences. It's more the total package, more like I said, the philosophy, culture, strategy and to bring that forward consistently, day by day."
"I think we will have players coming back against Liverpool. We are expecting Luke Shaw to return. Sancho has been ill but we will have to wait and see. I think he might be available as well. Looking forward to the match against Liverpool, the atmosphere at the stadium will be great. It will be hostile towards us, but we like it."
Liverpool vs Manchester United Prediction:
A North-West derby is always a bright and passionate affair. And looking at the recent form shown by both sides, the upcoming clash between the British giants should not leave fans disappointed either.
Mo Salah got into the spotlight just in time. Taking down Wolves in the week, he tried to beat Real Madrid. For now, the Egyptian's exertions have only worked in the EPL and it seems that against a tired Manchester United he will come up with something again. The entire United attack (Rashford, Weghorst, Garnacho) is in terrific form too, so there will be no shortage of excitement at Anfield. In the first-round game, both Marcus and Mohamed scored, thus the teams produced a total of over 2.5 and exchanged goals. We expect a repeat of the pattern, with both teams' attacks clearly outclassing their defences.
Don`t miss out 👉: The rollercoaster ride favored Qalandars after Raza and Rauf's turnaround
Parimatch News staff prediction:
We say: Both teams will score and the match total will be more than (2.5) – Yes.