The rollercoaster ride favored Qalandars after Raza and Rauf's turnaround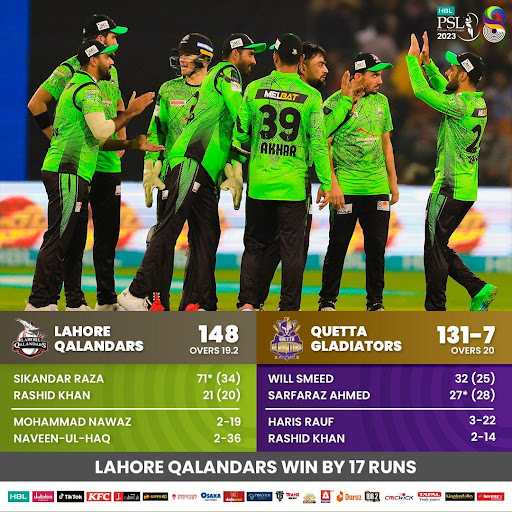 In the middle of his unbeaten 34-ball 71, Sikandar Raza laps one
At Gaddafi Stadium, the defending champion Lahore Qalandars put on an incredible comeback after falling to 50 for 7 to defeat Quetta Gladiators by 17 runs and maintain them at the bottom of the PSL standings.
Sikandar Raza was their hero with the bat, hitting an unbeaten 71 off 34 balls, before the Qalandars attack came around after a shaky beginning to thoroughly thrash the chase, led by Haris Rauf's 3 for 22.
By the time the game was through, they had established a record for successfully defending the joint-lowest total (148) in a PSL game in Pakistan.
Raza's first PSL half-century gave Qalandars something to bowl at after they were inserted, which helped them out of a serious situation.
In a brilliant comeback, the Zimbabwe all-rounder hit eight fours and three sixes while putting on a 69-run eighth-wicket stand with Rashid Khan off 6.3 overs. Although being bowled out early, this partnership helped Gladiators set a target of 149.
With 53 for 1 and Yasir Khan falling to Rauf on the final ball of the powerplay, the gladiators appeared to be coasting.
As Will Smeed fell lbw to Rashid in the seventh over, Gladiators started a slow-motion collapse in which they added 11 runs in five overs while losing three wickets. Will Smeed had hit six crisp fours in 32 off 25 balls to help his side get ahead of the asking rate.
With the required rate over 10 per over, Martin Guptill blasted David Wiese down the neck of deep midwicket, making matters worse for the Gladiators.
Rauf dismissed Odean Smith and Mohammad Nawaz as the home team took command, giving up just five boundaries in the second half of the innings and making sure the victory was almost certain with one over left.
It looked obvious that the Lahore fans would leave the game unhappy for the first quarter of the game. Umaid Asif's direct hit in his Gladiators debut, which caught Fakhar Zaman short in the opening over of Qalandars' innings, resulted in the loss of a wicket for the team.
Umaid's night then got better when he struck with his third pitch, taking a straightforward return catch after Mirza Baig top-edged a pull. At the end of the powerplay, Qalandars were struggling to a score of 29 for 4 before Naveen-ul-Haq hit twice in the space of one over.
In an effort to stop the momentum, the Qalandars had the captain, Shaheen Shah Afridi, out at No. 6; up until that point, he had never batted higher than No. 8 in a T20.
It was a partial (and relative) success because he outperformed the other top six batters with 16 runs off of 16, but in the ninth over, he ran out of batters to seek for a single that didn't exist. By the time the half was up, the Qalandars were seven behind as Wiese and Abdullah Shafique both fell to Nawaz.
Yet as the recovery partnership grew to over 50, Raza struck his sixth ball from Nawaz for six, added another in the next over from Umaid, blasted Naveen for three fours in five balls, and scored a pair of boundaries from Naseem Shah.
Raza made an effort, but Qalandars were unable to bat for their complete 20 overs. Nonetheless, the league leaders had more than enough for a sixth victory in six games.