Lampard is having major problems while his team continuing its losing streak. Chelsea replaced their London rivals Arsenal to become the target of criticism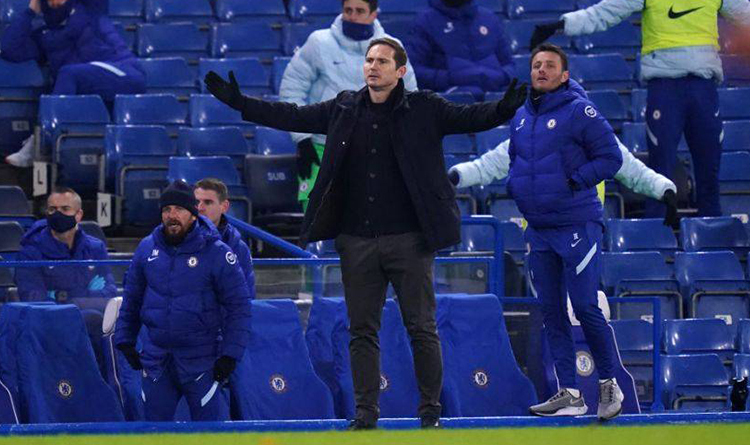 It seems like Lampard is losing control over the situation on the pitch
This Sunday, the Blues were destroyed by Pep Guardiola's lads with a score of 1-3. 
The host team showed a very sluggish game and dropped out of the top 6. Here we can see a lot of frustration: both the personal skill of some players and the general incomprehensible tactical pattern of Lampard's game.
First, let's talk about Manchester City, notice that the team finally stabilized and began to steadily gain points.
Three goals in the first half easily and full control of the second one. Actually, this seems to be Pep Guardiola's finest performance of the season. Almost all of the Spaniard's tactic tricks played out yesterday.
We can distinguish three stages in the meeting. The most informative and crucial was the opening segment.
| | |
| --- | --- |
| The first 15 minutes | City used the unique scheme (to counter-press) and watched the reaction of Chelsea. So far it's just control without domination. They tried to read the Blues. |
| From 15 to 30 | А monumental 15 minutes for Guardiola's team – 72% of possession, 7-1 shots. The game became clear to the guys from Manchester and they quickly gained a key advantage in the score. |
| The remaining time | Citizens are in the mode of deadly counterattacks. Guardiola's team even lost possession to Chelsea (54% – 46%), but they ran away perfectly against an opponent who needed to take risks and open game. |
This kind of preparation for the weaknesses of the opponent is a classic Guardiola style. Before an important match, the City coach loves to load the team with an innovative idea, which in theory can destroy the opponent's tactics. Often (especially in the Champions League) the players simply do not have time to take the idea and implement it. But Citizens due to match delays had a great advantage to prepare properly.
Watch all goals here:
Keane told on the TV:
"Frank will be concerned for what he saw today. Today you're thinking with the attacking players, I thought they'd put up a performance, but there was a lack of energy."
"When you're losing a game 3-0 and not putting a tackle in, it's a huge concern. He's got senior players out here, players who have won the World Cup, how they didn't sort it out, making tackles, pulling people in, sitting in. That would be the big concern for me."

he continued.
"Chelsea don't give managers time. It's in their DNA and history not to give them time."
It is also necessary to highlight the terrible play of Chelsea's newcomers in the summer transfer window – a lot of money has been spent, but the players have not justified the expectations.
As an example: Timo Werner, who was the worst player in the match (he was bought for 45 million pounds).
It seems that the head coach of the Blues has a big pressure on him, now it is believed that he is the most likely candidate for dismissal in the league. This is what he thinks:
"I expected periods of difficulty this year. I said it when we beat Leeds and people were championing us to be title contenders. I know it doesn't come that easy. I know where we are at."
"One month ago people were asking when I'm signing a new contract, and now people will be saying different things because in a tight, busy period we have lost four games of football in quick succession. The pressure remains constant in this job. In tough moments that will be there, I'm not unaware of that. My job is to keep working"
"The reality is a lot of the players who have come in are new, are young, have been injured, haven't played together. It was the first time I've been able to play Ziyech, Pulisic and Werner in the same team."
"Without a doubt we have the character to get out of it, because we went 16 games unbeaten."
Tuchel, Allegri or John Terry? It seems that if nothing changes, Chelsea fans will be waiting for a new coach.
Manchester City currently has three wins in a row, thanks to that Pep Guardiola's team climbs into the European Cups zone, but so far it is only the Europa League, 5th place.
Chelsea is the 8th, extending its streak of losing points and bouncing closely to the lower part of the Premier League table.
In the last 7 matches Chelsea have 1 win, 4 defeats and 2 draws. And all the losses came in the EPL – the Londoners lost in four of their last six matches. The previous 4 defeats they suffered in 23 games.
Arsenal are just three points behind Chelsea. Although recently the teams were separated by nine points.
On July 4, 2019, Lampard became head coach of his former team, Chelsea, by signing a three-year contract.