Kerala Blasters' youngsters show class and composure against lacklustre NorthEast United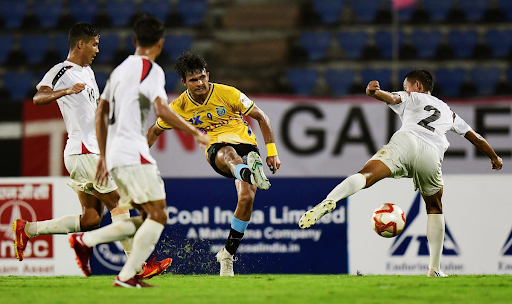 Kerala Blasters' budding stars dominated NorthEast United's young brigade
Kerala Blasters defeated fellow Indian Super League club NorthEast United in their third 2022 Durand Cup encounter on Saturday, 27th August. Mohammed Aimen netted a brace for the Tuskers, whilst the other goal was scored by Muhammad Ajsal.
Both NorthEast United and Kerala Blasters have brought their academy players for this competition, and hence, there was not much to differentiate in terms of strength on paper. From the Highlanders, Muktasana Gotimayum and Basanta Bora were the players many had their eyes on.
Kerala Blasters too had many talented budding stars in their lineup. The likes of Aritra Das, Roshan Gigi and Ajsal were impressive in the last match, and hence, coach Tomasz Tchorz trusted them for this game as well.
The game had a rather sedate start, with both sides opting against going gung-ho from the beginning and deciding to go for a cautious approach. It took 19 minutes to witness the first real chance of the game. After receiving a pass outside the box, Pragyan Gogoi launched a shot but the Tuskers' custodian Sachin Suresh was up to the task.
Tchorz's team almost got the lead only three minutes later from a freekick, but Gigi's effort was narrowly wide. However, the Tuskers eventually broke the deadlock soon – in the 28th minute via a strike from Aimen.
After making a darting run down the right flank, Ajsal found Gaurav Kankonkar with a pass, and the latter decided to pull the trigger. His shot was blocked by a player from Subam Rabha's side, but Aimen was at the right place and at the right time to tuck home the rebound. The Tuskers almost doubled their lead just minutes before half-time when 'live wire' Gigi made a great run before going for glory, but his attempt lacked accuracy.
Kerala Blasters were the dominant team in the second half as well and doubled their lead in the 55th minute. After receiving a pass from Gaurav, Mohammed Azhar found Ajsal with a precise pass and the latter made no mistake in slotting his shot past Khoirom Jackson Singh in the NorthEast United goal.
Only four minutes later, it was nearly 3-0 when Muhammed Basith played a delightful ball for Ajsal, but this time around, the 19-year-old from Kerala could not keep his shot on target. The teenager also did well in creating chances, as in the 66th minute, he played a defense-splitting pass for Gigi, whose shot was blocked by a Highlanders' defender.
Tchorz's men enjoyed uncontested supremacy over NorthEast United and could have scored their third goal in the 74th minute. Aimen played a good pass for Gaurav who did well to get power on his shot, but could not get the direction.
The third goal eventually came in the 90th minute from a brilliant link-up move. Centre-back Marvan Hussain found Azhar with a pass, who then played the ball in the path of his brother, Aimen. The 19-year-old then showed great composure to first go around Jackson in the goal and then place his shot accurately.
After this win, Kerala Blasters climbed to third place in Group D with 4 points. In their last match, they will take on Army Green on 31st August. On the other hand, NorthEast United, who remain at the bottom of the table, will end their disappointing campaign with a clash against Sudeva Delhi on 2nd September.