Juventus smashed the Serie A leader in a principal clash to get points and return to the race for Scudetto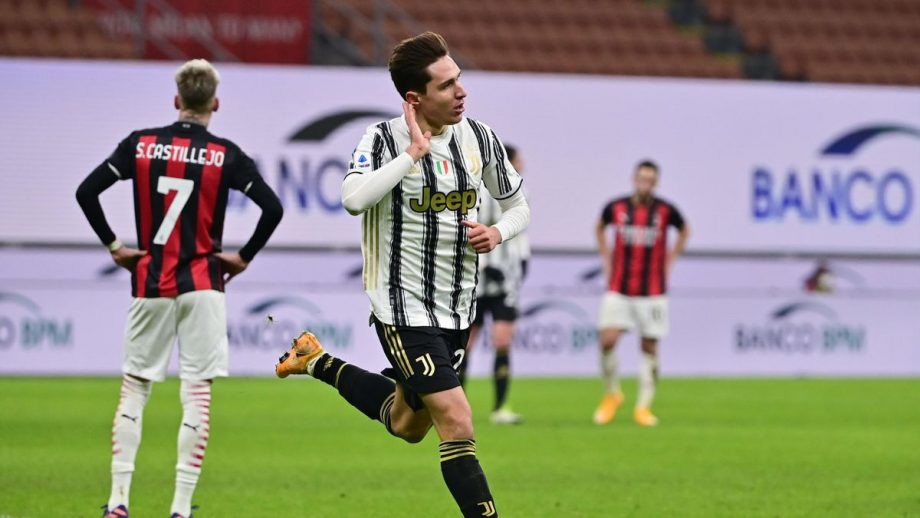 Federico Chiesa, the hero of the match, celebrating his goal
Milan was suffocating Juventus with a heavy pressing but only had enough strength for 60 minutes. Juve was helped by Chiesa's great performance and Pirlo's great substitutions.
Both teams were hit hard by the coronavirus (as well as injuries), but that didn't stop them from playing one of the brightest matches of the European season. Andrea Pirlo's team won (3-1).
The main hero is Federico Chiesa. The young Italian had a double – including the winning goal in the second half.
Federico was criticized a lot after his move to Turin from Fiorentina, the adaptation was hard. But somehow he gets involved and even males a difference in important matches. Although, perhaps Chiesa just loves scoring against Milan – he already has 3 goals and 4 assists in 7 games.
Both times Paulo Dibala was an assistant. The first pass was simply brilliant: the Argentine received a pass from Chiesa and returned the ball with his heel on a run into the penalty area.
You can watch all the best moments from the match on the official YouTube channel of our partner:
Milan equalized at the end of the first half: Rafael Leao ran onto the counterattack and gave the ball to Calabria who converted the goal. Admittedly, Juventus could be embarrassed by the refereeing: the ball was taclked from Adrien Rabiot with a foul at the start of the attack.
However, Milan also has the reason to complain: there was a moment when Rodrigo Bentancur could have received a second yellow card for a foul, but the referee spared him.
Juventus's third goal came from the substitute: Kulusevski, who replaced Chiesa, made a great run past Theo Hernandez and then gave a perfect pass to McKenney – the American didn't miss that moment.
Despite the defeat, AC Milan still lead the table by one point – thanks to Sampdoria who beat Inter.
Juventus, on the other hand, have climbed to fourth place and are seven points behind, but Pirlo's team has a match to spare.
Milan was the only team who did not lose in the domestic championship after the quarantine. The last time it lost before the lockdown was at the beginning of March 2020. It had been 304 days.
The unbeaten streak in the championship lasted 27 games.