Jurgen Klopp to take on Germany job? Revealing rumors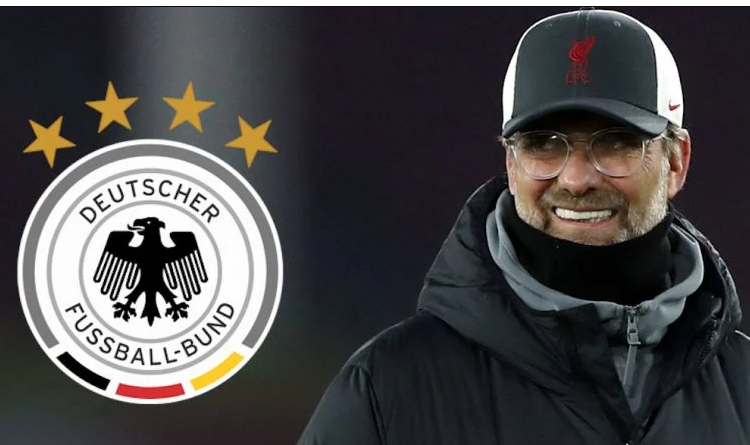 Klopp has previously denied that he could lead the German national team after Joachim Löw's decision to leave after Euro 2020
Speculation about Jurgen Klopp's future this season is quite common, considering Liverpool's problems. The Reds boss might be tempted to leave Anfield as he could feel stagnated in the club, especially given the vacant German national team coach job.
In a long interview with a large German media, the Liverpool manager tried to clarify his position on the issue:
"I didn't say that I didn't WANT to become a national coach, but that I CANNOT. That's a huge difference."

–  stated Jurgen Klopp.
"This is my sixth year at Liverpool, and I've built an incredible relationship here with people I work with on a daily basis. We rely on each other. Right now, in such a difficult phase, to say from my side: I'll be gone then? That will not do."
"I am full of energy, even when friends text me: 'Are you okay? You look bad!' I've just gotten older and haven't seen the sun for a year, and I don't sleep much. That's why I look bad. And not because we have six home defeats in a row. I want to sort this out with the boys and girls who work with me." 53-year-old said.
Liverpool manager said that he just can't just step out of his responsibilities:
"And there is no way to say: 'Oh, national coach, that would be an interesting job.' That would be a great honour without question, but the timing is not right. "I can't. I am very sorry if I've let people down with it, but I can't just step out of my responsibilities."
The German summarized that he desires to have a prolonged rest after all:
"When Liverpool ends, there will definitely be a year off. Nobody needs to call, not after four months and not after six either. No matter who tries it: it's a year shift."
Also, he said the same thing before right after Low announced his plans to leave:
"If that's the question you want to ask, if I'm available for the job of the manager or coach of the German national team in the summer, no! And after the summer, no!"
Recently, former Manchester United goalkeeper Peter Schmeichel suggested that Jurgen Klopp could lead Bayern in the future.
"Think about this scenario. Let's play with the idea that Hans-Dieter Flick takes the German job, which is not a given. Then Bayern need a new coach and Jurgen Klopp has been offered that job before. That is an absolute top job."
"And it's a top job in his own country. You say that he would never leave Liverpool for the German job. But would he leave it for Bayern Munich?"

– he outlined.
The former defender Jamie Carragher has backed Klopp:
"He may leave when his contract finishes but I don't think he would break his contract. In his two previous jobs, he has always left when his contract has finished. He has come out and stated that publicly in the last week or so. I would imagine he would stand by his word. And he would want to improve on the season Liverpool have had this season."
German U21 manager Stefan Kuntz is currently the betting favourite to take charge of the senior side.
Also in the running are RB Leipzig boss Julian Nagelsmann and Bayern Munich manager Hansi Flick, who served as assistant to Low's Germany side for eight years.