Jamshedpur signs former Chennaiyin defender Eli Sabia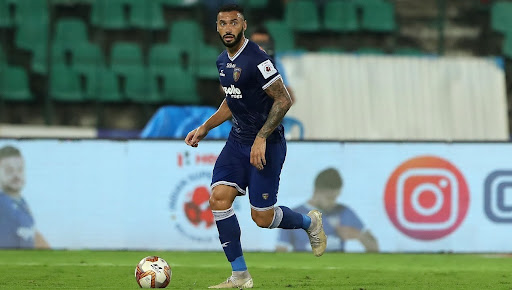 Eli Sabia in the Jamshedpur jersey
On the transfer deadline day, Jamshedpur has signed former Chennaiyin defender and birthday boy Eli Sabia on a one-year contract until the end of the 2021-22 Indian Super League season.
After signing for the Red Steels, Sabia said,
"I see Jamshedpur as a club and a city with big ambition. I want to give my best for the team and the fans who are so passionate about the team. I want to compete to win each match and battle to get the top honours for the club and the fans."
Eli Sabia has been one of the best defenders in the history of the ISL as he has made 79 appearances for Chennaiyin in his four-year stay with the club scoring 3 goals and providing 4 assists as well. Sabia's ability to deal with attackers one-on-one and in aerial duels has been praised by pundits and fans alike over the past few years.
Also read: Jamshedpur signs talented forward Komal Thatal
Born in Brazil, Eli spent most of his career in different divisions of the Brazilian football pyramid. The central defender started his career with the youth academy of Paulista and went on to make 48 senior appearances for the club before going out on loan to Laussane, Santos, and Atletico Paranaense before sealing a permanent move to Sao Caetano.
After making 85 appearances for Sao Caetano, Sabia went on to play for many Brazilian clubs before switching to ISL with Chennaiyin ahead of the 2015-16 ISL season. The Brazilian defender spent a solitary season with the Marina Machans before venturing back to Brazil and then spending a solitary season with Saudi Arabian club Al-Raed.
In 2018, Chennaiyin came calling for Sabia and since then the towering defender has settled into the ISL and will now be looking forward to representing his second team in India.
Jamshedpur head coach Owen Coyle welcomed the club's latest signing and talked up his knowledge and experience of the ISL.
He said,
"Eli is one of the best defenders in the ISL. He is an outstanding personality and is a real team player. He has been playing in the ISL for 4 seasons, one of them with me, and comes with a serial winning mentality. Just like Peter, he has a great command in defense and is very organized. His tall and robust presence will provide so much solidity and security at the back. I am looking forward to working with him again."