Jamshedpur aiming for more success after first-ever silverware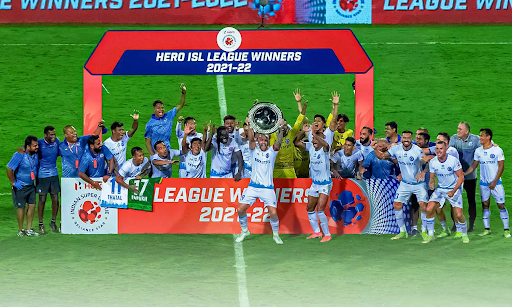 Jamshedpur clinched their first piece of major silverware by topping the league table
In around two weeks the 2022-23 Indian Super League season will begin with the 11 teams gearing up for an exciting new season for football in India. The Men of Steel will look to repeat their good run from last season. Parimatch News brings an exhaustive analysis of Jamshedpur for ISL 9.
Like every other team in the ISL, Jamshedpur participated in the Durand Cup where they finished 3rd in group A, behind Mohammedan and eventual Durand Cup 2022 winners Bengaluru. The team began their campaign with a 2-1 loss over Bengaluru before going down 3-0 to Mohammedan. The team however turned things around, beating Goa 1-0, and Indian Air Force 2-1.
On the other hand, Jamshedpur also took part in four friendly fixtures, the team started their pre-season friendlies with a 6-0 win over JSA Premier division champions Tata Motors 6-0 before beating Tata Steel 12-0 in their second friendly. The third friendly saw the team go down 2-1 against I-league outfit Sreenidi Deccan before they played out a 1-1 draw against Goa.
A look at last season's performance
Jamshedpur had a really good outing last season finishing the group stage as table-toppers and winning the ISL League Winners' Shield.
Owen Coyle's side had won just four of their first ten games, but the second half of the league season saw the team win nine of their ten games beating all opponents bar Bengaluru. The team also finished with 43 points, the highest for any team at the end of a group stage.
New signings ahead of the 2022-23 ISL season
The Men of Steel have retained the majority of their core group of players from last season with Daniel Chima Chukwu, Peter Hartley, Eli Sabia, Jitendra Singh, and Ricky Lallawmawma all extending their contracts.
Jamshedpur also brought in 31-year-old Jay Emmanuel Thomas who has played for several clubs in the UK which includes the likes of Arsenal, Blackpool, Cardiff City, Ipswich Town, Bristol City, and Queens Park Rangers among many others.
The club also completed the signing of another foreigner in Harry Sawyer, an attack-minded striker known for his goal-scoring abilities. The player will be the club's Asian player arriving from South Melbourne. To complete their foreign quota, the club re-signed Brazilian midfielder Wellington Priori, who was part of the JFC set-up in their first-ever season in the ISL.
The club also re-signed defender Pratik Chaudhari after his stints with Mumbai City and Bengaluru. The team also signed goalkeeper Rakshit Dagar, left-back Mohd Uvais, and midfielder Sheikh Sahil from the I-League.
To complete their signings the club signed a seasoned campaigner in Germanpreet Singh, who has represented Chennaiyin for five seasons.
Predicted Starting XI
TP Rehenesh, Laldinlian Renthei Eli Sabia, Peter Hartley, Ricky Lallawmawma, Germanpreet Singh, Jitendra Singh, Boris Thangjam, Ritwik Das, Harry Sawyer, Daniel Chima Chukwu.
Strengths
Jamshedpur has named eight defenders for the ISL 2022-23 season with Ricky Lallawmawma, Eli Sabia, Peter Hartley, PC Dinpuia, Sandip, and Laldinliana Renthlei all being a part of the team last season. The team have also made the addition of Pratik Chaudhari who is a seasoned campaigner. 
The team's strength lies in their defense, with seven of their eight defenders having played at the highest level. The team also had conceded the least goals last season and with the same set-up look solid at the back.
Weaknesses
While Jamshedpur is heavily reliant on a foreign attacking option, they have only Ishan Pandita upfront to throw among the Indian players. While this isn't a total weakness as they have options to cover for, the team could have found itself in a better spot with at least one more striking option upfront.
The team also will be without their top goalscorer Greg Stewart, who also was useful with his assist. With ten goals and 11 assists, the player was a vital cog for Jamshedpur last season and it will be to see if the newcomers are able to fill his shoes.
Season Prediction
Jamshedpur has made some good additions to their side but it will be to see if they can match the level of their outgoings, especially up front, with Stewart playing a very important role in helping them top the league table.
However, on paper teams like ATK Mohun Bagan and Mumbai City look stronger with several teams looking good, but there is no reason why Jamshedpur can't make it to the playoffs especially with six teams in line from this season to make it to the next stage. We expect the Jamshedpur side to finish in the top six.