Italy vs England. Prediction and Preview. Probable Lineups, Team News, Stats and more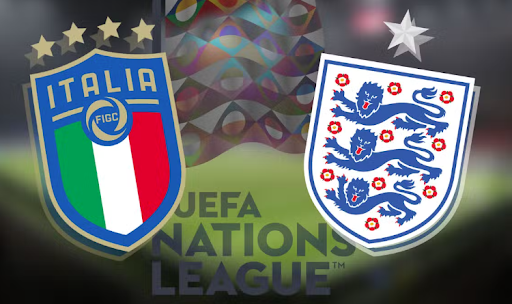 Italy will host England in the UEFA Nations League 5th-matchday match at the Stadio San Siro. The fixture will take place on September 24, beginning at 00:15 IST.
The showdown in the most interesting group of the Nations League has reached its peak. The teams have now reached the stage where they have virtually no margin for error. The reigning European champion and one of the favourites for the upcoming World Cup (or, as they may be called, the underdogs of Group A3) are set to square off. No one expected modest Hungary to lead the 'group of death', leaving Germany, England and Italy behind. But that is the reality at the moment. The upcoming meeting is of paramount importance for the opponents, and it will be a fierce battle for the сrical three points at the legendary San Siro on Friday night.
Parimatchnews will tell you everything you need to know ahead of the upcoming match.
Italy News & Current Form:
Roberto Mancini's side ended their last international break with a disastrous 2-5 defeat to Germany. It was their fourth successive defeat in important matches.
Since winning the Euro 2020 tournament, the Italians have lost every game of particular tournament importance during the year. First, they lost the Nations League semi-final to Spain (1-2), then sensationally failed to qualify for the World Cup after a 0-1 defeat by modest and absolutely average Northern Macedonia. And all this was compounded by a depressing 0-3 demolition at the hands of Argentina in the Finalissima.
Now, it is imperative that the team are able to pick up points in the remaining two rounds to ensure they are not relegated to League B. And success in the Nations League would be of great benefit for the mentality of the Blues who started the rebuilding and rejuvenation process in the summer. The important leaders like Giorgio Chiellini are gone, and many important players are also absent for various reasons, for example 'the brain' of the team Marco Veratti is injured, while Sandro Tonali and Lorenzo Pellegrini are doubtful, Lorenzo Insigne suffered a family tragedy. It's time for young talents to show their worth.
The main problem is that Mancini's side have not shown consistent positive results for a long time. The Italians have recorded just one win since November 2021, beating Hungary 2-1 in their last eight encounters. Gli Azzurri's home-field performance is erratic as well, winning only rarely in recent times.
Furthermore, Italy continue to rely heavily on their defensive performance, with only Germany and Argentina managing to register more than two goals in a single game in the last four years. At the same time, the hosts are noticeably worse off offensively – in the last 10 meetings, Italy have only managed to score more than one goal on three occasions. On home soil, they have scored more than one goal in only one match since October 2021.
England News & Current Form:
The England national team will undoubtedly encourage the Italians' cautious style of play. In this Nations League campaign, they have not scored a single goal from the game in four games. Only once did Harry Kane score from the penalty spot. There has long been controversy over how effectively Gareth Southgate uses the potential of his national team's squad. With great creative midfielders of the calibre of Jude Bellingham, Mason Mount and Kalvin Phillips and Jack Grealish, Kane and Raheem Sterling up front, the English specialist rarely takes risks. Certainly the Euro 2020 final is not off the table, and that is an achievement, but it is important to maintain a high standard – one we have not seen of late.
It is very rare to see a bright match from the Three Lions at the moment. In a stretch of 10 official meetings, they have scored more than a goal only four times, but only to teams of noticeably lower class – San Marino, Andorra twice and Albania. The visitors have been unable to defeat more serious opponents for exactly a year – there were identical draws against Poland and Germany (1-1), and a narrow defeat by Hungary (0-1).
Some say England are not particularly motivated to play in the Nations League, given their poor results in the tournament. They are winless in the group, having twice shared points with Italy and Germany and losing to Hungary 0-5 on aggregate.
Generally speaking, given the extremely tough club schedules of many of the squad's players, as well as other similar situations with teams such as France, we can conclude that there is a certain pattern associated with the insignificance of the tournament. The coaches have allowed themselves to experiment at times as well. However, the Three Lions have the FIFA World Cup Qatar 2022 on their doorstep and the upcoming two games will show whether their recent performance was a deliberate tactic or whether they have dire problems.
So far, the indicators are sluggish and Southgate's side now face a serious threat of being relegated to a lower league – and at this point, the motivation should increase. In theory, England still had a chance of making things right and even coming out on top in the quartet – they now have two points and Hungary have seven, everything will be decided by the upcoming match and the face-off against Germany in the closing round. As a result, the visitors now have no room for error – they need two wins in their remaining matches. The key game will be exactly against Italy.
Remaining fixtures in League A, Group 3:
Germany vs Hungary – Leipzig, Friday September 23;
Italy vs England – Milan, Friday September 23;
England vs Germany – Wembley, Monday September 26;
Hungary vs Italy – Budapest, Monday September 26.
Italy form guide (all competitions): W-L-D-W-D-L
England form guide (all competitions): W-W-L-D-D-L
Italy vs England Head-To-Head Record:
The match in Milan will be to some extent the anniversary one, the thirtieth. The lion's share of meetings had a friendly status. For example, between 1933 and 1976, the teams played 11 matches, all of which were friendlies. The slight advantage is on the side of the Italians, with the English scoring more goals – 34 against 32. Since 1976, the teams have never scored more than three goals in one match and in recent years they have most frequently played to a draw.
June 2022: England 0-0 Italy (Nations League);
July 2021: England 1-1 Italy (Euro 2020 final, Italy win 3-2 on pens.);
March 2018: England 1-1 Italy (Friendlies);
March 2015: Italy 1-1 England (Friendlies);
June 2014: England 1-2 Italy (2014 World Cup).
Italy vs England Predicted XI:
Italy possible starting lineup: Donnarumma; Di Lorenzo, Bastoni, Bonucci, Emerson; Barella, Tonali, Jorginho; Gnonto, Immobile, Grifo.
England possible starting lineup: Ramsdale; James, Tomori, Maguire; Trippier, Rice, Bellingham, Chilwell; Sterling, Kane, Foden.
Statistical preview of the match Italy vs England:
Lorenzo Pellegrini scored 2 goals in the current Nations League campaign and appears to be the team's top scorer;
Sandro Tonali is the most undisciplined member of Italy's squad at the tournament, with 2 warnings;
After four rounds in Group A3, the Italians have conceded the most goals – 7;
England have the worst goal difference at minus 5 and last place in the standings;
In 5 of the last 6 games between Italy and England, both teams have scored;
Italy have scored and conceded in each of their last 4 home matches in the Nations League;
England are unbeaten in the Nations League (2 draws, 2 defeats);
England's only win over Italy in an official game was in 1977;
In none of the last eight head-to-head matches have either team won by the margin more than one goal;
Both teams were thrashed in their last games.
Don`t miss out 👉: Hyderabad aims to recreate the ISL-winning prowess of the previous season
What has been said before the match:
Ciro Immobile, Italy's national team striker:
"When a team wins they must immediately be good at regaining enthusiasm and today that's a bit lacking. Probably the arrival of new players, the confirmation of the coach and all the staff, must give us confidence and morale. We need some enthusiasm, which is lacking at the moment because the World Cup is coming up and we won't be there."
"I expect a tough match against England. It'll be for them one of the last matches of preparation for the World Cup, but we know we have to give something to our people who are disappointed by the missed qualification."
"The national team in difficult moments has been a point of unity for everyone, during the European Championship we saw how Italy united. We have to start from there, the Italians must have that memory in their minds and have faith in us. This is an important starting point without forgetting the disappointments, which inevitably make us stronger."
Roberto Mancini, the Italy national team gaffer:
"Challenges are great, especially when you are struggling. The victory in the European Championship after 50 years will remain there forever, nobody can take it away. Today there are problems, also because of absences, we already know that Tonali won't be able to be there even in Budapest. But we will find solutions. We are still in the hunt for the Final Four, despite the troubles."
"It will not be an easy match… but enthusiasm is always there, especially in view of such a beautiful match, which reminds us of something. Points are up for grabs in a very close group. But I'm not worried about the match against England, surely it's a match we face in a difficult moment… We started to build the foundation for the future last June, when we inserted many new players. We know that it will be months of suffering, the important thing will be to take the field with a good spirit and try to play well to try to win the 3 points.
"England is a great team, one of the best in the world, full of talent, young and strong players. They lost twice to Hungary only because at the end of the season the English players arrived very tired, having played so many games."
Jack Grealish, England's attacking midfielder, has spoken out defending the coach:
"We reached the final last year and then the Hungary game (we lost 1-0) at the start of the last camp. I think before that the last time we'd lost a game over 90 minutes was maybe Belgium in November 2020 or something. So I think it is very harsh criticism [from the fans and media], especially as you saw at the World Cup and the Euros how well the team done and the manager himself. I thought it was obviously harsh [booing at the stadiums] but sometimes that's what you get if you're English."
"I think as a team we will have learned quite a lot from it [previous poor performances], which could be a good thing. Sometimes you can learn the most from a bad defeat or when the performance level isn't up to it. Now we need to use this time over the next week to prepare as best as we can for the World Cup, so when we get there we are ready to go."

says Jordan Henderson.
Italy vs England Prediction:
Italy and England were deciding Europe's champion in the final just over a year ago but now they have to fight for a place in League A. Italy have claimed just one win in the last year and have lost in absolutely every significant match. The hosts perform poorly up front and show absolutely no character when losing.
It is much worse for England at the moment, with no victories in four matches. Gareth Southgate's side have only beaten Andorra and San Marino since last September, and to score more than one goal today would be an anomaly. Yet, now the English must not lose points, because their place in the Nations League elite is at stake, and before the World Cup they cannot afford to be complacent. After all, Southgate has picked up a tremendously strong squad for the matches that will be the final rehearsal before the Mundial. The visitors' motivation must be high and they will do everything to avoid losing to the Italians.
Don`t miss out 👉: Pogba to Lukaku – Manchester United's 5 most expensive signings
Parimatch News staff prediction:
We say: England will not lose and the match total less than 3.5 – Yes.