India submit bid for hosting AFC Asian Cup 2027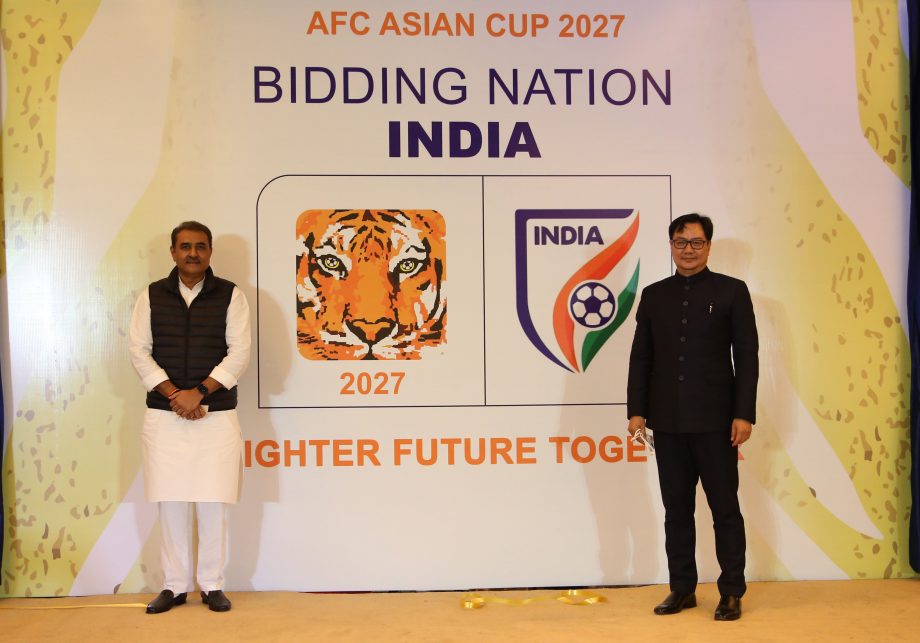 AIFF president Praful Patel & Sports Minister Kiren Rijiju posing with India's logo for the 2027 AFC Asian Cup (Image Credit: IndianFootball/Twitter)
In order to stamp themselves as a footballing giant, the All India Football Federation has submitted an official bid to grab the hosting rights for the 2027 AFC Asian Cup.
Apart from launching their version of the official logo for the 2027 AFC Asian Cup, AIFF president Praful Patel and the honorable Minister for Youth Affairs and Sports Minister, Kiren Rijiju also unveiled the logo for the tournament that read, 'Brighter Future Together'.
After successfully hosting the 2017 U-17 World Cup that broke records for maximum attendance in a FIFA youth tournament, India is gunning to host more international footballing events to gain a reputation as a reliable destination for hosting major FIFA and AFC tournaments.
India is also bracing itself to host two major footballing tournaments in 2022 with the FIFA U-17 Women's World Cup and the AFC Women's Asian Cup set to be held in India given no more delays happen due to the Covid-19 pandemic.
India's well-connected cities, world-class stadiums, and a track record of hosting big and reputed tournaments like the Commonwealth Games in the recent past and the Asian Games twice in 1951 and 1982 keep them in good stead.
FIFA Council member and AIFF president Praful Patel talked about how far the country has come over the last few years as they are in contention to host the AFC Asian Cup.
He said:
"It has taken a lot of hard work to reach the level we are at today, where we can think of hosting international events year on year. The 2017 FIFA U-17 World Cup in India left an indelible mark on our country and we're now working towards ensuring FIFA U-17 Women's World Cup and the AFC Women's Asian Cup go down as two of the most successful women's international football tournaments. "
Talking about how the country is doing its maximum efforts to satisfy all parties involved, Patel said,
"We're continuously working on infrastructure up-gradation and football development, and India would be honored to be selected as the host for the 2027 AFC Asian Cup. It is an unparalleled opportunity to take Asian football to new heights and create a Brighter Future Together, for India, for the AFC, and for our whole continent."
Apart from India, Asian giants like Iran, Qatar, Saudi Arabia, and Uzbekistan have submitted their respective bids to host the 2027 edition of the AFC Asian Cup.
While Iran and Qatar have hosted Asia's premier footballing tournament twice in the past, Saudia Arabia, Uzbekistan, and India have never got the opportunity to host an AFC Asian Cup.
With China hosting the 2023 AFC Asian Cup in 10 different stadia in different cities, India could easily go one better and host the 2027 AFC Asian Cup in 12 different stadia in 12 different cities.
India's Youth Affairs and Sports Minister Kiren Rijiju praised the country's ability in hosting big international tournaments and promised unwavering support from the government.
"Hosting Asia's biggest football event, the AFC Asian Cup 2027 will be a huge milestone for Indian sports. Our nation is perfectly poised to host a mega sporting event of this magnitude. We have extensive experience over the last two decades of successfully planning, organizing, and staging some of the world's biggest sporting events and are looking forward to hosting two more big events in 2022 – the FIFA U-17 Women's World Cup and AFC Women's Asian Cup. I assure you that all government support will be given in getting this tournament to India, and making it a memorable one for everyone involved."