Germany, Spain in Group E, Portugal in Group of Death, and more…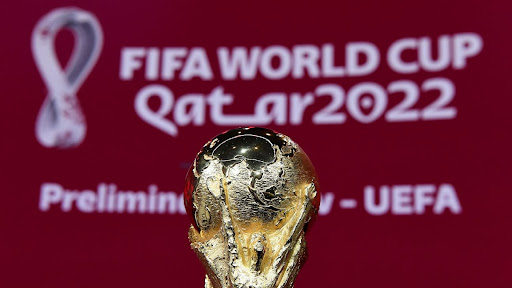 The 2022 FIFA World Cup Trophy
The 2022 FIFA World Cup draw took place on Friday and 32 different teams (29 teams and 3 playoff places) got to know their fate in the quadrennial mega-tournament.
2016 UEFA European Championship winners Portugal have been drawn in arguably 'The Group of Death' alongside Uruguay, Korea Republic, and Ghana. Spain, Germany, Japan, and Costa Rica/New Zealand have been drawn into a tough Group E as well.
Cristiano Ronaldo possibly participating in his last FIFA World Cup will be supported by Diogo Jota, Bruno Fernandes, and Bernardo Silva in attack with Ruben Dias and Joao Cancelo providing a shield in the defensive areas.
Germany would be going into a World Cup without head coach Joachim Low after countless years while Spain is a fearsome quantity under Luis Enrique and Japan's well-drilled team would put up a tough challenge for both sides.
Hosts Qatar have been drawn alongside Africa Cup of Nations Champions Senegal, Ecuador, and the Netherlands, making a return to the tournament since finishing as runners-up in the 2010 edition of the tournament.
The 1966 FIFA World Cup champions England have been drawn in arguably the easiest group with the United States of America, the Islamic Republic of Iran, and the winner of the European playoff between Wales and Scotland/Ukraine.
Two-time World Cup champions Argentina will be facing the challenge of Saudia Arabia, Mexico, and Robert Lewandowski's Poland. Lionel Messi might also be playing in his last World Cup and the little magician would be looking forward to lifting the trophy once in his career before hanging up his boots.
Defending champions France has once again been drawn with Denmark while Tunisia and the winner between Australia and the United Arab Emirates will complete a relatively easy group for the Didier Deschamps-led Les Blues squad.
Belgium, Canada, Morocco, and Croatia form Group F of the 2022 edition of the quadrennial tournament and it would be tough to guess the top two teams from the group with all four teams having enough quality players that can shock any favorite on their day.
In a shocking incident, three teams from Group E of the 2018 FIFA World Cup have been drawn together once again with five-time champions Brazil, Serbia, and Switzerland placed in Group G alongside Cameroon.
Here's the draw in full:
Group A: Qatar, Ecuador, Senegal, Netherlands
Group B: England, Iran, Spain, Wales or Scotland/Ukraine
Group C: Argentina, Saudi Arabia, Mexico, Poland
Group D: France, Australia/United Arab Emirates, Denmark, Tunisia
Group E: Spain, Costa Rica/New Zealand, Germany, Japan
Group F: Belgium, Canada, Morocco, Croatia
Group G: Brazil, Serbia, Switzerland, CameroonGroup H: Portugal, Ghana, Uruguay, Kore Republic