France vs Croatia. Prediction and Preview. Probable Lineups, Team News, Stats and more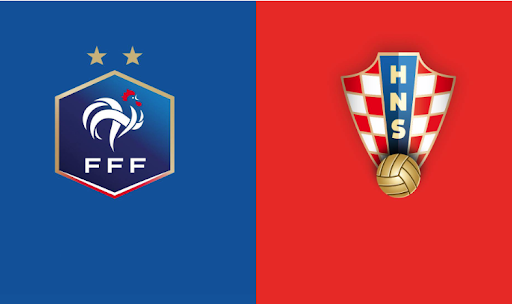 France will host Croatia at the in the UEFA Nations League. The match will take place on June 13, beginning at 00:15 IST.
A remake of the World Cup final will take place on Monday night in Paris at the Stade de France, the venue of the recent Champions League final.
France and Croatia have had a surprisingly poor start to the tournament and sit bottom of the group, with the world champions trailing last and at risk of dropping out of the top division.
Will the Checkers finally manage to get revenge on their fourth attempt since 2018, will they exploit the Triсolours' lacklustre form? Or will guys of Didier Deschamps rehabilitate themselves from past matches and crush the Croatians?
Now, Parimatchnews will tell you everything you need to know ahead of the upcoming match.
France News & Current Form:
The French team are seriously disappointing their fans. The tournament's most powerful and star-studded squad are last in a group that cannot in any way be described as difficult. In three games, Didier Deschamps' side have not won a single match, and their chances of defending the title are slim – now they need to rely not only on themselves, but also on the results of their opponents.
The gloom started when Kylian Mbappe and Raphael Varane got injured in the first leg against Denmark, and the Scandinavians managed not only to level the score but to snatch victory in the end of the match. It seems like the result confused Les Bleus, because afterwards they drew twice: 1-1 against a crisis-ridden Croatia and an unstable Austria. Certainly not the grandees of European football.
The reigning Nations League champions have a big problem with goal scoring. The multi-million strikers like Karim Benzema or Mbappe seem to have forgotten how to take shots on goal, but there is a logical explanation.
"You shouldn't be sad about missed chances, you should be proud of what you have achieved. I'm not fully fit, but if the coach needs me, I'm ready. At the end of the day, it's the last match before the holiday, you can put a little bit of effort into it,"

said Kylian
The team's main striker has an injury and mild degree of laziness after a difficult season, Karim Benzema also wants to rest – he has played the most matches of any compatriot this year in general and only left Real Madrid after the Champions League final. The players have had a terrific season and really long season at club level. Between them, they have produced more than 80 goals and given more than 30 assists in all official competitions.
Aurélien Tchouameni completed his move to Madrid on 11 June – and he was clearly more concerned with the information in his contract and the processing of his deal than playing in a frendlies-like tournament.
In addition, Deschamps has been rotating the squad considerably. Liverpool defender Ibrahima Konate, for example, is the 65th newcomer to the squad in the 53-year-old's tenure. It was only Moussa Diaby's fifth appearance for the national team, and for Lancs defender Jonathan Clauss the game against the Danes was only his third appearance for the national team. Matteo Gendouzi, William Saliba are also actively involved. Where else should he experiment and try out new links if not in tournaments like this?
It is clear that most of the players are tired and want to rest. It's important for them to find the motivation to play against mid-tier opponents in not the most important competition of the year. At the same time, their rivals do not need a special attitude and motivation – it is always prestigious to beat the French team, no matter what condition they are in.
It's time for the slightly idle French stars to pull themselves together – they need to put their minds off rest for 90 minutes and show what they can do. Moreover, Croatia are not at their best either, but if they have nothing to add, the Tricolours are capable of doing so.
Croatia News & Current Form:
The Croatian side have not yet left a pleasant impression either. Despite the talented Mateo Kovacic (4x Champions League winner), the experienced ball-wizard Luka Modric and other top-class players, they have only produced one win (1-0) over Denmark in the first three rounds of the current Nations League.
However, the Danes were the ones to dictate the game. They attacked more and looked more confident on the whole. The Checkers, so to speak, were just really lucky. The only goal they managed to score was thanks to a number of сonducive deflections. Of course, Mario Pašalić must be given credit for his finishing mastery and choice of position. But it was not without a fluke.
In the other two encounters in the current Nations League camaign, the Croatians' results proved to be less fortunate. Besides a draw game against France, they also suffered a 0-3 defeat at the hands of Austria. First of all, we should point out that they failed to net. And, by the way, they are no strangers to this affliction.
Back in the group stage of FIFA World Cup 2022 qualification, Zlatko Dalic's charges had serious problems with goalproducing. In the first leg, they were defeated by Slovenia (0:1), then, with difficulty, they beat the outsider Cyprus (1:0), played a draw against Russia (0:0), with some efforts they defeated Slovakia (1:0), and in the return leg the Croatians overcame Russia (also 1:0).
Of course, there were also successful matches, with three goals or more in a game. However, much has changed since then. The Checkers' attacking ranks have lost one of their leaders, Ivan Perisic. Now the offensive line often lacks pace and technical ability. Zlatko Dalic has been actively experimenting with the line-up and the game schemes to rectify it. However, no benefit has been felt so far.
Speaking about possinle outcome of the upcoming match, it is even more difficult to believe in the Croatians' success. But the results at the distance and in the first three games in this year's Nations League tournament only add to the doubts. On top of that, they have not produced a single win in their last four meetings with the French national side. There has only been one draw in that period. A draw or a narrow win for the home side could well be in order.
France season form guide (all competitions): W-W-W-L-D-D
Croatia season form guide (all competitions): W-D-W-L-D-W
France vs Croatia Head-To-Head Record:
The opponents have produced the following result in their last four head-to-head encounters:
06.06.22 Croatia v France 1-1;
14.10.20 Croatia v France 1-2;
08.09.20 France – Croatia 4-2;
15.07.18 France-Croatia 4-2.
France vs Croatia Predicted XI:
France possible starting lineup (3-4-3): Hugo Lloris; Lucas Hernandez, Presnel Kimpembe, Jules Kounde; Jonathan Clauss, Theo Hernandez, N'Golo Kante, Aurelien Tchouameni; Antoine Griezmann, Kylian Mbappe, Karim Benzema.
Croatia possible starting lineup (4-2-3-1): Dominik Livakovic; Duje Caleta-Car, Marin Pongracic, Sime Vrsaljko, Borna Sosa; Marcelo Brozovic, Mateo Kovacic; Mario Pasalic, Luka Modric, Josip Brekalo; Andrej Kramaric
Statistical preview of the match France vs Croatia:
France are unbeaten in 10 of their last 11 UEFA Nations League home games.
Croatia have scored and conceded in 10 of their last 11 UEFA Nations League away games.
France have scored and conceded in six consecutive UEFA Nations League games at home.
Croatia were unbeaten in 9 of their last 10 away matches.
Croatia have scored less than 1.5 goals in five of their last six UEFA Nations League away games.
France have scored less than 2.5 goal in four consecutive UEFA Nations League home games.
What has been said before the match:
Didier Deschamps, France coach:
"We have to make sure we gather all our strength in order to conclude this international break well and win against Croatia. I'm not worried [about the 1-1 draw against Austria]. It is not the result we were hoping for, and we are not at the peak of our form or fitness, but we have given playing time to some younger players."
Zlatko Dalić, Croatia coach:
 "I was afraid that we would not be ready for three games in seven days, but my players played fantastically [in the 1-0 win in Austria]. They ran and they fought with full energy, and we can use that on Monday [against France]."
France vs Croatia Prediction:
The French team have tremendous squad depth, however, Deschamps has yet to make the most of it. The opponents do their best to eliminate the danger posed by Mbappe and Benzema. The strikers manage to score, but due to the man-to-man defending style and low block of the defenders, they do not do so as often as they would like. The Croatians, on the other hand, cannot boast a strong attacking line-up. In the last encounter, the French were hardly able to score. The teams drew at the time, with one goal on each side. It's likely that something similar will happen this time.
Despite a disappointing start, the French have still a chance to take first place in the group, but for that they need to win now, otherwise they could make it even more difficult and fight for survival in general.
The French leaders must come to the Croatian team in a decent physical condition thanks to the rotation and rest from the previous games. Karim Benzema and Kylian Mbappe have already scored. Against Checkers, Les Bleus` star attack can finally produce a bright performance, especially in front of the home fans at the main stadium.
Don`t miss out 👉: Australia vs Peru: Preview and Predictio
Parimatch News staff prediction:
We say: France will not lose and both teams to score – Yes.