FC Internazionale came extremely close to the Serie A leader Milan after winning the Derby d'Italia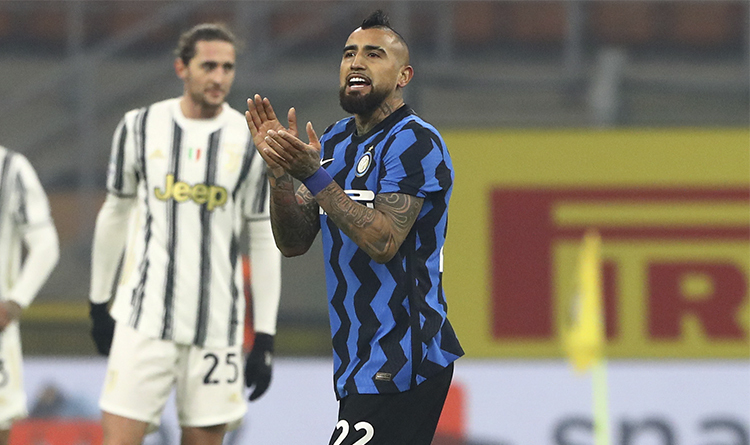 Author of the winning goal, Arturo Vidal
The eighteenth tour of the Italian Serie A was characterized by a symbolic confrontation between Inter Milan and Juventus from Turin. On the Apennine Peninsula, it is commonly known as the Derby d'Italia.
Inter beat Juventus for the first time since 2016. The match was the first meeting between Antonio Conte and Andrea Pirlo as a coach. Having worked in Juve in the early 2010s, Conte revived Pirlo's career, and Andrea admitted that he was inspired to become a football coach after that experience of playing under Antonio, he learned many things from that.
But unfortunately, Juventus played terribly, as Pirlo himself admitted.
The game began well enough for the Nerazzuri, high pressure forced Juve to become seriously nervous when playing defensively and, as early as the 12th minute, lads from Torino made a fatal mistake when Barella crossed from the right flank. Vidal, who was playing in Juve for 4 years, scored an opener with his head. From that minute on, Pirlo's team began to gradually lose confidence in the game.
As it turned out, the Turin side had no backup plan in case the situation did not go according to their prepared scenario. The Bianconeri were quite passive in attack, and in defense they lost almost every duel to Inter's pair of forwards.
In the second half, Inter scored another goal thanks to Barella's one-on-one finish after a great pass from youngster Bastoni.
After that, Conte's team "dried up" the game and easily kept the goal of Handanoich untouched.
Watch highlights here:
Andrea Pirlo admits Juventus suffered 'a bad defeat, we could not have played worse than this':
"We got the attitude wrong from the start and when you don't have the determination to win the duels, it becomes difficult. We just didn't step onto the pitch, we were timorous, afraid of Inter's attacking play, so in our minds we only focused on defending and weren't even very aggressive with that either. We allowed Inter to take the initiative and they become devastating in those circumstances."

Pirlo said.
"Individual quality can only shine if you first match the opposition in terms of aggression and determination. We didn't do that and it showed. It's a bad defeat, we could not have played worse than this and it was unexpected, but we have to lift our heads and prepare for Wednesday and the Supercoppa against Napoli."
Antonio Conte talked about the progress of his team after the game:
"You can see the year-and-a-half of work on the field, even if some don't see it, or don't want to see it."
"I said this was an important step, as we had to learn to taste blood and kill the game. It's very different to last season, when Juve effectively didn't let us play. It's the start, we need confirmation, but it's a strong start. I had never beaten Juventus in my coaching career. I always got hammered, and deservedly, so this is progress."
After defeating Juventus, Antonio Conte's team is tied on points with AC Milan and shares first place, but the Rossoneri have another game in reserve (this Monday against Cagliari).
Juve, on the other hand, is now fifth and already seven points behind.
Next round Inter Milan will meet Udinese, and Juventus will host Bologna.
This is the first clean sheet victory for the Milan side since 2010. It was also 2-0, with Maicon and Eto'o scoring. That season Jose Mourinho's Inter took the Scudetto.
Arturo Vidal has scored his first league goal for Inter: this is his first goal in Serie A since 2015.