East Bengal looking for new dawn but will the burden of expectations prove to be too much?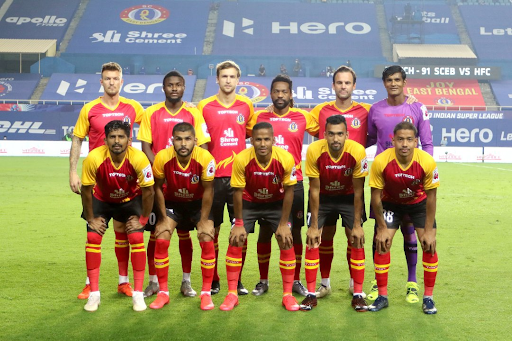 SC East Bengal in ISL 2020-21
East Bengal's much-awaited first season in the Indian Super League was filled with disappointment and agony after they left it late to string together a roster for their league debut. 
The Red and Golds roped in Liverpool legend Robbie Fowler as their manager for the 2020-21 ISL season and along with him came a new bunch of foreign players. Despite all of their efforts, Fowler's side could only manage a ninth-place finish.
The internal problems between the club officials and the investors are yet to be resolved but they have managed to assemble a decent roster for the upcoming season. Former Real Madrid Castilla manager Manolo Diaz will be leading the century-old club in ISL 2021-22.
A look at last season's performance
There was a lot of excitement and expectations around East Bengal's debut in the ISL. Unfortunately for their fans, the team flattered to deceive as Fowler's men only managed three wins in the entire campaign.
They did show some glimpses of brilliance especially after Nigerian striker Bright Enobakhare arrived in the January transfer window but the frail defense couldn't be fixed throughout the season.
New Signings ahead of the 2021-22 ISL season
With a new manager coming in, the Kolkata-based team's think tank has revamped the squad with several new faces. Among foreigners, the first name to be announced was Slovenian midfielder Amir Dervisevic. The Slovenian international is known for his creativity and ability to control the tempo in the middle. Dutch midfielder Darren Sideol will also don the iconic red and gold kit. The former Ajax youth graduate was with Diaz at Hercules and will be familiar with the Spaniard's tactics and philosophy.
In attack, former Molde star Daniel Chima Chukwu is likely to spearhead the attack alongside Croatian forward Antonio Perosevic. Both Chima and Perosevic can play in multiple positions in attack and bring in a lot of experience to address the attacking woes from last season.
Also read: Chennaiyin waits for fresh dawn under Bozidar Bandovic but will the sun finally rise on the Marina Machans?
As for his defense, Diaz is likely to rely on former Lazio youth academy product Franjo Prce who is known for his spatial awareness and astute passing ability. The young Croatian central defender is likely to be partnered by the former Goa and Hyderabad player Adil Khan in the middle of the defense.
The Torchbearers have made a plethora of Indian signings as well. Their biggest signing is undoubtedly last season's Golden Glove winner and Arindam Bhattacharja as the veteran custodian brings in experience and leadership after winning the ISL with ATK.
Apart from the former ATK Mohun Bagan shot-stopper, other experienced Indian acquisitions include Adil Khan and Jackichand Singh. To add flair and flamboyance to their style of play, the SC East Bengal management has also signed youngsters like Amarjit Singh Kiyam, Songpu Singsit, and Subha Ghosh.
Predicted Starting Lineup
Arindam Bhattacharja; Ankit Mukherjee, Adil Khan, Franjo Prce, Hira Mondal; Sourav Das, Amir Dervisevic, Amarjit Singh Kiyam; Jackichand Singh, Antonio Perosevic, Daniel Chima.
Strengths
It seems pretty clear that Manolo Diaz will be trying to inculcate the Real Madrid philosophy, a style of play that has a mix of directness and pragmatism. Unlike last season, East Bengal has the right balance as they have got players for every designated position and the appropriate mix of youth and experience throughout their roster.
Overall, the squad looks pretty well-balanced and if Diaz can get his team adapted to his style of play quickly, there is no reason for the Torchbearers to be unsuccessful this season.
Weaknesses
Lack of continuity could be a big drawback for the Red and Golds as they have made wholesale changes in their roster for this season. The new players might take time to acclimatize to new surroundings and it could be a challenge to get them up to speed in a week or two.
East Bengal had issues with scoring goals last season as they only managed to net 22 goals in 20 matches. This season, Diaz has brought in Chima and Perosevic to solve the goalscoring woes but they will need to hit the ground running, as another slow start is something the East Bengal loyalists would not want to see.
Season Predictions
The Reds and Golds have a rich history that spans over a century and quite understandably, last season's results were not welcomed by their fans. Whilst finishing ninth was unacceptable, their gameplay was also painful to watch at times.
With Diaz coming in, the fans will firstly expect a bit of zeal and passion from their favorite team. Given that they have a new roster, East Bengal should be content with challenging for the top four at the business end of the season.