'Dark Horses' NorthEast United to go up against 'Winless' Odisha: Full Preview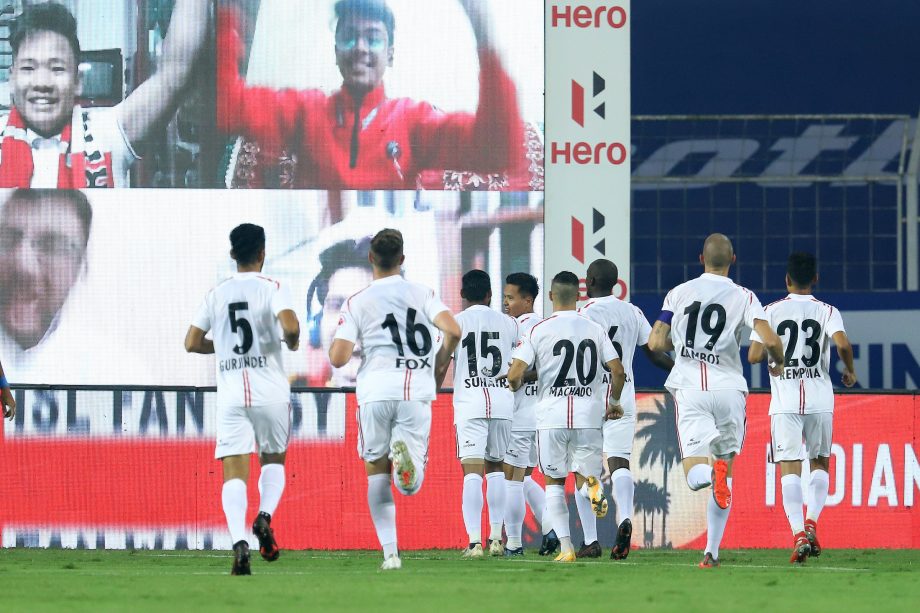 NorthEast United players celebrating a goal (Image Credit: Indian Super League)
NorthEast United FC is scheduled to face Odisha FC at the Bambolim Stadium in Goa on Tuesday in the last match of 2020 for both the teams.
Nus Gerard's team suffered their first defeat of the season as Aniket Jadhav scored the winner for Jamshedpur FC on Friday. Winless in three games, the Highlanders would be looking to bounce back and end the year on a high as they face the bottom of the table Odisha FC.
On the other hand, Stuart Baxter's men haven't won a match the whole season and would be looking to end 2020 on a high as well. When asked about the performances of his team, coach Baxter replied in a positive team praising his side.
He said:
"In every game that we have played, we have shown signs of improvement. In certain games, those signs have been far too few but I think in every game, there has been a period where we have been very competitive. I feel the last game was a step in the right direction for a long period of the game as we were in quite good control of the game. I hope that we can continue that improvement both in terms of better play and for longer periods."
Talking about what has gone wrong for his side, the Odisha FC manager said:
"We have been the architect of our own downfall a couple of times, we have been at the wrong end of a couple of bad calls and a couple of times, just momentary lapses of concentration meant that the results have gone against us. We are working on that and as long as the lads are working on it with the fantastic attitude that they are showing then that's what we can demand from them. I certainly think that there's more to come from the team."
How have they done so far?
Odisha FC started the 2020-21 season with a 1-0 defeat to Manolo Marquez coached Hyderabad FC and followed it up with a 2-2 draw against Owen Coyle's Jamshedpur FC. Another defeat was in the waiting as ATK Mohun Bagan defeat Baxter's side 1-0 courtesy of an injury-time winner.
Sergio Lobera's Mumbai City FC was up next and they convincingly defeated Odisha 2-0 before Igor Angulo powered FC Goa to a 1-0 win over the Kalinga Warriors. Another 1-goal defeat was on the cards as Bengaluru FC won 2-1 against Stuart Baxter's men.
NorthEast United FC started the 2020-21 season with a 1-0 win against the now table-toppers Mumbai City FC and followed it up with a 2-2 draw against Kerala Blasters. A 1-1 draw against FC Goa was preceded by the second victory of the season as the Highlanders triumphed 2-0 over SC East Bengal.
A couple of draws against Bengaluru FC and Chennaiyin FC extended NorthEast United's unbeaten streak to six games before they were beaten 1-0 against Jamshedpur FC.
Team news
Odisha FC: Veteran goalkeeper Kamaljit Singh is ruled out with a concussion he suffered during the match against Mumbai City FC and first-choice goalkeeper Arshdeep Singh is expected to start in goal against the Highlanders.
Marcelinho has been carrying a shoulder injury all season and isn't fit enough to stay for the entirety of the 90 minutes on the field once again. The head coach gave an update on his star player's fitness, he said
"Marcelinho was injured and his performances in training have not yet allowed me to say that he has fully recovered, he is fully fit and he can go out for 100% for 90 minutes. So until then, we got to find the best role for him. His performances in games and his performances in training will lead the way for that."
NorthEast United FC: Ashutosh Mehta will be suspended for the match against Odisha FC for collecting his third yellow card of the season against Jamshedpur FC and Provat Lakra may have to play out the whole of 90 minutes for the first time in this season.
Predicted starting XI
Odisha FC (4-3-3): Arshdeep Singh, Shubham Sarangi, Jacob Tratt, Steven Taylor, Hendry Antonay, Vinit Rai, Cole Alexander, Gaurav Bora, Jerry Mawihmingthanga, Manuel Onwu, Diego Mauricio
NorthEast United FC (4-3-3): Gurmeet Singh, Provat Lakra, Benjamin Lambot, Danny Fox, Gurjinder Kumar, Apuia Ralte, Khassa Camara, Luis Machado, Ninthoi Meitei, Kwesi Appiah, Rochharzela
Head to Head record
The two sides have faced each other 12 times and the honors are even as NorthEast United have four wins to their name with Odisha FC or Delhi Dynamos FC (as they were known previously) having four wins (3 as DDFC and 1 as OFC) with four matches ending as a draw.