Chennaiyin enters the new ISL season with renewed hope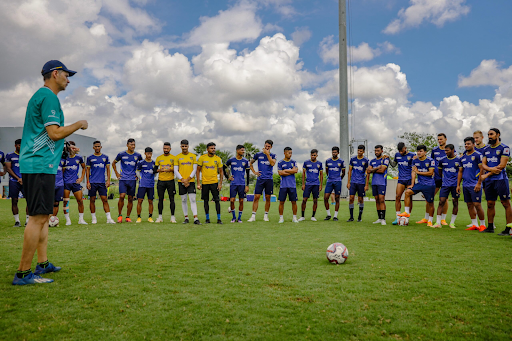 Chennaiyin now have two back-to-back eighth-placed finishes
In around two weeks the 2022-23 Indian Super League season will begin with the 11 teams gearing up for an exciting new season for football in India. Chennaiyin will look to make amends after consecutive bottom-half finishes in the last two seasons. Parimatch News brings an exhaustive analysis of Chennaiyin for ISL 9.
The Marina Machans have made vital reinforcements to the squad and will be hoping for a better finish this season, with the top six teams having a shot in the playoffs. Like every other ISL team, Chennaiyin took part in the Durand Cup 2022, where they ended as quarter-finalists.
The team began their campaign with a 2-2 draw over Army Red before going down 3-1 against ISL 2021-22 champions Hyderabad. The team then came strong in must-win games, defeating TRAU 4-1 before sealing the Quarter-final spot by defeating NEROCA 2-0. In the Quarter-finals, the team went down to Mumbai City 5-3 in what was an eight-goal thriller.
The team also played pre-season friendlies against Kidderpore who they defeated 5-1 and Army Green against whom they played out a 1-1 draw.
A look at last season's performance
Chennaiyin had a disappointing campaign under Bozidar Bandovic winning five, drawing five and losing ten of their 20 games which also saw the team go on an eight-match winless run.
The team looked really weak upfront scoring only 17 goals, the least number of goals by any club in the league, and also conceded 35 goals, the fourth highest in the league. For the team, the five wins last season weren't all remarkable with each of them being won by a single goal margin.
New signings ahead of the 2022-23 ISL season
The Marina Machans have made a complete overhaul of their foreign contingent. The team signed Senegalese defender Fallou Diagne and Iranian defender Vafa Hakhamaneshi to boost their back-line while German midfielder Julius Duker and Dutch midfielder Nasser El Khayati have been roped in to provide the link in the middle of the park. The team have also signed attackers Kwame Karikari and Petar Sliskovic from Ghana and Croatia upfront.
The team has also made changes to its Indian contingent signing defenders Aakash Sangwan, Gurmukh Singh, Monotosh Chakladar, and Ajith Kumar, midfielders Sajal Bag, Mohammed Rafique, Sourav Das, Jiteshwor Singh, and Jockson Dhas and attackers Prasanth Karuthadathkuni, Vincy Barretto, and Romario Jesuraj.
Predicted Starting XI
Debjit Majumder, Akash Sangwan, Fallou Diagne, Narayan Das, Ajith Kumar; Julius Duker, Edwin Vanaspaul, Sajal Bag, Anirudh Thapa, Peter Sliskovic, Kwame Karikari
Strengths
Chennayin's strength lies in their midfield with skipper Anirudh Thapa as their linchpin. The team also has Edwin Vanaspaul who has been with the team for three seasons now. The club also signed experienced campaigners Mohammed Rafique and Sourav Das in the Indian contingent and also Julius Duker and Nasser El Khayati.
The team has a good blend of experienced and young exciting talent in their Indian unit and also a complete foreign overhaul, some of whom have played in the English Championship, and Bundesliga among others.
Weaknesses
Chennaiyin's defense has been one of the major areas of concern over the last two seasons. The team have signed two foreign defenders in Fallou Diagne and Vafa Hakhamaneshi but it will be to see how quickly the two settle in and partner with their other players in the backline. In case Chennaiyin are to make it to the playoffs, their defense will have to play a crucial role to help them achieve that this season.
Another area of concern for Chennai over the last two years has been the lack of a goalscorer, while Chennai has made several changes to that front, it is to see how they perform in the league. Peter Sliskovic has impressed in the Durand Cup while Karikari and Rahim Ali are also capable strikers.
Season Prediction
Chennaiyin has had a very busy summer transfer window with several incomings and outgoings. The team has a totally new foreign contingent and will be hoping they turn out to be the difference-makers.
Chennai hasn't made it to the playoffs in two seasons and with this season giving chance to the 5th and 6th placed teams to make it to the next round, the Marina Machans will be hoping that they can finish in the top half of the table.