Chelsea vs Manchester City. Prediction and Preview. Probable Lineups, Team News, Stats, and more
Chelsea FC will host Manchester City in the English Premier League 12th round match at the Stamford Bridge Stadium. The fixture will take place on Sunday, November 12, beginning at 22:00 IST.
Parimatch News will tell you everything you need to know ahead of the upcoming match.
Chelsea News & Current Form:
Chelsea are more and more often resembling a team capable of claiming something serious. Yes, the debut of the current season in the performance of the Blues was not the best way, as in the six starting rounds they had only one victory, a couple of times played in a draw and lost three times, but gradually Mauricio Pochettino has studied the capabilities of players, determined the core of the squad, which gives the result.
In the last five meetings Londoners lost only once to Brentford with a score of 0:2, managed to draw with Arsenal (2:2), at the same time they beat Fulham FC (2:0), Burnley FC (4:1), and last round and Tottenham Hotspur FC with a score of 4:1. The Aristocrats haven't had such an advantage for a long time, and the game itself was extremely eventful: Jamie Carragher praised it, saying that it is thanks to such matches that the EPL is the best championship in the world.
Dejan Kulusevski scored a quick goal, but it didn't faze Chelsea, because the show had just begun. First, a goal by Son Heung-min was disallowed after being offside. Next, only the video review saved Tottenham from equalizing: Raheem Sterling played with his hand.
And then a goal by Moises Caicedo was canceled because of a suspected offside by Nicolas Jackson, immediately after that a penalty was awarded for a kick on the leg of Enzo Fernandez, committed by Cristian Romero, and a red card was shown to the latter. Cole Palmer converted the penalty: the ball ricocheted off the right post.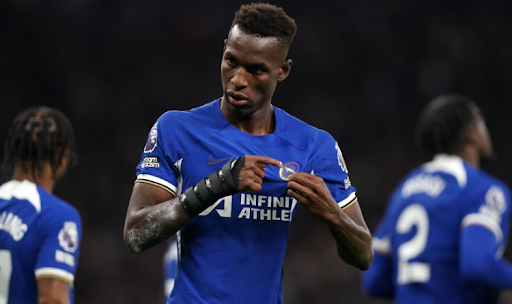 In the second half, the misfortunes of the Spurs continued. Destiny Udogie, who received a warning in the first half, blatantly cut down the onrushing Sterling, earning him a second yellow and leaving the team with nine men.
Tottenham lost two defenders, and in this situation goalkeeper Guglielmo Vicario came to the fore. He saved the goal several times after difficult shots from opponents and played just fine, but even he could not contain the full force of Chelsea. Fifteen minutes before the end of regular time, a combo involving Sterling and Jackson resulted in a goal from the latter.
The intrigue was alive until extra time. The Spurs had two chances to equalize, and they even managed to do it once from a standard, but after a cross from Rodrigo Bentancur, Eric Dier was offside. Then with another standard and a cross from Pedro Porro, the same Bentancur, with only goalkeeper Robert Sanchez in front of him, failed to make a clear shot and flew into the goal himself.
Son had the last chance, but Sanchez dragged his shot away, and none of his teammates were there to take it. And the already mentioned Nicolas Jackson scored twice in stoppage time, completing a hat-trick for the first time in his career. He could have scored four times if he had been a bit luckier, but the 4:1 scoreline is quite comfortable for Pochettino's team.
As a result of the match, 4 goals were canceled and 2 red cards were shown, and the game itself lasted for 110 minutes. After the match, Pochettino noted how important technology had become in the game, with the outcome of the game depending on their actions.
His vis-a-vis Ange Postecoglou did not share this opinion, partly because of the reflection on the result, but noted that his team, even with nine players, did not give up and was really close to avoiding defeat. Despite this spurt, Chelsea remain only in tenth place in the standings.
Manchester City News & Current Form:
Manchester City are rushing towards their next championship title. Last season the Citizens decided to tickle the nerves of their fans, and therefore for a long time did not go to the leaders of the championship, but now they decided to do without nervousness, breaking into first place in the standings by the end of the 11th round.
Josep Guardiola's side started the current season well, winning six games in a row, but then they suddenly faltered, losing to Wolverhampton Wanderers FC and Arsenal FC 1:2 and 0:1, respectively.
They also lost to Newcastle United FC (1:0) in the English League Cup, forfeiting at least one trophy this season. This is the end of the team's failures, they won the last three matches with a total score of – 11:2, which allowed them to seize the leadership in the Premier League.
Last round, Pep's team simply destroyed the unfortunate AFC Bournemouth. In that match, Jérémy Doku was especially committed, scoring five times (6:1). By the way, it was Chelsea who helped Man City regain the lead in the EPL. Ange Postecoglou's side are already in the role of catching up.
This week in the UEFA Champions League, City defeated Swiss side BSC Young Boys with a score of 3:0 and secured an early playoff spot by solving another intermediate problem. Now the team's focus shifts back to EPL games for a while, and they can concentrate on the championship fight again.
As the statistics show, there was no intrigue in the game at all. The Swiss did not even make a single shot on goal: a case in which Ederson was frankly bored in this match. Guardiola's team had only 19 shots, 10 of which went into the net. But in terms of realization the Citizens also did not particularly excel: only three goals. 
Somewhere they were sluggish themselves, and somewhere the defense and goalkeeper Anthony Racioppi had time to react. In the end, they managed to open the scoring only in the 23rd minute after Sandro Lauper committed a foul in the penalty area on Rico Lewis, who got a yellow card. Erling Haaland easily converted the penalty to celebrate a goal a la Didier Drogba.
In added time Phil Foden entered the penalty area from the right and from an acute angle sent the ball into the far corner of the goal, doubling the lead. Another event happened at half-time: Mohamed Camara, captain of the Young Boys, asked Haaland for his shirt and he reluctantly agreed.
Erling scored a double almost immediately after the break with a pass from Foden, and a couple minutes after the goal, Lauper, who had been penalized in the first half, received a second yellow for a rough tackle on Nathan Ake and was sent to the bench.
In the end, nothing interesting happened: the players sometimes prevented each other from shooting. The Young Boys didn't come up with anything creative, playing the role of an ordinary punching bag.
Chelsea form guide: W-W-D-L-W-W
Manchester City form guide: L-W-W-W-W-W
Chelsea vs Manchester City Head-To-Head Record:
| | | |
| --- | --- | --- |
| Chelsea | Draw | Manchester City |
| 65 | 39 | 71 |
January 15, 2022: Manchester City 1 – 0 Chelsea (Premier League);
November 9, 2022: Manchester City 2 – 0 Chelsea (League Cup);
January 5, 2023: Chelsea 0 – 1 Manchester City (Premier League);
January 8, 2023: Manchester City 4 – 0 Chelsea (FA Cup);
May 21, 2023: Manchester City 1 – 0 Chelsea (Premier League).
Chelsea vs Manchester City Predicted XI:
Chelsea's possible starting lineup (4-2-3-1): Sanchez; James, Disasi, Silva, Colwill; Caicedo, Fernandez; Palmer, Gallagher, Sterling; Jackson.
Manchester City's possible starting lineup (3-2-4-1): Ederson; Dias, Ake, Gvardiol; Walker, Rodri, Kovacic, Doku; Silva, Alvarez; Haaland.
Statistical preview of the match Chelsea vs Manchester City:
The total value of Chelsea's squad is 999 mln euros, while the total of Manchester City is 1.26 bln euros.
Chelsea's First XI average age is 25.2 years, City's First XI average age is 26.4 years.
Anthony Taylor has been appointed as the center referee. The referee has already served eighteen games this season, showing an average of 4.67 Yellow Cards and also whistles 21.72 fouls per game.
Manchester City are winners in their last 6 head-to-head matches against this opponent.
In the last 5 games Chelsea conceded an average of 1.20 goals per game and scored an average of 2.40 goals per game.
In the last 5 games, Manchester City conceded an average of 0.60 goals per game and scored an average of 3.40 goals per game.
Manchester City and Chelsea have not exchanged goals in the last seven consecutive head-to-head meetings.
Chelsea have not scored a single goal against Manchester City in the last six consecutive head-to-head meetings.
What has been said before the match:
Gaffer of the Blues Mauricio Pochettino commented on the game against Tottenham and about playing treble holder Man City:
"Chelsea are never underdogs. The feeling is always that you are Chelsea. When you say Chelsea, it's impossible to feel the underdog. The history is there. We cannot go and say we are the victim of the day. We need to try to be protagonists with our personality, with our character."
"We went to Tottenham and finished the game 4-1. It shows that we have character and talent to compete and to fight with the best clubs in England. Now it's about building that confidence that for sure will help us to be more competitive."
"It all started when Guardiola was in Barcelona, and that makes it special and it is special to face one of the greatest coaches in the world. It is a fantastic challenge to face a club. Too many memories of playing City, some good memories, some not so good. It's a pleasure and it is going to be nice to face him in a game like Chelsea City on Sunday."
Pep Guardiola is confident Chelsea is capable of achieving great things:
"Chelsea remain one of the most important clubs.They won the Champions League under Tuchel against us. It's true they were not close to winning the Premier League in these seasons but they are one of the strongest teams no doubt."
"They're aggressive and have good patterns. One of the toughest games we have during the season.We have tried to maintain the level of our game but sooner or later Chelsea will be there fighting for titles. No doubt about that."
Chelsea vs Manchester City Prediction:
Manchester City have been quick to revitalise after the loss of points and are showing productive and efficient football again. Pep Guardiola's team is the clear favourite for the upcoming game at Stamford Bridge. The Aristocrats have two unsuccessful series against the Sky Blues – not a single goal scored and defeat in the last six games. Chelsea might be able to net one against the Citizens, while it seems to be impossible to beat the current Man City. We expect a high-scoring match and a hard-fought battle.
Parimatch News staff prediction:
We say: Manchester City will not lose and the match total will be over 2.5 – Yes.
Don`t miss out 👉: Basundhara Kings down Mohun Bagan Super Giant to make things interesting in Group D