Chelsea vs Borussia Dortmund. Prediction and Preview. Probable Lineups, Team News, Stats, and more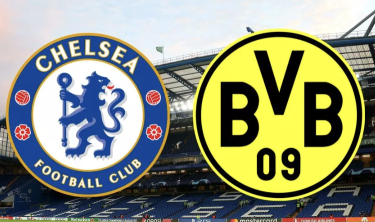 Chelsea FC will meet with Borussia Dortmund in a friendly pre-season match at the Soldier Field Stadium in Chicago, USA. The fixture will take place on Thursday, August 3, beginning at 6:00 a.m. IST.
Parimatch News will tell you everything you need to know ahead of the upcoming match.
Chelsea News & Current Form:
The start of the season in the European leagues is approaching, and that means commercial tours are coming to an end. Chelsea and Borussia Dortmund will face each other in the United States, and for both clubs it will be the last match on the American continent this summer.
The Aristocrats have had a disappointing bottling 2022/2023 campaign in the English Premier League and have caused a wave of negativity, and this is all happening just two years after they won the UEFA Champions League for the second time in their history.
The new bosses of the team have been frittering away money acquiring expensive players in whom they saw the potential for the future. This led to the fact that a huge number of top-class players simply did not have a place on the pitch, and the team did not even qualify for the UEFA Europa Conference League at the end of last season.
Not even a change of coaches helped. Thomas Tuchel, a remnant of the Roman Abramovich era, was quickly sacked, the replacement hired from Brighton & Hove Albion, Graham Potter, was a complete failure, and Frank Lampard, who came in as new head coach, couldn't fix anything.
Now the team has a new manager. Argentine specialist Mauricio Pochettino, known for his work in another London club, Tottenham Hotspur FC, as well as in Paris Saint-Germain, has returned to the top English football division. Fans are pinning their hopes on him. First and foremost, the mentor needs to sort out the squad.
In the current transfer window, the Londoners started to sell with desperation whatever was bought during the year, while still making unnecessary deals. Chelsea have already parted ways with midfielders Kai Havertz, Mason Mount and Mateo Kovacic. They have gone to direct rivals Arsenal FC, Manchester United FC and Manchester City respectively.
However, proceeds for all three managed to get about one hundred and seventy million euros. In this off-season so far the income from the sale of players exceeds the cost of purchase, almost double. Also Kalidou Koulibaly, Christian Pulisic and Edouard Mendy departed from Chelsea. But this is only a small part of those who left the roster of the London club.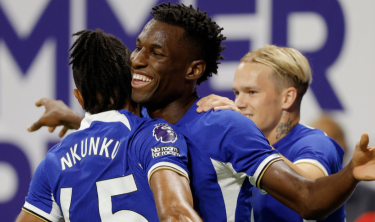 While getting rid of a huge number of players, the club continues to actively buy new players, recently the long-awaited transfer of French midfielder Christopher Nkunku from RB Leipzig for 60 million euros took place. They have also signed Nicolas Jackson from Villarreal CF for €30 million and are preparing a deal to swap Romelu Lukaku for Dusan Vlahovic.
The club's newcomers deserve separate praise. Jackson has scored two goals and given three assists in four friendlies. Nkunku has celebrated three goals. It seemed that the coach began to trust Mykhailo Mudryk, who failed last season. The Ukrainian played 45 minutes in two games, scoring one goal. But in the last match he sat on the bench.
Renewed Chelsea held four friendlies in the summer, in which three managed to win against Wrexham AFC (5:0), Brighton (4:3) and Fulham FC (2:0). Against Newcastle United FC, there was a draw – 1:1.
Dortmund have something to take revenge from the English – despite their generally deplorable state, the Londoners managed to knock Borussia out in the 1/8 finals of the Champions League. The Germans won their home game in February only 1:0, but in London three weeks later the hosts were stronger (2:0). The wounds from that defeat have hardly healed, as less than six months have passed.
Borussia Dortmund News & Current Form:
Borussia had a phenomenal opportunity last season to break 10-year dominance of FC Bayern Munich in the Bundesliga. With one round to go, BVB were leading in the standings, with a home game against unmotivated FSV Mainz 05 ahead of them. The team from Dortmund could not win, snatching a 2:2 draw in the very end, which made them only the vice-champion of Germany.
Marco Reus was again left without a trophy with his club, to which he remains loyal. In the current transfer window, the club lost its main star and one of the leaders of the team – Jude Bellingham, who moved to Real Madrid CF, for which they managed to get over a hundred million euros.
The 20-year-old midfielder scored eight goals and gave four assists in the Bundesliga last season. In exchange for thirty million from VfL Wolfsburg managed to buy a Manchester City trainee Felix Nmecha.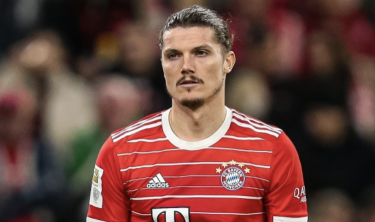 Algerian defender Ramy Bensebaini has joined the team on a free agent basis from Borussia Mönchengladbach. Austrian midfielder Marcel Sabitzer, who spent most of last season on loan at Manchester United, was acquired from Bayern. The big hope for next season will be young striker Karim Adeyemi, who is likely to stay at Dortmund.
However, Nmecha is still far from Bellingham's level, and he will still have to be integrated into the team's game structures. Sabitzer is another matter, the Austrian is an experienced player, and he's an instant addition to the core squad.
The Dortmund team is actively preparing for the season, having played five friendly matches, in which they have won with a total score of 21:5 against Westfalia Rhynern (7:0) and San Diego Loyal (6:0) and were stronger than Rot-Weiss Oberhausen (3:2), FC Rot-Weiss Erfurt (2:1), as well as Manchester United with a score of 3:2.
BVB were the first to concede against the Red Devils, but they quickly recovered and led 2:1 by the end of the first half. Donyell Malen netted a double and Sabitzer scored one of the goals. Dortmund conceded in the second half, but still took the lead in the 71st minute. Youssoufa Moukoko scored the winning goal off a pass from Reus.
Don`t miss out 👉: Revealing The Complete 2023/24 Pre-season Schedule Of Europe's Top Clubs: All You Need To Know In One Place
Chelsea form guide: W-W-D-W
Borussia Dortmund form guide: W-W-W-W-W
Chelsea vs Borussia Dortmund Head-To-Head Record:
| | | |
| --- | --- | --- |
| Chelsea | Draw | Borussia Dortmund |
| 1 | 0 | 1 |
February 16, 2023: Borussia Dortmund 1 – 0 Chelsea (UEFA Champions League);
March 8, 2023: Chelsea 2 – 0 Borussia Dortmund (UEFA Champions League).
Chelsea vs Borussia Dortmund Predicted XI:
Chelsea's possible starting lineup (4-2-3-1): Arrizabalaga; James, Silva, Colwill, Chilwell; Santos, Fernandez; Sterling, Chukwuemeka, Nkunku; Jackson.
Borussia Dortmund's possible starting lineup (4-3-3): Kobel; Meunier, Sule, Hummels, Ryerson; Sabitzer, Can, Brandt; Malen, Haller, Adeyemi.
Statistical preview of the match Chelsea vs Borussia Dortmund:
Chelsea's First XI average age is 23.8 yrs.
Borussia's First XI average age is 27.6 yrs.
Borussia have scored at least two goals in nine of their last six matches in a row.
Four of the last six Chelsea matches have seen an exchange of goals.
Borussia are on a 13-game unbeaten run, winning their last five games.
Chelsea have not lost in five games.
The teams met twice last season and exchanged home wins.
Last season Chelsea finished 12th in the English Premier League with 44 points, which is an anti-record for the team.
Last season, Borussia tied with Bayern on 71 points, but finished only second on extra points.
Borussia conceded an average of 1.00 goals per game in their last 5 games and scored an average of 4.20 goals per game.
In the last 5 games, Chelsea conceded an average of 1.80 goals per game and scored an average of 1.40 goals per game.
What has been said before the match:
The Blues' new coach Mauricio Pochettino about more transfers and playing last off-season game:
"We are working hard to try to create this dynamic between Nkunku and Jackson that will become natural and to share time together. I think the two help to get to know each other. It is good that they feel well, that they feel already part of the team and the group and they share a lot of time together."
"It is important because you need to start the Premier League in a good condition knowing each other and try to fight for each other to create a real team that is prepared to go and face opponents like Liverpool, Man City and different teams like this.
"We suffered a big loss with Wesley Fofana. It is normal the club is working to try and reinforce that area. Chelsea need to have good players. Players that can perform to win the Premier League. We are going to reinforce the areas and to provide a team with balance. We are for sure trying to improve the squad and that is an area. We need to analyze now in the next weeks until the transfer window closes. We will make the best decision for the team."
"We hope to finish in a very good way. It is going to be our fifth game and we need to compete in the best way versus Dortmund. They beat Manchester United. It is going to be a competitive game and I hope we can finish with good feelings."
"Sometimes we think players are machines but they suffer with changes, different pitches to train. What we have to analyze and work really hard on is not to play the weekend as it is a big risk and to give some rest. Starting the week it is so clear and to focus on Liverpool FC. That is the pre-season we found and nothing to say wrong. It is only that we need to be clever in how we adapt to provide the best tools to arrive in the best condition."
Edin Terzic, BVB gaffer, on the match with Manchester United:
"It was a very intense match with lots of scoring chances at both ends. In the first half in particular, you saw how well they can link up if you don't close down the center. Then it's difficult to stop them. But we still managed not to give away many clear opportunities in the first half. There were a few things we liked less."
"We hardly had any possession, were far too close to each other and made it too easy for them to press us with their only striker. But we nonetheless managed to implement a lot of things that we set out to do. We were able to win many balls back via pressing and counter-pressing and create chances in the process. It was a good and important test for us."
"Marcel Sabitzer played an instrumental role in us scoring two goals and winning the ball back in the first half. That is what we envisaged when we signed Marcel. It is now a case of seeing that on a regular basis. Felix felt a minor muscle problem on the back of his thigh. We would naturally have liked him to already be on the pitch with us today. But we're very cautious."
Karim Adeyemi on the USA Tour and friendly game with the Red Devils:
"It's very intense on the pitch. The first game was not as good as the second one. The training sessions and the conditions are very good. It's very nice off the pitch. I'm in the USA for the first time. I'm looking forward to the games and being with the boys."
"It was a tough test. The conditions and the stadium were very good. The game was very demanding. We struggled to get into it, Manchester United performed very well. But at the end we showed that we're clinical in front of goal and were well in the match. We gave everything and won the game. We still need to improve small details, we'll show that in the next game."
"I haven't yet set myself any objectives. I'm trying to continue on from last season. It was a solid performance against Manchester United, I want to improve against Chelsea. I simply want to put my foot on the gas and achieve the team objectives this season."
Chelsea vs Borussia Dortmund Prediction:
In the realm of pre-season friendlies, both Chelsea and Borussia Dortmund have showcased exceptional form, maintaining an unbeaten record thus far. Particularly impressive is Dortmund, who have triumphed in all five of their previous friendlies and displayed their offensive prowess with nine goals in their last two matches. It seems the disappointment of narrowly missing the championship in the last round of the previous season has fueled the Bumblebees' determination to shine in the summer games. Under the guidance of Edin Terzic, Dortmund's squad appears balanced and well-coordinated, while Mauricio Pochettino is still in the process of familiarizing himself with the capabilities of his charges at Chelsea.
The upcoming confrontation promises to be a high-scoring affair, given Dortmund's ongoing trend of effective matches. Even in their previous nine battles, a remarkable total of 46 hitting-the-net shots were recorded, averaging 5.11 per game, showcasing their attacking flair. The Aristocrats, too, embrace an open and spectacular style of play, adding further excitement to the equation. The optimal expectation for this thrilling clash is to witness at least two goals.
Parimatch News staff prediction:
We say: both teams will score and the match total will be over 2,5 – Yes.
Don`t miss out 👉: 5 Summer Arrivals who have impressed in Pre-Season