Chelsea are one foot in the League Cup final with a convincing first-leg win over thoroughly listless Spurs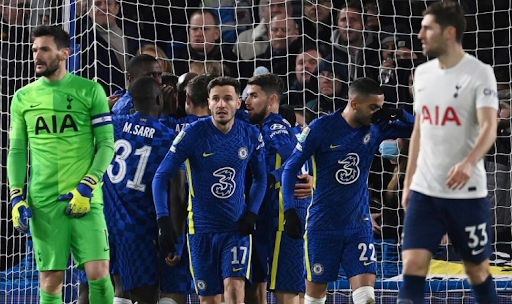 Chelsea players celebrating a goal
Chelsea have dealt with Tottenham so confidently that it seems that the fate of the first finalist is already sealed. There could have been more goals, but apparently the Blues "decided" to keep the intrigue alive.
It was a fiery fixture in the English League Cup yesterday as Chelsea hosted Tottenham. The Blues of course were favourites, but no one expected them to be so overwhelmingly dominant while Spurs struggling so hard – maybe it was the easiest encounter for the Aristocrats looking back at the previous matches.
For the boys in white, it was a terrible night as Tuchel's team were in command for the entire 90 minutes and could have scored at least three. But Timo Werner decided that enough was enough and didn't beat Hugo Lloris after a fine pass from Hakim Ziyech.
In Werner's place, Chelsea were helped by a goal from Kai Havertz and a laughable auto-goal from Ben Davies.
"Kai has the issue with his finger, he broke his finger and it looked horrible. And he played through the pain that was getting bigger and bigger. He survived until half-time and then we had to make the change."

Told Thomas Tuchel about the author of the first goal after the match.
As the match progressed, it seemed that Tottenham literally had no chance to win – they created 0 xG in the first half.

But at the end of the match, they had a chance to save themselves – they created the only dangerous moment of the match, but Kepa Arrizabalaga was there.

Antonio Conte, who has coached the Pensioners for two seasons and won two trophies with them, including the Premier League, admitted Chelsea are head and shoulders above Spurs as of now:
"There's an important gap, an important difference, there's a big job to do to retrieve the situation. Last season Chelsea won the Champions League and this is enough to explain the difference between us and them. We need time, so much time, to retrieve the situation. You cannot do this in only six months or one year. They were much stronger than us. I do not see a solution in this transfer window. It was a difficult game, difficult from the start, Chelsea were much better."

he stressed, hinting that Tottenham still have a lot of work to do.
"We are talking about one of the best teams in Europe, in the world. If you compare the two teams there is not a comparison. I know the situation, it is very clear in this moment there is an important gap. If we think we are close [to Chelsea] we are not in the right way."
Don`t miss out 👉:  Carabao Cup Digest: Which teams made it to the semi-finals and what challenges they faced along the way
The return match is scheduled for January 12.