Chelsea advanced to the next round of the FA Cup as academy youngster helped the Blues beat Barnsley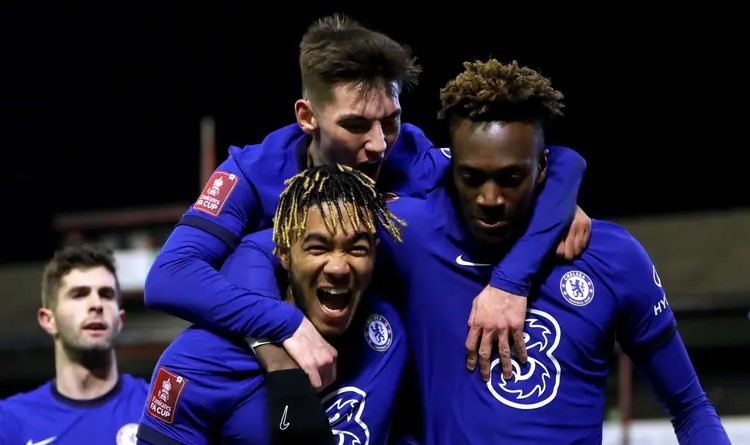 Man of the Match Abraham with his teammates
Chelsea defeated Barnsley with a minimal score of 1-0 in the FA Cup 1/8 final. The best player of the match – the Englishman Tammy Abraham. His standout performance made a huge difference.
It was a tough game and in the first half, the teams exchanged a сouple of dangerous moments but went to the break with a zero score on the scoreboard.
In the second half, the No. 9 perfectly finished after a ground cross from James on the right flank, this converted shot gave a lead to the team.
Moreover, at the end of the match, Tammy also made an extremely important save, knocking the ball off the goal line.
Tammy is superb:
In the quarterfinals, the Londoners will meet Sheffield United.
Abraham's post-match thoughts:
"Coming here is not easy, I have experienced it. Give credit to them, they are a good side but I knew the chance would come eventually. I grew up playing as a defender so it [the goal-line clearance] was instinctive reactions. I was in the right place, I knew I had to try something. It's a 1-0 win, we will take that."
Thomas Tuchel on FA Cup win:
"We scored a very nice goal but after that the opponent took a lot of risks, played agressive. We struggled to cope with the first challenges, struggled with the second balls. We were lucky twice. Kepa saved us in the first half and Tammy saved us in the second. We struggled today but in the cup it's sometimes like this. I don't want to be too hard on the guys."
"I have to be honest, yes I am relieved. We can stop the analaysis, it's done. Chelsea are through to the quarter final, full stop."

he stated.
This is the fourth victory for the Londoners in a row. Previously, they beat Burnley (2-0), Tottenham (1-0) and Sheffield United (2-1).
Since Thomas Tuchel's arrival, Chelsea have won four times in five meetings, only drawing once against Wolverhampton (0-0).
Chelsea face Newcastle in their next game in the English Premier League.
Barnsley are the first team Chelsea have eliminated from both major domestic cup competitions within a single season since Manchester United in 2012-13.
Tammy Abraham has been directly involved in nine goals in his last seven starts in the FA Cup (6 goals, 3 assists), with his strike tonight coming from Chelsea's first shot on target in the match.