Can Bengaluru find their charisma back in ISL 2021-22?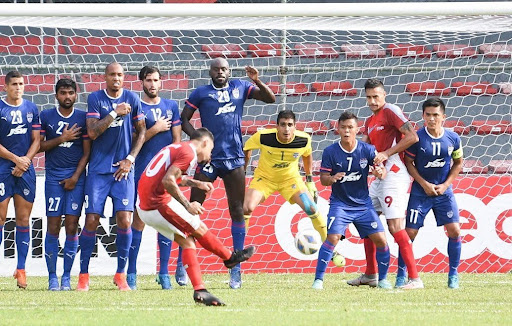 Bengaluru players defend a free-kick in AFC Cup 2021
Bengaluru will be eager to start the upcoming Indian Super League on a positive note to forget their nightmarish 2020-21 ISL season. 
A club known for their success and titles, the Blues finished seventh last season, the lowest ever in their club history. It was a forgetful campaign and the management has reacted by making wholesale changes to their roster along with bringing in a new head coach.
The Bengaluru-based team is looking to focus on youngsters and give them the platform to shine. Their new manager, Marco Pezzaiouli is known for his attacking brand of football, and the fans saw glimpses of his style during Bengaluru's AFC Cup campaign. Pezzaiouli will be assisted by Naushad Moosa, who has huge coaching experience in the domestic circuit.
A look at last season's performance
Last season was a fiasco that Sunil Chettri & Co. will not like to reminisce about, but they should learn from the mistakes that they committed. The Blues finished seventh in the league table with only five wins in 20 matches. Their former head coach, Carles Cuadrat was sacked mid-season, as Naushad Moosa tried to keep things together and steady the sinking ship.
Back in February, Marco Pezzaiouli joined the club but took charge of the squad training sessions in August ahead of the AFC Cup qualifiers. Bengaluru defeated the Nepalese outfit Tribhuwan Army over two legs and then went on to win against the Maldives club Eagles as well.
Despite being new to Pezzaiouli's philosophy, the Blues' players gave a good account of themselves in the AFC Cup group stage. They had a poor start with a defeat against ATK Mohun Bagan and followed it up with a draw against Bashundhara Kings. However, in the last match, Chettri's boys defeated Maziya by a scoreline of 6-2, which showcased the true potential of this team.
New Signings for ISL 2021-22
Pezzaiouli's team brought in as many as ten players this summer, which includes I-League's top scorer from last season, Bidyashagar Singh. The youngster featured in the AFC Cup and Durand Cup, alongside other new acquisitions like Danish Farooq, Jayesh Rane, Harmanpreet Singh, and Lara Sharma.
Among foreign signings, Bengaluru has brought in two new defenders, Alan Costa and Yrondru Musavu-King from Brazil and Gabon respectively. Brazilian midfielder Bruno Ramires has also signed with the club and will be expected to control the tempo in the middle of the park along with Iranian midfielder Iman Basafa. To support Chhetri and Cleiton Silva upfront, the Italian has also signed Congo international, Prince Ibara.
Predicted Starting Lineup
Gurpreet Singh Sandhu; Sarthak Golui, Yrondu Musavi-King, Alan Costa, Roshan Singh; Suresh Singh, Bruno Ramires, Jayesh Rane; Udanta Singh, Cleiton Silva, Sunil Chhetri.
Strengths
Bengaluru arguably has the best assemblage of youngsters in ISL. They have promoted several players from their junior team, and most of them are very technically sound and gifted players.
Pezzaiouli is also a manager who likes to focus on youth development, and the likes of Bidyasaghar, Damaitphang Lyngdoh, Roshan Singh, Sivasakthi Narayanan, and Namgyal Bhutia are likely to bloom under the Italian's tutelage.
In terms of experienced Indian players, the Blues do have a pretty strong core with skipper Chhetri, Gurpreet Singh Sandhu, Sarthak Golui, Udanta Singh, and Suresh Singh Wangjam. All of the aforementioned names have featured for the national team multiple times and will bring in the much-needed composure to this young-looking roster.
Weaknesses
The 2018-19 ISL champions have revamped their foreign contingent this season. Apart from Silva, every foreigner is new to Indian football and it will be a challenge for them to acclimatize and create a bonding with the new teammates.
Whilst King and Costa have played in the AFC Cup, others still need to adjust to the Indian style of football. The Blues will also hope that Ibara finds his goal-scoring boots immediately, as they have not had a reliable foreign striker since Miku's departure.
Season Predictions
Bengaluru is a club wrapped around success, and therefore, a year without the playoffs was disappointing for their management, players, and most importantly, the fans. Hence, one would expect them to come back this season with rejuvenated passion and zeal. A finish in the top-four of the league table will be a great result considering they are a new-look side, currently going through a transition phase.