Burnley vs West Bromwich Albion. Prediction and Preview. Probable Lineups, Team News, Stats and more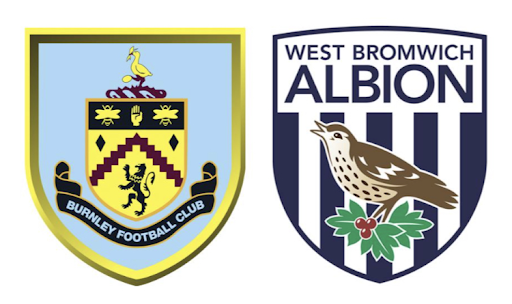 Burnley FC will host West Bromwich Albion FC in the EFL Championship 28th-tour match at Turf Moor Stadium. The fixture will take place on Saturday, January 21, beginning at 01:30  IST.
Tonight we will see a clash of two teams who can be considered contenders for promotion to the English Premier League. However, while the re-set Clarets are cementing their chances of a direct trip to the EPL with every game, the Baggies only hope to claw their way into the play-off zone, that's where their luck for a return to the elite is to be tried.
Carlos Corberán, who arrived to West Brom last October, has managed to get things going in the squad and now his boys are making steady progress. They travel to attempt to inflict the first home defeat of the season on Vincent Kompany.
22 thousand spectators at the Turf Moor stadium will be able to enjoy a truly captivating match, full of action.What can we expect this Saturday night? Parimatch News will tell you everything you need to know ahead of the upcoming match.
Burnley News & Current Form:
Burnley are at the top of the standings, 5 points ahead of Sheffield United FC, who are in second place. The lads have built up such a gap that they could already be celebrating a move to a new promotion. Last season the team dropped out of the English Premier League in 18th place. Now they are on their way back to the top division.
Their latest games are a delight to watch. In 5 appearances on the field there are five victories. They beat Birmingham City FC at home, rolling three goals into the opponents' goal. The 25th round of the Championship ended with a victory over Stoke City FC with a minimal advantage. Visiting Swansea AFC, they won with a score (1:2). And in the Emirates FA Cup they beat AFC Bournemouth in the away match with the score (2:4). In the 27th round of the Championship they beat Coventry City FC with one goal advantage.
It is worth mentioning that in most cases, Burnley do not concede more than one goal per game. In addition, the team is the best team in the Championships in terms of performance – 53 goals in 27 games, while conceding only 25. That is, on average, Burnley players score 2 goals per game.
The Clarets are preparing for promotion to the Premier League, but the match against West Bromwich is of interest as the visitors also have their eyes on the coveted tickets to the world's strongest football division.
Sean Dyche stepped down as coach of the club last season after 10 years with the team. The former coach long kept the team with modest opportunities in the Premier League, and even once made it to the UEFA Europa League with his charges. Still, it all ended in relegation last season – and just before that, the manager was fired. To lift the team back into the EPL, Vincent Kompany was appointed. And so far he's been doing everything very well. Despite the fact that in his native Belgian club, RSC Anderlecht, the ex-defender had inconsistent results. The club conceded a lot – 88 goals in 80 games. It's hard to imagine that a young and inexperienced specialist set up a top defense at Burnley on the spot.
But in Foggy Albion, he made noise in the FA Cup with his new charges and won 17 out of 27 matches in the Championship – including 11 out of 12 outings. And there hasn't been a single loss for seven times in a row.
The Clarets suffered both of its losses in the championship at the hands of the clubs from the group of leaders – the team is difficult for the top matches. They conceded a goal in the first round (1:1) from West Brom, but could have conceded more if their opponent was a little better in the end (23 shots on goal, 8 – in the box).
Due to a broken leg, we won't see Ashley Westwood. Taylor Harwood-Bellis suffered a foot injury in an FA Cup game that sidelined him for about two months. We also won't see right-back Vitinho because of the injury.
Manchester United FC have leased striker Wout Weghorst from Burnley. The agreement runs until June 2023.
In 16 games in the Turkish championship this season, Weghorst, who played for Besiktas JK on loan from Burnley, scored 8 goals and made 4 assists.
A newcomer to the team – Jordan Beyer scored in the game against Coventry.
Also, he said:
"For me I love this kind of game [against West Brom] – the big games – we have to be on point as they are a strong side. We've seen how good they are but I think we don't have to be scared of them.
"I've settled in pretty well. There's been a lot of games and a lot of work so not much time to explore the country, but I'm looking forward to doing that. I'm just enjoying my time here with my new teammates."
"He [Vincent Kompany] was one of the main reasons I came to Burnley – he's one of the best defenders that's played, so to learn from him is so good for us. There's no end in sight and we try to improve every day with him and the coaching staff."
"It would be the dream for all of us to get automatic promotion; you never know what will happen though. We are not at our best yet but there's so much more from this team that we can bring."
West Bromwich Albion News & Current Form:
Last season the Baggies were relegated from the Premier League and therefore participated in the second division of England, where they managed to take 9th place. Now West Bromwich is on the 6th line in the standings and can compete in the playoffs, if they continue to show such good results. The whole fight to qualify for the promotion knockout rounds is still ahead of them, so West Bromwich's motivation is at an all-time high.
In 27 games they have scored 37 goals and conceded 28 goals. They have managed to pick up 4 wins in their last 5 games. In the game against Preston North End FC, the guys scored two unanswered goals by Okay Jokuslu. After that, they were able to beat Reading FC at home, scoring the only goal of the whole meeting. In the FA Cup they had an incredible game against Chesterfield FC, which ended in a tie (3-3). The away game against Luton Town FC ended in a 2-3 victory. And in the replay with Chesterfield, the boys rolled four goals in the opponent's goal, leaving their own untouched.
As at Burnley, the club had a change of coaching staff. Coach Steve Bruce was replaced by Carlos Corberan. This change was justified and very effective.
On November 1st, they managed to make it 1-0 against Blackpool FC, and that was the start of a great streak. With this success, Albion have won 9 out of 10 matches in the Championships, including all 4 most recent matches in this division.
Although the Albion attack is on point, with 37 goals in 27 rounds, the team is one of the leaders in conceded goals. 28 times in 27 games.
Due to a foot injury, Kyle Bartley will not play. West Bromwich will also be without forward Brandon Thomas-Asante, who is suspended three games for elbowing an opponent. Winger Matt Phillips was injured in the last game, so he won't play tomorrow either.
Coach Corberan commented Phillips' injury:
"We are still waiting for news on Matty Phillips because you have to wait 48 hours until the scan. You can't have a proper view of the injury until you've had the scan. Unfortunately, he's not going to be available for the game against Burnley. We need to wait to see when he will be available to return to the team."
Burnley form guide: L-W-W-W-W-W
West Bromwich Albion form guide: W-W-W-D-W-W
Burnley vs West Bromwich Albion Head-To-Head Record:
| | | |
| --- | --- | --- |
| Burnley | Draw | West Bromwich Albion |
| 46 | 32 | 56 |
May 6, 2017: Burnley 2-2 West Bromwich Albion (Premier League);
August 19, 2017: Burnley 0-1 West Bromwich Albion (Premier League);
March 31, 2018: West Bromwich Albion 1-2 Burnley (Premier League);
October 19, 2020: West Bromwich Albion 0-0 Burnley (Premier League);
February 20, 2021: Burnley 0-0 West Bromwich Albion (Premier League);
Burnley vs West Bromwich Albion Predicted XI:
Burnley's possible starting lineup (4-3-3): Muric; Roberts, Beyer, Taylor, Maatsen; Cullen, Gudmundsson, Brownhill; Benson, Rodriguez, Zaroury.
West Bromwich Albion's possible starting lineup (4-2-3-1): Palmer; Furlong, O'Shea, Pieters, Townsend; Yokuslu, Molumby, Wallace, Swift, Diangana; Dike.
Statistical preview of the match Burnley vs West Bromwich Albion:
Burnley are tied in their last 3 meetings.
Burnley are victorious in their last 7 games.
West Bromwich are victorious in their last 4 games.
West Bromwich are unbeaten in 8 of last 10 games against this opponent.
West Bromwich is scoring an average of 2.60 goals per game in their last 5 games.
West Bromwich have scored in the last 4 games.
Burnley are conceding an average of 0.60 goals per game in their last 5 games.
West Bromwich have conceded an average of 1.00 goals per game in the last 5 games.
Burnley are scoring in the last 24 games.
Burnley are scoring an average of 2.20 goals per game in their last 5 games.
Don`t miss out 👉: East Bengal vs Hyderabad: Preview and Prediction
What has been said before the match:
Vincent Kompany is excited about the upcoming game on the home field:
"It's a special place, it really is. It doesn't matter whether we get the crowd going or they get us going – if we are all up for it, it adds to what makes it tough to come and play at our home."
Being asked about the opponents:
"It's a team filled with experienced individuals, who have real quality in this division, so it's no surprise that they are doing so well. They had a slow start to the season and it took them a little while to get going, but when we played them there in September you could see the quality within the squad."
"If it wasn't for a difficult start for them, then I think they would be as high up the table as we are right now. It may surprise some people, but I think it's the first game in a long time that we go into a game not as the favorites to win."
"I've seen West Brom for a while now, they have won nine in 10, it's solid and comfortable and it's going to need the best from us to get a result from this game."
Carlos Corberán, West Bromwich gaffer, is excited about the upcoming clash:
"We are as excited for this game on Friday as we are for any game we play. We have the same level of respect for this game as we do for every game. We'll approach it with the same level of commitment and determination as we always do."
"We know that Burnley are very well-organized and aggressive in defense and very dangerous in attack. The game is going to demand the highest level of effort from our players at all times throughout the night.As always with us, the target is three points and another win."
"Burnley are top of the table and 16 points clear of third because they deserve to be there. I don't have any doubt about that. You understand why they are in this position when you see the performance levels they are producing every single week."
"I think Vincent Kompany has done some excellent work there and has changed the identity of the club. They are getting plenty of positive results. We know what we need to do."
Burnley vs West Bromwich Albion Prediction:
The Throttles' hardship seems to be over as Steve Bruce has been replaced by a young coach who has managed to revitalize the team. Now West Bromwich is up and running, and in the last few games the White and Blues have noticeably improved their performance, which is reflected in the tournament position (climbed up to sixth place). Now only 2 points divide them from the third place, and that's very encouraging and gives a positive spirit.
However, whatever the boost – Vincent Kompany's cheeky lads have picked up an overly potent victorious drive. Burnley have won nine games in a row at home and look extremely confident overall (their last home defeat was back in May last year against Newcastle United). It is unlikely that the highest-scoring collective in the Championship, coupled with the finest defense, will falter in this crucial match.
Don`t miss out 👉: Bengaluru registers a 3-0 victory against Jamshedpur
Parimatch News staff prediction:
We say: Burnley will not lose – Yes.